Those affected by the strike in Renfe: "We want to get home" | Economy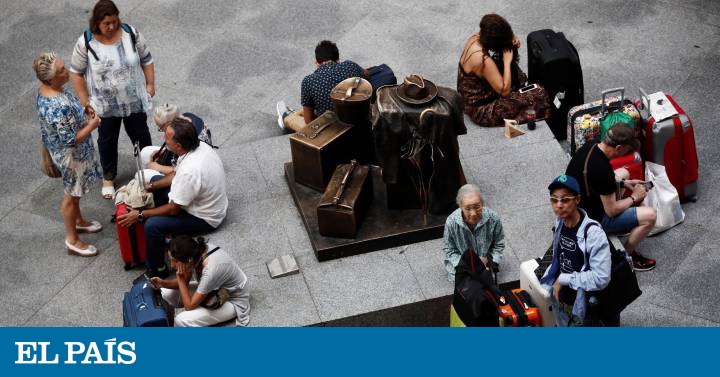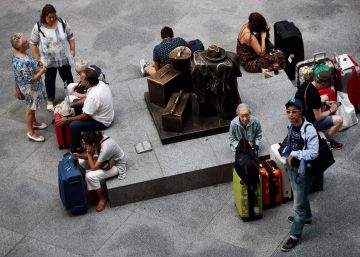 "Your train has not been included in the minimum services." The phrase is written in an email from Renfe that José Manuel Gómez and Marina Salas have received on Wednesday's strike for which 325 trains have been canceled AVE, long and medium distance. "I go to work tomorrow at 4 and have not been sleeping all night. It would do me good to rest, "explains Gomez. After six and a half hours on a plane from New York, the couple has been at the Atocha station in Madrid for four hours, waiting to get on a train to Alicante. A wait that will be lengthened by unemployment. "We are busted. We want to get home, "exclaims Salas.
Like them, thousands of people have been harmed by this second strike day that will have partial stoppages from 12.00 to 16.00 hours and from 20.00 to 24.00 hours. An especially delicate mobilization for the high movement following the bridge on August 15, which is festive throughout the country. Some even had to change their plans completely. "They told us that every 20 minutes trains left for Toledo, but the only one we can get on is at 16.50. We're going to have to try tomorrow, "said Amy Weinstraub and Hannah Maddrey, two Americans who are in Madrid on vacation.
Despite the hundreds of canceled trains, the lines in customer service did not pass, at noon, of the 10 people. For this which is the third strike so far this year –the first one was called by CC OO in July and the other two CGTs — the company was able to inform and relocate most of those affected. "It's 45 minutes. It is a disorder, but it is not something traumatic, "says Ana L. who had to take the AVE from 14.45 to Albacete, but had to be transferred to that at 15.30.
Also in the Sants Station, in Barcelona, ​​there is some consequence of the protest. They begin to be noticed after 12 noon, which is when one of the partial stops is made, the picture begins to change. Passengers are joining a queue that is getting longer before the AVE information point. "I have seen on the screens several trains to Madrid canceled and I wanted to know if mine was too," says Mónica González. Although there are also more clueless travelers who have not heard that there was a strike today until they have reached the station.
Travelers wait on the platforms while waiting for their train. The bustle of people and high temperatures cause queues to form at the only beverage stand. "It's very hot and it can't be that we're here huddled for an hour," laments Ricardo Robles. In the same way, Ana Luz did not know that there was a strike today and she has to wait an hour to go to the beach of Sitges. "If we had known before we would not go, but they no longer return the money," he says while carrying the umbrellas. Passengers going to short-distance destinations such as Cornellà de Llobregat are also affected. "I've been waiting for an hour, when it's usually about fifteen minutes," says Silvia Flores while waiting sitting on the platform floor.
Meanwhile, the situation between workers and companies does not seem to improve. Carmelo Sierra, spokesperson for the CGT convening union, has criticized Renfe's lack of interest in unlocking the conflict. "No one has addressed us. No negotiations are taking place, "says the spokesman. "It is the total disregard of public service and travelers," he adds.
Renfe assures that the strike is being carried out without incident and with a follow-up of 2.2% in the first shift of stoppages, which means 0.7 tenths less than in the mobilization of July 31. CGT increases this figure to 80%.
The main reason for the stoppages this Wednesday is the replacement of personnel. As CGT explains, what they ask of the company is that for every 100 workers that leave, they hire another 108. The demand, they detail, is due to the critical lack of personnel and the aging of the same.
This is the second of the four days of partial strikes, after the one made on July 31. If the negotiations with Renfe do not move forward, the workers plan to make partial stoppages on August 31 and September 1.