Those affected by Popular who received the Santander bond recover almost all the money | Markets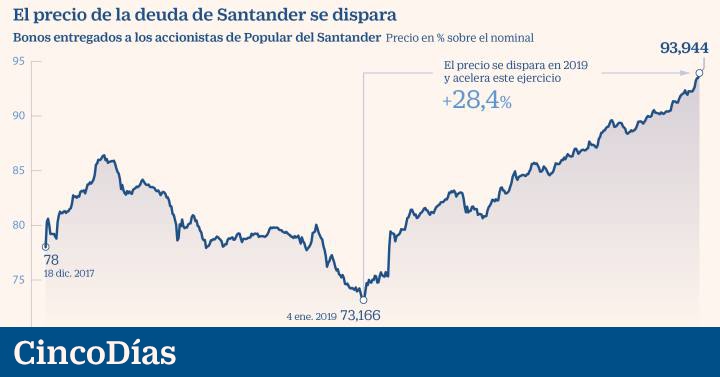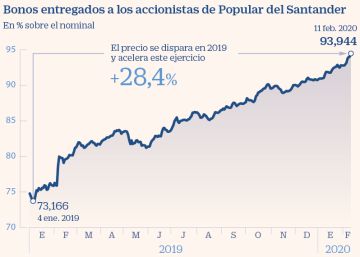 It has been two and a half years since that day marked in the calendar of the markets, the Bank of Spain, the CNMV, the ECB, those responsible for bank rescue funds, both Spanish (Frob) and European (Mede ), and also those of the agency responsible for bank resolution (Jur). Popular's around 300,000 shareholders lost all their money on June 7, 2017. Santander bought the bank for the symbolic price of one euro. But he offered bonds to some 115,000 shareholders to get their money back. Those who accepted them, around 100,000 clients, have recovered almost everything.
That debt, which was delivered free of charge, has been trading well below its nominal value since its issuance in December 2017. Until now. In the BME fixed income market, its price is close to 100% of the nominal (yesterday, it closed at about 94%), so that the holders recover practically all their investment. In addition, they have pocketed more than 2% of profitability, at the rate of 1% per year that they have been charging quarterly since March 15, 2018.
The compensation bonus began to quote with a 22% discount that over time has been reduced to just over 6%. The bonds are, perpetually, perpetual, but the bank indicated that its intention was to amortize them to 100% of the nominal value at the latest in December 2024. They are exactly the same product as the so-called coconut bonds; that is, they are transformed into shares if Santander's highest quality capital ratio (CET1, in jargon) falls below 5,125% and is sold exclusively among professional investors.
The complexity and risk of the product caused several warnings to be included in the debt subscription order. The current bondholders should have even written the following notice in their own handwriting: "I have been warned that the Loyalty Bonds are not considered suitable for retail customers."
Individuals who bought 8% bonds, compensated
Emissions. Popular made two issues of subordinated debt in 2011 that was commercialized among retailers at a rate of 1,000 euros per title. The first, dated July 29, 2011, had an 8% coupon and had a outstanding balance of 200 million euros. The second, with 250 million, was disbursed on October 19 of that same year with a coupon of 8.25%. In both cases, its expiration date was 2021. But the bank's resolution in June 2017 meant that these bonds were volatilized. These bondholders also received compensation, although they were discounted the amount they had received in interest between 2011 and 2017, which accounted for around 40% of their initial investment.
Acceptance. The acceptance of the so-called loyalty bonds, which were offered between September and December 2017, was 78% of the amount offered, for a maximum of 981 million. That is, bonds were issued for a nominal amount of 764 million euros.
But time has shown that accepting the deal has been fruitful. It is true that not all the shareholders have been eligible for compensation. Only those who bought securities of the bank resolved between May 26 and June 21, 2016 – period of the capital increase of 2,500 million – and that had them deposited at the end of June 6, 2017 in Popular or Santander.
In addition, there was a gradation of the recovery percentage based on the amount invested. If they put between 100 and 100,000 euros, customers were given in bonds – charged at 100% of the nominal – the equivalent of all their money. In this segment is the vast majority of small investors. The compensation is reduced from 100,000 euros; from this amount and up to 500,000 euros, they received 75% bonuses; from that maximum and up to one million euros the percentage dropped to 50%. From one million, there was no compensation.
Thus, for 250,000 euros, 100% was applied for the first 100,000 euros and 75% for the second 150,000 euros, with a total of 212,500 euros to be compensated. Initially, this potential amount could be converted into about 166,000 euros of cash and current money (the bonds began to quote at 78% of the nominal), when they can now be sold for about 202,000 euros, amount to which some 4,300 have to be added Euros in interest. In total, more than 206,000 euros.
The bondholders' option is to get rid of that debt, for which they must go to their office and request that they be sold in the market or keep it before a possible amortization in 2024. If not, from that date the bank must pay a return equivalent to midswap at five years – risk-free interest rate at that term – plus 594.7 basis points (5.947%).