Thomas Handrick is found guilty of the murders of his ex-wife and their eldest son in Adeje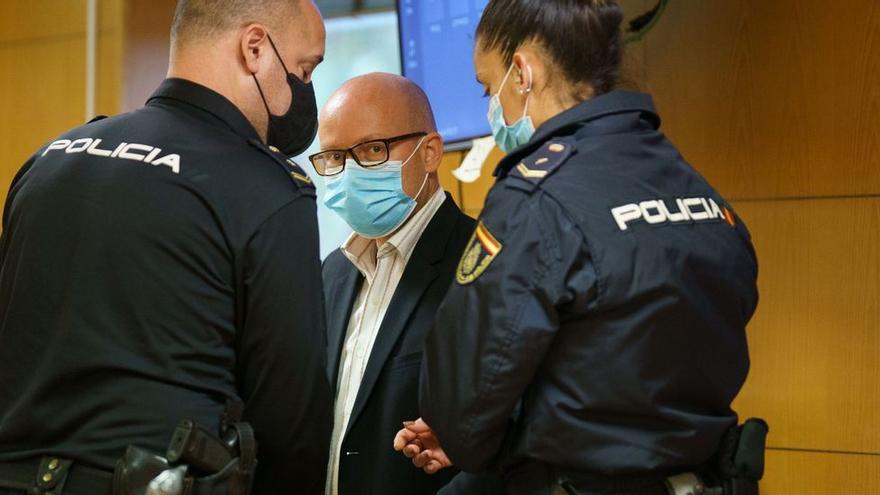 The jury court in the trial for murder of a woman and her eldest son in the upper area of ​​Adeje on April 23, 2019 declares that the accused Thomas Handrick is guilty of killing the victims and attempting to end the life of his youngest son, Jonas..
The verdict of the Court of Jury comes after a trial that has lasted two weeks and has had some very long sessions. One of them was the one that took place last Tuesday, February 1, which lasted until half past nine at night, after the afternoon session was devoted to the parties (the Prosecutor's Office, the Customer Service Office Minor of Germany, the Canarian Institute of Equality of the Canarian Government and the defense lawyer) presented their final conclusions.
During the last speaking time granted by Judge Fernando Paredes to the accused, Thomas Handrick stated that he is very sorry for what happened, who did not know what he was doing at the time he allegedly killed his ex-wife and eldest son, who was not him, and who wants society to forgive him for what he did. However, the aforementioned German citizen did not refer at any time to the woman with whom he shared part of his life, neither to Jakob nor to Jonas, who is still alive.
Throughout the trial, the defense attorney and the defendant himself argued that, at the time of the events, suffered from a transient mental disorder, due to a supposed schizoid personality disorder, due to the mixture of different medications he was taking, such as antidepressants and others to calm his chronic back pain, including morphine.
That is to say, that at the moment of attacking his ex-partner and his eldest son with blows and a large stone, he was not aware of what he was doing and that, furthermore, according to what he assured during his statement, the first attack was received by him from his ex-wife, who allegedly injured him with a stone, between the two they struggled, she threw him to the ground and began to kick him. Later, according to what Handrick stated before the members of the Jury, he got up and began to receive stones, which he returned.
However, the surviving child stated in a preconstituted statement (with all legal guarantees) a few hours after the event that it was his father who attacked his mother and previously said that they had argued and he had assaulted her.
In addition, forensic psychiatrists from the Institute of Legal Medicine of Santa Cruz de Tenerife ruled out that Thomas Handrick suffers from a transient mental disorder (or schizoid personality disorder, as stated by an expert witness proposed by the defense).