This will be the sustainable tour of Coldplay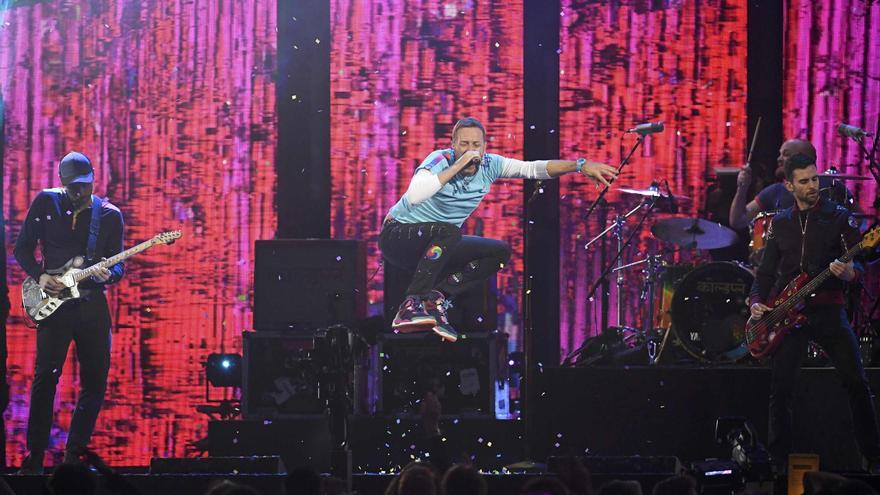 Coldplay intensifies the green revolution in the music industry with innovative proposals. Among them, a battery that feeds on recycled cooking oil, solar energy and movement, developed by BMV. The movement of people in two areas with kinetic ground will supply energy to the concert. "When I tell viewers that I need to jump, it's because if the lights don't go out," Chris Martin, the group's leader, told the BBC. The stage will be covered with solar panels and the latest generation of lasers, lights and LED screens will allow energy consumption to be cut in half.
Aluminum cups
Concern for the environment also affects other aspects of the tour such as reusing materials, recycling waste and saving water. Coldplay will request that all enclosures use aerators on faucets and will offer free water to the public, who will be able to bring their own reusable bottles. His intention is to eradicate plastic. The reusable cups will be made of aluminum, an easy-to-recycle material whose process produces only 5% carbon dioxide compared to that generated by primary aluminum. On land they will use electric or biofuel-powered vehicles and when they fly, they promise to pay a surcharge to use sustainable fuel, which can reduce carbon emissions by up to 80%.
The green revolution 'Music Of Spheres Tour' will reach confetti, 100% biodegradable, and the public's led bracelets. This time they will be made of compostable material and will be collected, sterilized and reused after each concert.
But, despite all efforts, the carbon footprint will exist, especially taking into account Coldplay's trips, but especially those that will make its millions of fans. The group promises to plant at least one tree for every ticket sold to repair all damage caused by the tour to the environment. In addition, they have designed an app that will offer discounts to those looking for alternatives to fossil fuels to get to the concert.
Green festivals
The great festivals have taken note. There are even distinctions for the greenest. Primavera Sound obtained in 2019 the certification of "highly recommended" by A Greener Festival, a non-profit company founded in 2005. It is dedicated to evaluating the efficiency of festivals in terms of sustainability and impact on the environment. Big names like Glastonbury and Roslkilde also follow his advice for improvement. "Today you cannot hold any event focused on young people without a green and feminist perspective," says Marta Pallarès, spokesperson for Primavera Sound.
The next edition of Primavera Sound will last 10 days, will include two weekends and will offer concerts throughout Barcelona. It will put an action plan focused on reducing plastics, although other aspects will also be implemented. The intention is to improve in each edition but, no matter where you look, a great festival like this, with more than 200,000 people, generates an environmental impact. "We are aware of our own contradictions. The more environmentally conscious you become, the more you worry about what can be done." In 2019, a total of 37.85 tons of waste were collected and recycled. "In the next edition there will be a specific action plan to reduce the negative impact by half," says Pallarès. "We will further reduce the amount of waste and the CO2 footprint." And they will continue to offset the carbon footprint through Lavola, a company that manages and offsets the greenhouse gas effect by investing in sustainable projects, as a wind power plant in Turkey. His relationship with them began in 2015 and allowed Primavera Sound to obtain the Clean CO2 Certified Certificate and Seal, which guarantee its commitment against climate change.
In the next edition there will be a specific action plan to halve the negative impact of Primavera Sound
Since 2019, both they and the Cruïlla festival have committed to meeting the 17 UN sustainable development goals for 2030, which include the protection of the environment and the promotion of sustainable consumption, among other aspects. As a result of this agreement, the use of the reusable polypropylene cup was established. But this measure that people consider ecofriendly it is only really sustainable if the glass is used seven times or more. At present, other alternatives are being investigated for them, such as ceramics and aluminum. "I look at the label of green festival. It is very difficult to be sustainable when it comes to big events. But I do not deny that it serves to raise awareness and create a trend, "says Jordi Herreruela, director of Cruïlla.
Coldplay's involvement is very important because they have a brutal media impact. Will get other groups more involved
For them, the prevention and minimization of environmental impacts and the relationship with the local community are priorities. In addition to collaborating with Lavola, the festival works with Gabeiras y Asociados, an ethical law firm specialized in environmental law and social and sustainable economy in the cultural sphere. "The involvement of Coldplay is very important because they have a brutal media impact. It will make other groups get more involved," highlights Herreruela.
All in one
If something is clear, it is that the environment needs joint actions. That is why this week the Spanish festivals have decided to join forces and seek solutions "for all" by creating a working group focused on sustainability. Among its objectives: to promote hydrogen generators, which do not produce CO2, to supply energy to the stages. "The current ones have little power and are expensive." Research must be promoted, he points out.
The first report on sustainability and culture in Catalonia presented by the National Council for Culture and Arts (Conca) last year indicates that much remains to be done. Only 13% of the cultural organizations included in the study always measure the environmental impact of their activity, and conclude that "except in a few exceptions, cultural policies and strategies do not usually include climate change and the ecological crisis in their plans."
The Institut Català de les Empreses Culturals (ICEC) is currently working on the design of a strategic plan for sustainability. Currently, when giving grants, A series of specific environmental guidelines for each sector are assessed. "Energy saving is one of the aspects that companies have internalized because it reduces costs", points out Miquel Curanta, director of the ICEC. "But, unlike what happens in countries like England, where artists have made the climate discourse their own, they run awareness campaigns and demand changes to the government And the companies, it's not the same here. "And he adds:" There is a need for more artists to endorse the banner of sustainability. "Coldplay decided not to go on tour until they found less polluting and more sustainable systems. How many bands here could afford the same?