This was the great television debut of Pablo Iglesias: on Telecinco and with a Jordi González who did not even know his name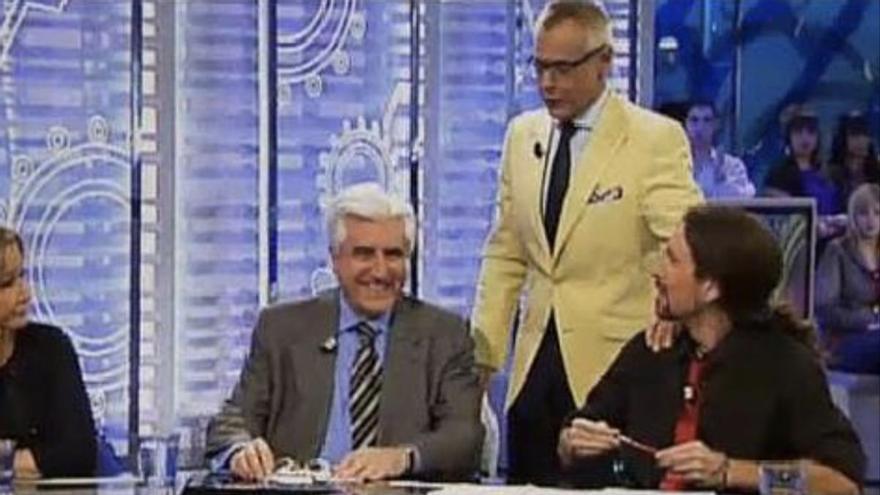 The May 4 elections to the presidency of the Community of Madrid they have settled with a overwhelming victory of the Popular Party with Isabel Diaz Ayuso, the disappearance of Citizens of the Assembly and the resignation of Pablo Iglesias, that leaves politics permanently after not being able to add a majority with the left-wing bloc.
Thus ends a media stage for the hitherto leader of United we can that began with the 15M and reaches its candidacy to the autonomic ones having got to be vice president of the Government of Spain until just two months ago.
Professionally dedicated to university teaching, began his career in the media on the local Madrid channel Canal 33, where he presented the debate space 'The nutka', where he invited Ayuso on several occasions. Although he achieved fame as a talkative on 'The Sixth Night', his debut on national television was not on Atresmedia but on Mediaset.
Iglesias debuted on March 26, 2011 in 'La Noria', the space that Jordi González presented on Telecinco on Saturday nights on Telecinco, with a debate on the Catholic Church in which Enric Sopena and Alfonso Rojo, star gatherings of the Telecinco format, were also present, along with Mila Ximénez.
As a curiosity, the current driver of 'Survivors: Honduras connection 'his name was not even known: "This gentleman is a professor at the Universidad Complutense Pablo Iglesias. Wait, they didn't give me your name. What's your name? "Asked the Catalan.
"Pablo Iglesias," he replied. Jordi González then realized his mistake: "Okay, okay, I thought it was Pablo Iglesias University, not your name," he excused himself. Collaboration could not be considered entirely successful, since after this experience the direction of the space did not call him again.