This is the video for 'La noche de noche', the latest success of Rosalía and Bad Bunny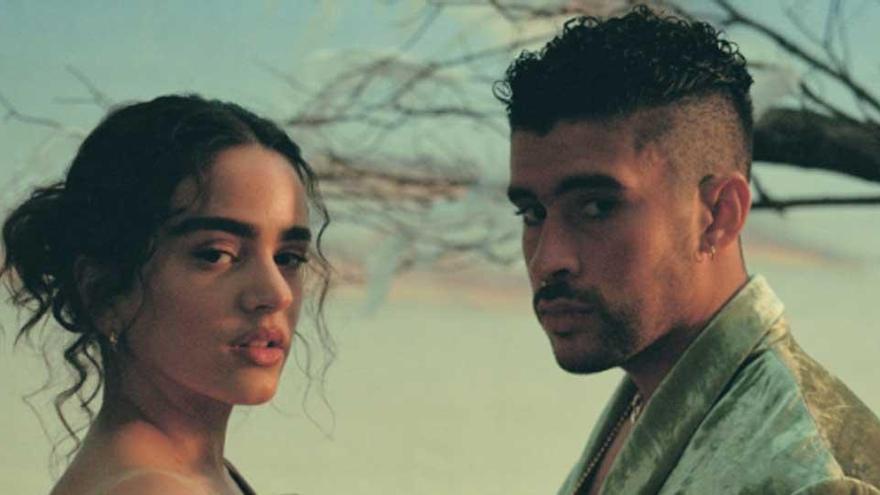 The video of the song "Last night's night", the result of the collaboration between the Puerto Rican singer Bad Bunny and the Spanish Rosalía, has achieved 5,138,707 views and 605,000 "likes" on its opening day this Sunday. "The night of last night" is included in the last disc of the Puerto Rican, "The last tour of the world".
This new audiovisual work, from the director Stillz who has already collaborated with Bad Bunny on other occasions, symbolizes the romance and passion behind the song's message.
The video shows a surreal setting, where Bad Bunny and Rosalía play two lovers whose magnetic attraction ignites the flames of an inevitable romantic bond.
Many of his followers have stated today through social networks that the painting "The Persistence Of Memory" by Salvador Dalí evokes them.
It is a video without excesses in which both, he dressed in a green robe and she in a white tulle dress and black ankle boots, sing between some stairs, a tree and an arch and end up on fire. The song is included in the album that the singer released on November 26 and consists of 16 songs. It was not accompanied by a video that today has seen the light.
A day, Valentine's Day, which, according to the Puerto Rican interpreter in his Twitter social network account, he has never liked. "I've never liked February 14"Bad Bunny wrote this Sunday.
Last December the singer revealed in a live made through his Instagram account that he was not retiring but that he did take time to work on other things.
In a live connection lasting almost three hours, the singer said that he would do "some recordings here, some films there and a couple of projects. We are going to continue active with you but we are going to take a 'little bit' of music for now. Over here I left you material (music) ".
Bad Bunny, one of the greatest exponents of the Latin urban genre in the world, will participate in the action movie "Bullet Train", which will also feature Brad Pitt.
"Bullet Train" will be Bad Bunny's second cinematic experience, after his debut as an actor in the movie "American Sole", and in which he will be part of the production team with American comedian Kevin Hart and basketball player Chris Paul.
The Puerto Rican artist is also expected to stand out in his role as a guest star on the third season of the Netflix series, "Narcos: Mexico."