"This is the time when there is more money, and also more obstructionism"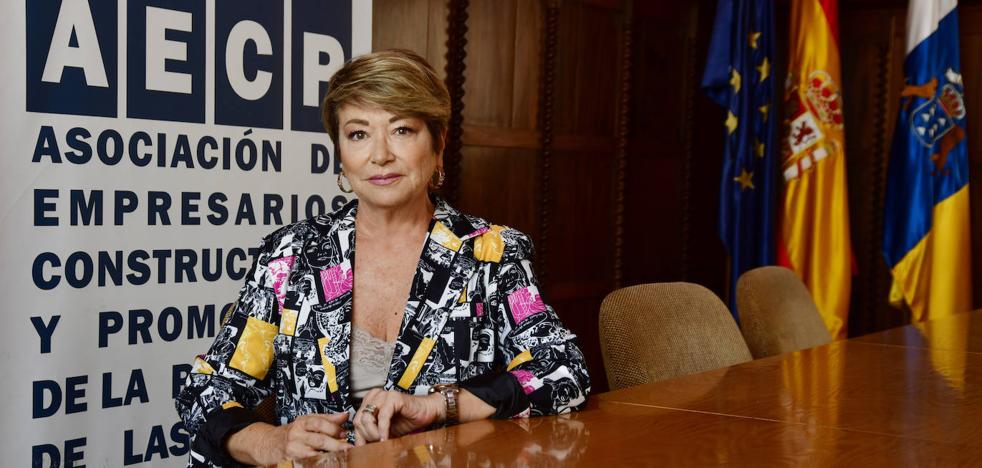 Interview: Salud Gil, president of the Association of Builders and Promoters of Las Palmas
The builders warn of a possible stoppage in the sector and propose "emergency measures in an emergency"
-The latest unemployment figures have been good for the Canary Islands. Are we already on the road to recovery or is it a mere mirage?
-The situation is very complex because we are at a time when there is more money, but also when there is more obstructionism. A monitoring report on the Next Generation funds in Spain reveals that not even 20% has been managed. This in a situation in which the prices of raw materials had risen 24% last year and now with the war the production costs for construction are 40%. In Shanghai they are at 25% of their activity. All that means things are going to get worse.
-When you talk about obstructionism, what do you mean?
- To the bureaucracy, the leadership, the technocracy, the ideological bias... There is a very serious worsening situation and things are going to get harder than they are. From my perspective, the only possible solution is to manage chaos theory, because we are facing an emergency and we have to mutilate that bureaucracy and that leadership and ideological bias in decision-making, because it is an obstacle at this time for the panorama to be better and to go beyond toasts to the sun. An exercise of responsibility is necessary.
-And it's not being done
-If we put ourselves in the scenario of the end of the pandemic, billions of euros have been put on the table. What has been managed? Where is the money for housing plans? The rehabilitation plans? The infrastructures that were going to be built? Where are the Next Generation projects that have been presented? The aid has not reached more than 20% of the companies, and that was before anything happened in the Ukraine or China was at 25% of production. If at that moment he was not able to react, what faith can we have? Very strong alliances must be established between the public and private sectors, channeling crisis management towards a multidisciplinary team. We do not renounce the prospects for progress or resign ourselves to the evidence of regression, but the truth is that there is a very serious worsening situation and things are going to get harder. The only possible solution is to manage chaos theory, because we are facing an emergency and we have to mutilate bureaucracy, leadership, technocracy and ideological bias in decision-making because they are an obstacle at this time, beyond the toasts in the sun and want to give the feeling that nothing happens here. An exercise of responsibility is necessary.
- Do you foresee that everything will get worse then?
-It is that what I see every day is that we are in a situation of paralyzing works and rescinding contracts. 70% of the promoters are going to give up starting new promotions and 42% want to suspend them. Jobs are compromised as well. What you have to do is channel the crisis into a multidisciplinary team because either they realize that this is an emergency issue and emergency decisions are made or things will get very ugly.
– Hasn't the price review approved by the Government of Spain and assumed by the Canarian Executive been a relief?
–There has been no price revision. Not even one. The decree was approved last year. The autonomous community was welcomed in the month of May. How many municipalities? None by now. They all state their intention to do so, but not a single price review procedure has been initiated. There is will, but no action. In addition, many companies will be left out because there is a limit of 5% and only four materials have been put in. If the prices are not reviewed, either the contract is rescinded - with which the guarantee is executed - or the works are suspended and they are also sanctioned. And on the other hand, we are witnessing an allegory of success and progress and maximum employment as if nothing were happening. We are being proactive, we want to work, but we need an essential partner that is the public administrations, which must be agile.
-He said that the municipalities have not done anything
– The first thing that Fecam has to do is take charge of this situation and address it collectively. Is it acceptable that I have to go from town hall to town hall because for six months the president of Fecam has not given me an appointment or answered the phone? It is a problem of all the municipalities because the works are being deserted. The Fecai the same. And the autonomous community instead of being in a position of rest, must be proactive and make decisions.
How does this situation affect employment? Construction continues to create jobs
-Of course we continue to generate employment, and we will continue to do so. To the extent that we can manage activity, we will do it, because there are companies that do not need new stockpiles of material and can finish their works, or that are finished and can meet the deadline and deliver their product at the cost of sacrificing part of their margin. The works that are underway continue to be developed because contracts have not been terminated or suspended, but this will not last long and decisions must be made. Either we are going for a strong alliance between the public and private sectors or this is not moving forward.
–Faced with this situation, have you proposed an ERTE of force majeure?
– Yes, we have considered it and we have contacted the labor authority, we have shown them the numbers, explained the situation, what can happen and that we must be prepared. And they have been receptive and if it is necessary to go to ERTE to save jobs, it is done. We do not want to lay off, because later we will have problems absorbing labor. And I return to the same thing, we do not renounce the prospects of progress nor do we resign ourselves to setbacks. The first thing is to start managing European funds and tendering works. That is why we insist: review the prices once and for all, measure the budgetary impact they have, review the tenders, because the works are being left deserted because the prices do not match. And despite all that, the market continues to function and we continue to create jobs, but the rope is already very tight.
"We will train 600 Chira-Soria workers"

-There is a dysfunction between supply and demand, because there are 200,000 unemployed but they do not have the required qualification. Why is there no specific training?
-It is true that there is a dysfunction, but there is also specific training. In this sense, we work very well with the Canary Islands Employment Service (SCE), both through training projects with alternation in employment, where the student becomes a worker, that is, he develops his training in a real work , as in the certification of professionalism. We are training thousands of people who are joining the market.
–How many unemployed are there in construction?
– We continuously have 20,000 registered unemployed in the construction sector. But we need to know what profile they have. To do this, we will propose to the SCE -and we intend to make it a pilot project in the Canary Islands to deal with training- to know their situation, because if they have experience but lack a qualification, we can recognize their training in the skills and competencies they have and from there, it would be necessary to find out why they do not enter the market. Or to know why there are some profiles that enter and leave the unemployment records continuously. There will also be other people with other circumstances that will have to be addressed differently. The truth is that there is a structural problem, but the people we train do join the market.
Are these isolated cases?
- Nerd. As an example I put the work of Chira-Soria. You will need 4,000 workers. We have an agreement with Red Eléctrica and the SCE and we are training those who are going to carry out this work in the different phases, especially in new technologies and in training that will also have fairly qualified salaries. At this time the students are being selected and during this year around 600 people will be trained.