This is the new Tesla megafactory in Berlin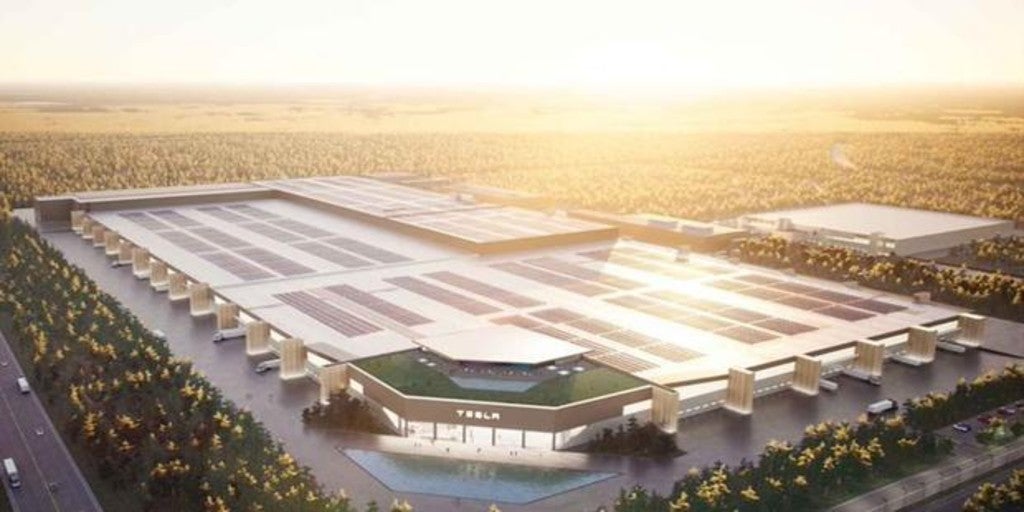 Berlin
Updated:
save

Next year around this time, Tesla will be ready to flood the European car market with up to 500,000 electric cars. And the focus of its expansion is the large mega-factory that the American company is building on the outskirts of Berlin, in Grünheide, Brandenburg, and of which Elon Musk has just published the first images through social networks. The cost of these facilities will exceed one billion euros and will employ more than 10,000 people on the first day of operation, a figure that the company expects to increase as production requires it. Each shift will be made up of about 3,500 workers and there will be three daily shifts. "Giga Berlin" is the caption with which Musk tweets this image today, six months after submitting the first application for construction and with a plan quite different from what appeared in that specification.
In addition to the manufacturing chain, a continuous room 740 meters long, another smaller space appears exclusively dedicated to the production of engines and transmission trains. Also listed on the plan is a U-shaped vibrating test track between the two aisles, which each new car must pass before delivery.
According to the company, this factory will not only serve to meet the European demand for Model 3 and Model Y, but it will be an advance in terms of technological innovation and will also try to take advantage of German technology, which Musk has repeatedly praised in his latest statements. In the case of the electric SUV, the European version will improve the body design of the one now manufactured only in Fremont, California. "It will be a revolution in body engineering," said Musk, who is counting on increasing quality, reducing production costs and offering very competitive prices.
This will be the focus of production for all of Europe. Whoever wants to buy a Model Y in this continent, will not be able to import it from Fremont or from Shanghay, the two remaining production sites, and will get "a revolution in engineering", especially in terms of its bodywork, because the new Gigafactory It will be an opportunity for Tesla to improve the model. Until Berlin, much of the Model Y's chassis and body structure was inherited from the Model 3, from which it derives. However, this factory allows simplify the production process and introducing in-depth improvements, such as the rear subframe, which will be made with just two large pieces of metal instead of the previous 70, even with just one piece when the redesign process is complete. Giga Berlin also has an extensive paint room to offer a greater number of colors and multilayer finishes that Musk also wants to install in the other factories, but in which it is more complicated because they are already operational production lines.
What does not appear, neither in the first nor in the second of the plans, is a space for the manufacture of batteries, but it does have large design departments that will work from the first day on a compact hatchback, as admitted by himself Musk. In response to a comment on Twitter that Model Y was said to be big by European standards, Musk has said he wants to develop a hatchback at the German factory. Perhaps this is why the company is looking for designers and project developers with high incentives for its facilities in Brancemburgo, a demand that is altering the national professional sector and doing harm to German motor companies, which were not going through their best moment and to which the economic crisis consequence of the pandemic has put on the brink of very critical situations. Tesla is also hiring such personnel for Giga Schanghai. If produced, this Tesla Model C would be a rival in the market for models such as the Hyundai Pony, Nissan LEAF and Volkswagen ID.3. Below 30,000 euros.
Musk's plans are still going strong, despite the coronavirus. Although it is true that in February and March, coinciding with the start of the pandemic, it lost value in the stock market, at this point its actions have risen with outstanding results, reaching the value of companies such as General Motors, Fiat-Chrysler and Ford together. Since the beginning of this month, Tesla has been worth more on the stock market than Toyota, for example, the largest manufacturer in the world, above 205,000 million dollars. In an environment as negative as the one caused by the pandemic, its sales have fallen by only 5%. However, this lavish display of ads is already facing its first blows of reality in Europe. A Munich regional court has ruled against its advertising of the Autopilot feature, which in reality "is not an autopilot". In fact, according to the same sentence, if Tesla were selling an autopilot in Europe, it would be violating the law, which does not allow this degree of autonomy in commercial cars in this continent. The court thus responds to the lawsuit filed by Wettbewerbszentrale, a German body dedicated to fighting anti-competitive practices, following the banner advertisement in which Tesla was promoting "full autonomous driving ability." The ruling shows that Europe is a different market than the United States and that Musk will necessarily have to adapt to.