This is Neon: the human being with Samsung emotions created by a computer | Innovation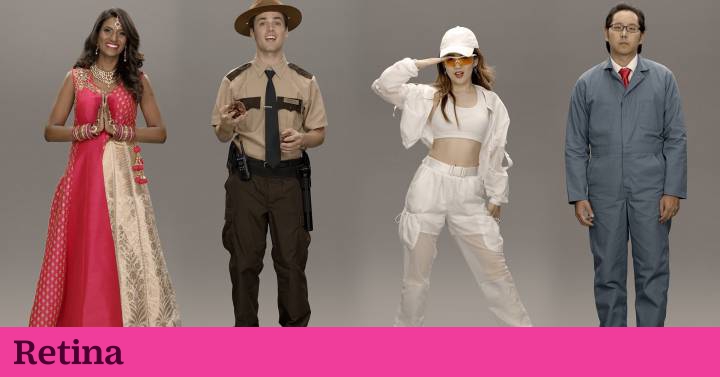 A woman in a suit and a microphone presents the news. Next to her, a man performs magic tricks, a young woman wears a pink kimono and a sheriff gives directions while pointing to a map. They seem real personal. But they are not. In fact, they have never set foot on planet Earth. They are humans created by a computer that behave as if they were real and, according to their creators, can show emotions and intelligence.
It's about neon, a project carried out at the Samsung Star Labs and presented at CES, the largest consumer technology fair in the world. Each one of these artificial humans - this is what Samsung calls them - is exposed on different screens in a stand of the fair. Multiple assistants approach them to try to find in them some sign that shows them that they are not real. His eyes, his smile and even his eyebrows move with great naturalness.
They look like real people, but they are not. This is Neon, the Samsung human being created by computer and presented at CES. It can show emotions and intelligence and, according to its creators, can be companion, representative and even friend of the users. pic.twitter.com/bz7TGz3RDG

- Isabel Rubio Arroyo (@isabelrubioa) January 8, 2020
With these artificial human beings, it is intended to take the virtual assistant industry a step further. Bo Moon, chief strategy officer of Neon, explains to EL PAÍS Retina that these hyper-realistic avatars "can be a companion, a customer service agent, or even your friend or your representative." He gives the example of a bank: "There are ATMs that are behind a window and are only responsible for making bank transactions. We could use Neon to make the bank transaction and you wouldn't even know that he is not a real person. He greets you, answers you and is even able to laugh at your jokes. "
A few days ago, Samsung announced that it would present at the CES "an artificial human being." Shortly after, he realized that Neon had nothing to do with his digital assistant Bixby. "Contrary to what some news says, Neon is not about Bixby or anything you've seen before. Neon will arrive at # CES2020, so stay tuned! ", He said through his official Twitter account on December 26.
Mystery
The mystery did not begin to be revealed until last Sunday. Pranav Mistry, one of the people behind this project, posted a tweet with an image of a hyperrealistic human avatar and the following message: "I fly to CES tomorrow and the code finally works. Ready to demonstrate CORE R3. Now you can autonomously create new expressions, movements and dialogues (even in Hindi) completely different from the original data collected. "
Getting to create hyperrealistic human beings is as spectacular as it is intimidating. Is it possible to guarantee a good use of this type of technologies? Moon insists that Neon does not make copies of real people and will not. Currently, his team is made up of less than 50 people and will soon begin piloting with companies.
This has not been the only striking technology presented at CES and related to Samsung. Hyun-Suk Kim, president and CEO of the consumer electronics division of Samsung, in his keynote at CES last Monday invited Ballie to the stage. Suddenly, a small yellow ball entered the scene rolling on the ground and gradually he approached. "I think he likes me," Kim joked.
As he explained, this machine understands the user, supports him and reacts to his needs to actively help him at home. For example, you can activate a cleaning robot on your own if it detects that the floor is dirty. Faced with the privacy concerns that may arise when introducing a mobile assistant in the home, Kim just stressed that Samsung protects user data.
TVs without frames and rotating
The television is the undisputed protagonist of CES. Manufacturers present larger and finer models every year that can even be stored to take up less space in the home. Last year Samsung showed the first roll-up television. In this edition he has presented an 8K without frames: Q950. 99% of the front is screen and is only 15 millimeters thick.
The South Korean manufacturer also develops models thinking about millennials and the Z generation. The Sero, which means vertical in Korean, is its rotating television. The device has the ability to be placed both horizontally and vertically, just like a smartphone or tablet. The goal is to offer a better experience when launching content to television from other devices. After its initial launch in South Korea last year, Samsung intends to take it to other markets that it has not yet completed in 2020.