This is how the new prices of tobacco brands in Spain remain after their publication in the BOE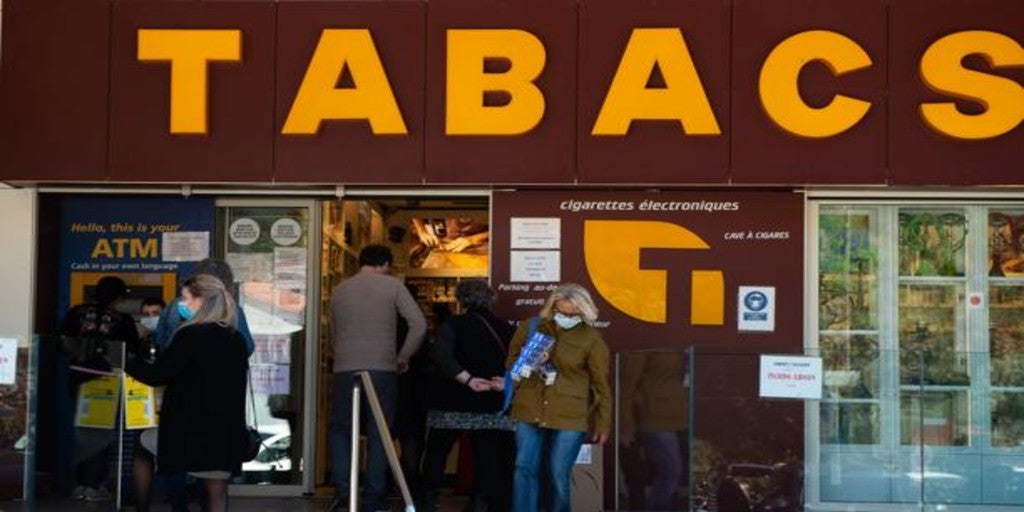 A. CaparrosMADRID Updated:05/02/2022 09:45h
Save

Some brands of cigarettes and rolling and pipe bites have released new tobacco prices in Spain. According to the information provided by the
Official State Gazette (BOE)the retail prices (RRP) of certain tobacco products in Tobacco and Timbre Outlets in the Monopoly Area, which have been proposed by the corresponding manufacturers and importers, came into effect on Saturday, April 29.
New prices in the Peninsula
CIGARETTES
Allure Glacier (40). 7.95
Lucky Strike XL (40). 8.50
Marlboro Red KS BOB 22. 5.25
CIGARS AND CIGARETTES
AGIO
Mini Mehari's Ecuador (20). 0.24
Mini Mehari's Java (20). 0.24
AVO
Avo Improvisation LE 2022 (22). 12.40
DAVIDOFF
Davidoff Disc 2022 LE (12). 16.70
HENRI WINTERMANS
Half Crown (5).
1.14
PEACE
Wilde Cigar (20). 0.54
PANTHER
Mini Blue (20). 0.25
Mini Filter Blue (20). 0.20
Original Mini (20). 0.25
Mini Net (20). 0.25
signature
Filter Red (10). 0.30
CIGARS AND CIGARETTES
AGIO
Mehari's Brazil (Pack of 20). 5.90
Mehari's Ecuador (Pack of 20). 5.90
Mehari's Java (Pack of 20). 5.90
Mehari's Red Orient (Pack of 20). 5.90
Mehari's Red Orient Filter (Pack of 20). 5.90
PEACE
Mini Wilde Cigarillos (Pack of 20). 6.50
Wilde Cigarillos (Pack of 20). 7.10
Wilde Miniatures (Pack of 20). 5.50
NOBEL PETITE
Small Cigar (Pack of 20). 8.90
White Sumatra (Pack of 20). 8.90
PANTHER
Mini Filter Red (Pack of 20). 4.70
Panter Mini Filter Green (package of 20). 4.70
Panter Mini Filter Swirl (package of 20). 4.70
signature
Blue (Pack of 20). 5.70
Fine Beige (Pack of 20). 4.50
Finos Blue (Pack of 20). 4.50
Fines Original (Pack of 20). 4.50
Finos Red (Pack of 20). 4.50
Noir (Pack of 20). 5.70
Original (Pack of 20). 5.70
Red (Pack of 20). 5.70
VERELLEN
Poncho (Pack of 10). 2.25
Poncho Mini (pack of 20). 3.25
LIAR BITES
Horizon Crafted (30). 5.00
PIPE BITES
Al Waha Ali Baba (200g). 11.80
Al Waha Ali Baba (50g). 2.95
Al Waha Kaktus Jack (200g). 11.80
Al Waha Kaktus Jack (50g). 2.95
Al Waha Ringle Rangle (200g). 11.80
Al Waha Ringle Rangle (50g). 2.95
Cannibal Lion (50g). 3.50
Chaos Baby Noah (50g). 2.95
Chaos El Patron (50 g). 2.95
Chaos Memento (50g). 2.95
Eastenders Original Blend (100g). 6.50
Eastenders Original Blend (20g). 1.50
Hookain Blaze Slime Gamma (50g). 4.95
Hookain Blaze Batluva (50g). 4.95
Hookain Blaze Koka Koala (50g). 4.95
Hookain Blaze Lym Hype (50g). 4.95
Hookain Blaze Nana (50g). 4.95
Hookain White Heaven (50g). 4.95
Revoshi Antep Dream (200g). 12.90
Revoshi Eskimo Loka (200g). 12.90
Revoshi Kazak (200 g). 12.90
Revoshi Raggata (200g). 12.90
Revoshi Ragnar (200g). 12.90
New prices in Ceuta and Melilla
The retail prices (RRP) of the tobacco products indicated below, including the different taxes, in Ceuta and Melilla Tobacco and Timbre Outlets will be as follows:
CIGARS AND CIGARETTES
PEACE
Wilde Cigar (20). 0.51
CIGARS AND CIGARETTES
AGIO
Mehari's Brazil (Pack of 20). 5.10
Mehari's Ecuador (Pack of 20). 5.10
Mehari's Java (Pack of 20). 5.10
Mehari's Red Orient (Pack of 20). 5.10
PEACE
Mini Wilde Cigarillos (Pack of 20). 5.95
Wilde Cigarillos (Pack of 20). 6.75
Wilde Miniatures (Pack of 20). 5:30
PANTHER
Mini Red (Pack of 20). 4.05
signature
Blue (Pack of 20). 5.50
Noir (Pack of 20). 5.50
Original (Pack of 20). 5.50
Red (Pack of 20). 5.50
PIPE BITES
Al Waha Ali Baba (200g). 8.40
Al Waha Ali Baba (50g). 2.10
Al Waha Kaktus Jack (200g). 8.40
Al Waha Kaktus Jack (50g). 2.10
Al Waha Ringle Rangle (200g). 8.40
Al Waha Ringle Rangle (50g). 2.10
Cannibal Lion (50g). 2.50
Chaos Baby Noah (50g). 1.75
Chaos El Patron (50 g). 1.75
Chaos Memento (50g). 1.75
Hookain Blaze Slime Gamma (50g). 3.85
Hookain Blaze Batluva (50g). 3.85
Hookain Blaze Koka Koala (50g). 3.85
Hookain Blaze Lym Hype (50g). 3.85
Hookain Blaze Nana (50g). 3.85
Hookain White Heaven (50g). 3.85
Revoshi Antep Dream (200g). 9.60
Revoshi Eskimo Loka (200g). 9.60
Revoshi Kazak (200 g). 9.60
Revoshi Raggata (200g). 9.60
Revoshi Ragnar (200g). 9.60
View commentsTopics

Source link