This is how the mask will have to be used: who, where and when can it be removed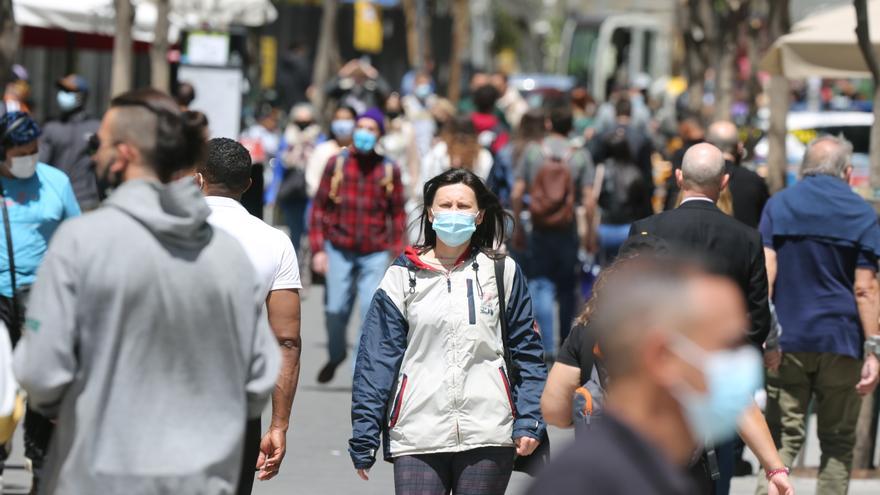 Next Saturday Spain joins the list of countries that have relaxed the use of the mask outdoors, but with conditions: no distance of a meter and a half between non-cohabitants will have to continue putting it on, as also in closed public spaces or open to the public and transport.
It is the summary of the reform of article 6 of the law of urgent measures of prevention, containment and coordination to face the pandemic of last March that makes progressive flexibility of the use of the mask depending on the evolution of the epidemiological situation and as the percentage of vaccination in our country increases.
For now, starting next Saturday, the mask will not be mandatory outdoors or open spaces as long as a distance of 1.5 meters is maintained, unless we go with cohabitants, with whom it is not necessary to respect that distance.
That as a general rule, because the different casuistry has yet to be defined by the Alert Report and Preparation and Response Plans (dependent on the Public Health Commission) as they are presented.
Thus, you will always have to carry a mask with you to be able to put it on in situations of all kinds that may arise and in which it is required to carry it. For example, walking alone on the street but having to stop at a traffic light where more people are waiting.
Where can I take it off?
Outdoors where you can store 1.5 meters away security with people with which you do not live. But you will have to put it on if there are crowds.
If you are a resident of a center for the elderly or for people with disabilities in which 80 percent of users are fully vaccinated. Workers and visitors must still use it.

Also if you are a essential worker in the dependencies where you develop your work -for example, a fire station- and if 80% of your colleagues are vaccinated with the full schedule.

Cabins of ships or boats; as a novelty, you can also be without her on deck if you can maintain interpersonal distance.

In large concert-type events in which the audience is seated in seats 1.5 meters apart.

If you have any condition or disease that advises against that you take it.
Where do I have to continue using it?
In closed public spaces -such as a library- or closed spaces open to the public -supermarket or pharmacy, for example-.
Air and maritime transport -cWith the exception of the aforementioned vessels-, bus, railway and cable car, including platforms and stations. Also in public transport and in the car if you travel with non-partners.
At large events that are held with the public standing.

In the football stadiums whose capacity does not allow keeping the distance and in basketball halls.
Finally, the reform makes an allusion to prisons in which there is mobility of inmates, both in open-air and closed spaces; in this case, the specific rules are those issued by the competent prison authority.