This is how technology and play can help you learn English | Economy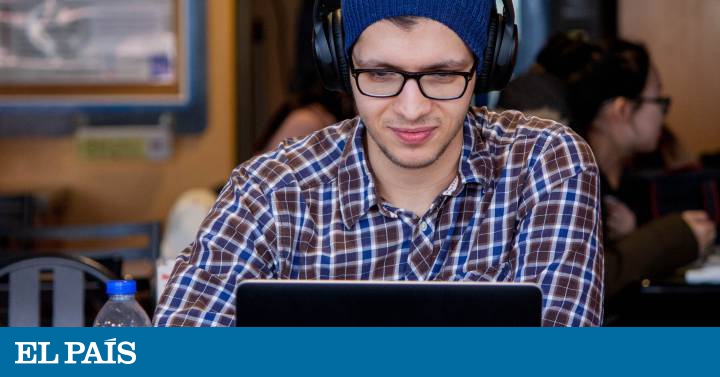 Long gone are the traditional English classes, which focused primarily and tediously on acquiring grammar and memorizing vocabulary, irregular verbs and phrasal verbs. In a society as hasty, interconnected and digitized as the current one, communication skills and their application in real situations have taken center stage. There is no lack of desire, but time, and technological advances in fields such as artificial intelligence, mobile applications and podcast They have made learning almost à la carte possible, being able to connect where, when and how best suits us. But is the future exclusively digital?
"We live in an increasingly global, technological and interconnected world in which English is used as a lingua franca," says Miguel Ángel López, coordinator of the Department of Languages ​​and Mobility of the European University. The teaching of English, he says, must be adapted to this context, "taking advantage of emerging technologies that facilitate language learning, which tends to occur more in collaborative classrooms and in virtual or hybrid environments (face-to-face and online)."
For Geoff Stead, Chief Product Officer in the Babbel language platform"The main trend there is is also the one that has existed for the longest time: mixing human skills (those of the teacher) with technology. Today it is about artificial intelligence and combining teaching with apps with face-to-face, but yesterday it was YouTube, the Internet in class and digital tools ". A practice that is mixed with the tendency to start learning English at younger and younger ages and increase the use of the language as a target language in other subjects, both at school and in universities. There is more exposure to English and more complex language has been covered since much earlier.
"With the development of bilingual programs in the different autonomous communities, English has become more relevant since Early Childhood and Primary Education, which in principle allows an acquisition of the language in a way more similar to the mother tongue," says David Bradshaw, responsible for evaluation services of Cambridge Assessment English (FALLS OFF). Ages in which "the language should be presented in the most natural way possible, enabling socialization in a foreign language environment" and providing a more enriching experience and a wide range of opportunities to interact with the language.
The key is always enhance communication skills (read, listen, speak and write) in order to express oneself well in the language one is learning. "You cannot learn a skill in isolation … If we want to speak English well in order to communicate on a trip, to order food, for example, we cannot just practice the speaking "says Kate Turner, Product Manager for ELT at Oxford University Press in Spain. "You have to know how to read to interpret the menu, listen to understand the waiter and, of course, speak to order."
Ludification and technology
One of the most widespread trends in teaching English today is the use of educational games, usually in digital format. Not only do they connect students from all over the world, but they make learning the language more attractive and help develop skills such as problem solving, collaboration, curiosity and perseverance. According to Turner, "although in principle it may seem like a trend aimed at younger students, introducing this type of element in secondary or adult books or methods fosters motivation and learning", without forgetting that this "It is always more effective when it engages the student at the emotional level, and we have a positive emotional response to what we are studying, "says Bradshaw.
On the other hand, technological advances have brought about a real revolution in the way we learn a language. The development of artificial intelligence (AI), for example, allows analyzing the progress of a student to identify the areas in which they have the most problems and thus be able to adapt their future activities, and will make the most outstanding students access more content. sophisticated and thus maintain their motivation and interest. It is, in part, like having a private tutor for each student, something that previously would have been unthinkable: "In this way, students can receive instant feedback on their oral or written production, or practice what they have studied with the help of a chatbot, even if it is only for very specific situations, "says López.
But the practical applications of technology don't just help students. "AI and Big data they are also helping researchers to better understand the learning process (…), which leads to the development of more effective curricula for different types of students, and allows a much more exhaustive analysis of the use of the language, "he recalls. Bradshaw.
Simple and universal access to language learning applications, podcasts in English and videos on YouTube or TED Talks have also made it possible for the educational experience to expand beyond the classroom. AI enables the existence of educational social networks such as Brainly which, with more than 150 million users from 35 countries, allows collaboration between students (or between students and teachers). Also developing smart apps like Write and Improve, from CAE, which can take a text written by the student, analyze it and qualify the writing based on international standards, to offer a detailed and personalized report that includes suggestions on how to improve.
Inverted projects and classes
The growth of the technological component also raises a question: will the presence of the teacher still be necessary? According to the experts, always. "The use of new technologies or free resources on-line it also has its risk if you ignore the teacher and the classmates, "warns López. "The teacher is still necessary to assess the student's evolution, to organize team discussions, to empathize and adapt to the needs of the student ".
The physical presence of the teacher also seems essential if you want to resort to learning by projects, another of the trends that have been going strong in recent years. It consists of using educational projects "to teach and apply content in a practical way, with a purpose that is usually creative"; Turner explains. "A time capsule, so that the people of the future know what their life is like now, would allow Primary students to reflect on what is important to them (…), in addition to putting into practice varied vocabulary and using certain grammatical structures" . It is also about projects that can be transversal, being done in English but covering multiple subjects. With the classroom trend inverted (or flipped classroom), the students study or watch content at home (for example, a video that explains certain grammatical content), and then carry out the practical part in the classroom, with the assistance of the teacher.
Technology, personalization, communication skills … These are the strongest trends today. But, above all, there must be a real commitment on the part of the student, and the teacher has, more than ever, the duty "to motivate his students to continue learning. Because we live in such a busy society, we do not pay the same attention as before, and we have to find that point to motivate, surprise and maintain interest, "Turner concludes.
Free digital resources for your quarantine
The fight against the expansion of the coronavirus has imposed forced house arrest on children and adults, the duration of which is still difficult to predict with certainty. A change of scenery that has forced teachers and students from many countries to adapt to forced marches to a new digital environment. It is because of that Cambridge Assessment English, The non-profit foundation of the University of Cambridge has made numerous support tools for these distance classes available to teachers and families. Resources like MOOC Teaching English Online, which aims to help adapt teaching skills to the digital environment, and numerous webinars; in the web Supporting all teachers, teachers from schools, universities and language academies can find numerous materials to work on the four skills (reading, listening, speaking and writing); Meanwhile in Cambridge for you, families and students of all levels have more resources so that from home parents can help children continue learning English.

Are you fascinated by languages ​​and want to be able to develop those skills? With this master on-line, you will work concepts like hobbies and personality, tense review, conditionals and If- sentences, leisure activities, past time, idioms …

This training allows you to consolidate the management and marketing skills in English of tourist services, as well as customer service and the presentation of tourist information in English.

It allows you to delve into the Excel application through multimedia themes and a multitude of step-by-step guided exercises. In addition, through 16 topics, the student will advance their knowledge of advanced English.