This is how experts in "emotional ventilation" work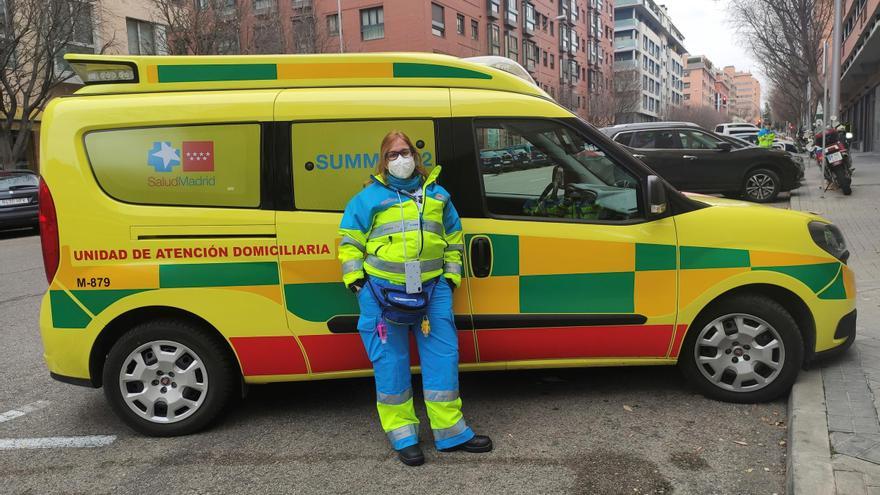 The guard mobile of the Summa 112 rings on a nightstand at four in the morning at the base of La Marazuela (Las Rozas). A young man has committed suicide in a municipality in the southeast of Madrid. Cristina, one of the six psychologists on the team, he rushes home to try to ease the grief of his relatives.
This unit, created in July 2019, is located about 20 kilometers from Madrid in the annex to a health center in the municipality of Las Rozas. They were the first members of emergency psychological care integrated within the National Health System.
Cristina along with her colleagues Miguel, Marta, Edurne, Rocío and Laura are the members of this team. Each day they take turns on 12-hour watches.
They make an average of three interventions a day and are always on the phone to, when required, go to notices of suicides, sudden deaths, sexual abuse or murders.
In fact, Cristina was in charge of attending to the relatives of the last homicide that occurred in Madrid last November.
"Many relatives and an emotionally overwhelmed mother" It is what he remembers from that moment. He even had to separate the mother so that she would not listen to the hypotheses about the cause of the violent death of her son.
This 39-year-old psychologist has worked with drug addicts, people with Mental illness severe or cancer patients. An experience that helps you in your day to day to face the notices to which you go.
"With what you know, do what you can" It is the advice that one of his bosses gave him and that he always has in mind. Recognizes that the hardest moments are assists in cases of sudden death in babies.
And it is that many mothers cannot get rid of the corpse of their children that they have in their hands. "In these circumstances we wait as long as it takes so that he can be fired, "he says.
Silence or overflowing emotions
EFE has accompanied this psychologist on a conference to get to know up close what your job is like and what are its functions.
Cristina has a 'modus operandi'. As soon as you arrive at the place, analyze and study the situation you encounter. "There is always either silence or overflowing situations. I fear silence more because that means that something is not coming out and it has to come out ", Explain. However, each event requires a different way of acting.
In suicides, the objective is that the family does not blame themselves for death, in abuses gradually gain the confidence of the victim and in homicides stop the anger of the relatives.
Despite this, they all have a point in common, "that people express their emotions", what she calls "emotional ventilation."
The main work of these psychologists is that relatives or friends of the victims can begin the mourning. Failure to do so in time can have an impact on the lives of those affected.
"Each story is unique"
"Each story is unique", highlights this psychologist, who is in each event between an hour and a half and three hours. But it's not always like this. In his head remains a tragedy that occurred months ago: a couple died in a traffic accident and the Civil Guard agents asked for his help to communicate this death to the 15-year-old daughter.
"I was struck by the vulnerability of the girl and the situation in which we left her", recognize. It was six hours of attention, but he always wonders how that young woman ended up.
The importance of mental health
This team of psychologists come from suffering a frantic December bridge with many interventions. There have been numerous cases of suicide of young people or sudden deaths.
Cristina acknowledges that she does have the perception that the cases of people who commit suicide have increased.
"Mental health is all the rage now, but psychologists are in short supply. It is necessary to expand the staff to reach more people, "he says. In addition, he regrets that" today it is a luxury item to have a psychologist.
Specialists point out that suicide deaths never have a single trigger, but are the result of psychological, biological and social factors that have treatment. The People with suicidal behaviors and their relatives can receive help 24 hours a day by calling 112 or by contacting the Hope Phone (717 00 37 17).
The duel begins
The conversation with EFE has to stop because Cristina has a call. A young man has committed suicide in the house where he lives with his parents and he has to go quickly to his coach Óscar Rodríguez.
When he arrives at the home, where there are a dozen people, his gaze rests on the deceased's sister, who is sitting on the floor.
Without a word, Cristina sits next to him to wait for this girl to be ready to speak. "There are times when it is necessary to speak and others that not", Explain.
"The parents are in shock but the sister is the one with more powerful symptoms of a Anxiety Attack", value.
Minutes later, the girl begins to communicate with the psychologist. "Would you like to tell me what happened?"Cristina asks him.
This young woman expresses her guilt over the death of her brother. Cristina tries to calm her down and they talk for more than an hour. Afterwards, the duel can begin.