This has changed the population in Spain since 2009, by municipalities and districts | Society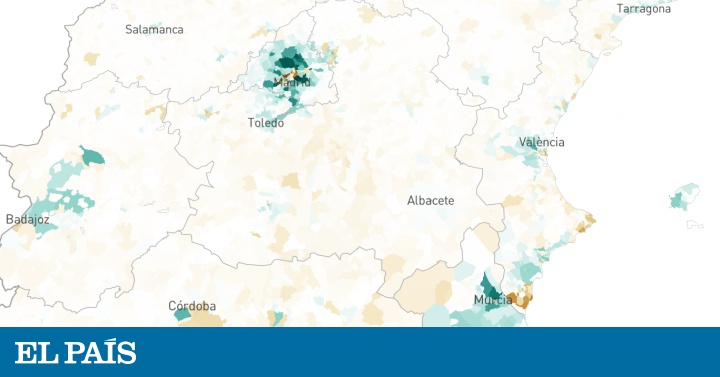 If the population lived as tight as in the central district of Madrid, all of Spain would fit in Tenerife. 72% of residents in the country occupy 1% of the territory. The analysis of the definitive data of the register as of January 1, 2019, published on Wednesday by the INE, allows to know how the population has changed since 2009. And to do it by districts and by municipalities. There are fewer, older children and the inhabitants continue to focus on cities. But the growth during this last decade has been lower than the one registered in the previous one. The economic crisis broke and changed trends. These are some of the keys:
More inhabitants, but in fewer municipalities. The population has exceeded 47 million inhabitants, a figure that has not been recorded since 2013. 76% of the 8,124 Spanish municipalities have lost population between 2009 and 2019. Only 24% have won neighbors. "We live a process of urbanization worldwide, the population is essentially going to live in urban areas, where they find incentives from a labor, cultural, and personal point of view," explains Diego Ramiro, director of the Institute of Economy, Geography and Demography of the Higher Council for Scientific Research (CSIC).
"In addition to serving small municipalities, The interesting thing is to look at intermediate cities, which lose population. If the surrounding villages decrease, they too, by reducing their area of ​​influence, "Ramiro adds. It is what has happened in Torrevieja (Alicante), the city of 50,000 to 150,000 inhabitants that more population has lost since 2009. Currently there are some 83,000 neighbors, 18,000 less than a decade ago.
The districts of the center of the big cities lose population. It occurs in Madrid, in Barcelona, ​​in Zaragoza … The peripheries of the cities have grown during these 10 years, not only because of the flow from the center, but because "they have their own demographic dynamics", explains Juan Antonio Módenes, professor of Geography at the Autonomous University of Barcelona and researcher of the Center for Demographic Studies. "This process, which is known as suburbanization, dominated the dynamics of Spanish cities, and in general of western cities, in recent decades, especially in the eighties, nineties and the early 2000s, "he says." Now there are young people living there with their parents and they emancipate themselves in these same areas, "he says.
Josefina Domínguez Mujica, Professor of Human Geography at the University of Las Palmas de Gran Canaria, links this phenomenon to the housing market: "It is linked to economic interests. For a time the idea of ​​the garden city was sold as the panacea. boosted urban development in residential areas Now there is more pressure in urban centers, where the tourism factor converges with gentrification [proceso de expulsión de los vecinos de un barrio, sustituidos por otros de mayor capacidad adquisitiva], rent prices rise a lot. "
The experts clarify. "There is a combination of factors, there are still leaving homes from the center to the periphery, but they are less in number than 20 or 30 years ago. Because the traditional population in the center of the cities is quite old and is being replaced by new flows, especially in Madrid and Barcelona, ​​"says Módenes, of the Center for Demographic Studies in Barcelona. "Before, when the youth of Madrid wanted to emancipate themselves, they had nowhere to go and they left. They competed with other young people for housing. Now, when there is a less familiar lifestyle, in which many seek independence and cultural and leisure life, there is interest in staying in the center. But they no longer compete with other youth, but with tourist platforms, "he continues.
90% of the population lives in 12% of the territory. If residents in Spain lived with the same population density as in the central district of Madrid, they would fit on the island of Tenerife, which occupies some 2,000 square kilometers. 72% of the country's inhabitants are concentrated in 1% of the area. The metropolitan areas of Madrid and Barcelona welcome 23% of the national population.
31 provinces have lost population. The ones that decrease the most in percentage terms are in the northwest of the Peninsula: Zamora (12%), Cuenca (10%), Teruel (9%) and Ourense (8%). Municipalities with fewer than 5,000 inhabitants have lost 5.6% of population in this decade. "In Salamanca, for example, 40% of municipalities with 500 to 1,000 inhabitants have lost population," explains Joaquín Recaño, Demography professor at the Autonomous University of Barcelona and researcher at the Center for Demographic Studies. "Areas such as Castilla y León, Asturias, Galicia and a part of Castilla-La Mancha have always been broadcasters of population, either abroad in the late nineteenth and early twentieth centuries, or other areas of Spain. Therefore they are aged. Because it also converges that not only few young people remain, but that fertility falls, "says Diego Ramiro, of the CSIC.
Depopulated Spain is not a novelty. The one known as Spain emptied is not a recent phenomenon. The depopulated towns today were already 10 years ago. "It is not a process that has occurred suddenly, but comes from a very long term," says Ramiro, of the CSIC. "Madrid had about 250,000 inhabitants in 1870. In 1900 it had half a million and in 1930 there were already one million, mainly thanks to migratory flows from inland Spain. Something that also happened in Barcelona," continues this expert. "We live a process that does not stop, but that has its origin more than a century ago." Ramiro calls for not idealizing or insulting life in the villages, but points out that young couples must have "medium or long-term security" to settle in an area and decide to start a family. "The challenge is to make them more attractive and to create a fabric economic and industrial in the long term, which is not the task of a legislature but requires a lot of time.
285,000 children less. In 2009, 10% of the population was under 10 years old. Today they are 9.1%, about 4.4 million. And lThe proportion of children in this age group (from zero to nine years) has fallen in this time in six out of 10 municipalities. In Spain, births have dropped almost 30% in the last decade. "There are 1.26 children per woman. If this low fertility rate adds that there are fewer women of childbearing age, the data is explained," says CSIC demographer Teresa Castro. "The age of the first child has been delayed. Y In the INE fertility survey, women blame the figures for not having found a suitable partner and for labor reasons, that is, precariousness, "he continues." There are no signs that the data will improve soon. "
Those over 65 are one million more. Specifically, almost 1.3 million more than a decade ago, to exceed nine million. One in five people exceeds 65 years. And the percentage of the population in this age group increases in 42% of the municipalities. "In addition, life expectancy rises. In 1900 it was 35 years old at birth. Now it exceeds 80. It is a challenge for the care sector. The Administration will have to consider how the unit will attend," says Ramiro. "As part of the demographic challenge it is vital to propose efficient measures, because you cannot have a hospital in each municipality. But all citizens have the same rights, regardless of where they live. The assistance network must be sufficiently dense as so that nobody is left unattended, "he adds.
They exceed 47 million inhabitants. For the first time since 2013 this figure is exceeded and Spain continues with a trend that began in 2016, when there was an increase in population after four years of falls, a phenomenon linked to the economic crisis. "The population has grown at a slower pace than the previous decade, which was the one with a great outbreak of immigration," says Joaquín Recaño, of the Center for Demographic Studies in Barcelona. LThe most important growths have occurred in Álava (6%) and Baleares, Almería and Guadalajara (5% in the three provinces). "Where is the greatest economic, tourist and industrial dynamism. Also in provinces such as Guadalajara, because of its proximity to Madrid. The province that grows the most is Álava. Gipuzkoa and Navarra also do so. The Basque Country was affected by the crisis with less intensity and It has had foreign entry, "he continues.
Immigration: the only growth factor. In a country where there are more deaths than births, the arrival of immigrants is the only option not to decrease. Last year, approximately 89% of the population was Spanish, that is, 42 million people, compared to almost 11% of foreigners. "The flow of immigrants stopped during the crisis, and many of them left, even the phenomenon of the departure of Spaniards abroad was activated, something that we can already finish ", explains Recaño. But the number of immigrants grew in 2019 for the second consecutive year. Between 2009 and 2019 the number of foreigners has increased by more than 600,000, according to data from the continuous pattern." It is the dynamic less predictable, because it is closely related to the economy, "says Diego Ramiro of the CSIC." We will have to think about how to attract immigrants. And in the not too distant future there will be a competition for qualified migrants. "