This has been the accident between Verstappen and Hamilton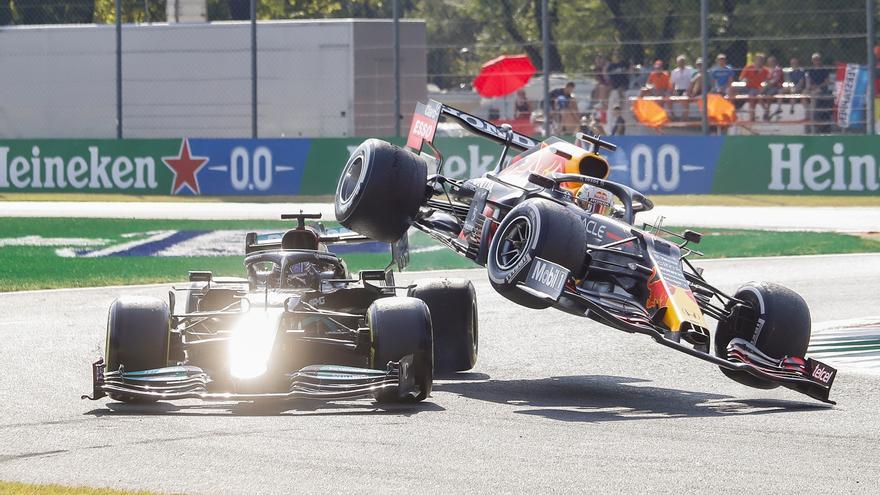 Australian driver Daniel Ricciardo (McLaren) has this Sunday a surprising victory in the Italian Grand Prix race, a date where the Dutch Max Verstappen (Red Bull) and the British Lewis Hamilton (Mercedes) canceled each other when they saw each other wrapped in a accident that left both out of the fight in the equator of the appointment.
Formula 1 was experiencing lap 26 at the historic Monza circuit when the reigning champion, who had just made his first stop, and the current leader, who paid for his wrong passage through the pits, found themselves on the track. Their fierce fight ended with a touch at Turn 2, after the Dutchman got on the piano when he ran out of room, which sent both cars to the gravel.
With the Red Bull on top of the Mercedes in an unheard-of image, Ricciardo was left without pursuers and was able to celebrate, ahead of his teammate, the British Lando Norris, and the Finn Valtteri Bottas (Mercedes), who came back from the nineteenth to the third position, his eighth triumph in the 'Great Circus ', the first since the 2018 Monaco Grand Prix.
Verstappen blamed Hamilton for the clash between the two that knocked them out of the race on lap 26 by ensuring that the seven-time world champion he went "to the left" to strangle him and make him "go off track."
"It is unfortunate what has happened. We knew it was going to be tight at turn one. We were very close when braking because it threw me out; He kept going left to strangle me and make me go off-track, "he commented on DAZN after the race. "I just wanted to keep going. I had to take the sausage because there was no space and that's why we touched "he added.
A Verstappen who was called, along with Hamilton, to the stewards to analyze the action and did not rule out that there may be a sanction: "We will discuss it with the stewards, I will explain my part and see what happens." The Dutchman answered with a concise "yes, of course" to the importance of halo, cockpit protection system, that prevented his car from falling on Hamilton's head.