«This game is very similar to the one we played with Oviedo in 1998»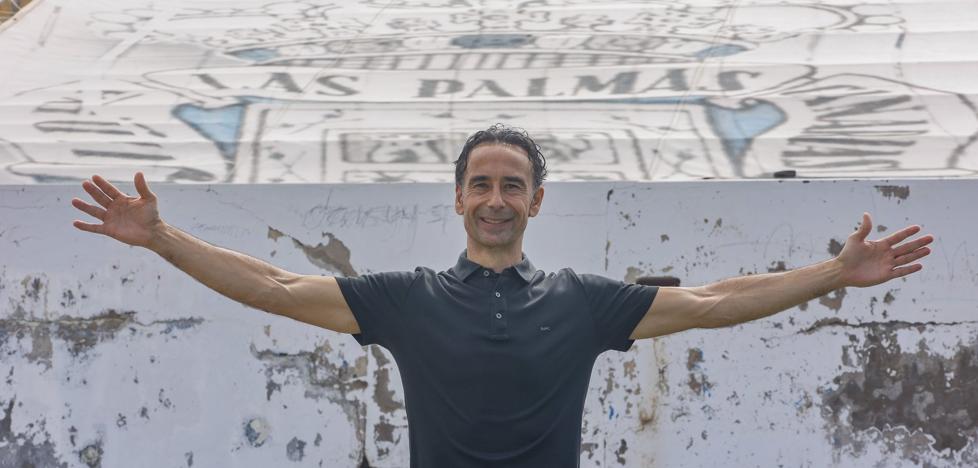 soccer
«I expected the reaction of our fans, but not that it was so forceful. We will have to know how to handle emotions very well », comments former captain Paquito Ortiz, who recalls that match 24 years ago against the Carbayón team
Nine seasons as a UD Las Palmas player, serving as captain in many of them. Currently he performs the duties of
Head of Innovations at the UD Las Palmas Foundation. Authorized voice in the club, an example of professionalism and chivalry. That is Paquito Ortíz, a benchmark for soccer in our quarry. 24 years later he reminds us of his experience in that tie against Real Oviedo in the 1997-1998 season. "I have not seen those games anymore, I would feel more scratched," he admits.
-What is the first thing that comes to mind about that tie against Real Oviedo played 24 years ago?
-The memories go away, but I keep some image. The atmosphere at both camps was sensational. Both in the old Tartiere, and in our beloved Insular Stadium. They were filled to the brim. It was a disappointment on a sporting level for Las Palmas, because the objective of moving up to the First Division was not achieved. But I'm left with the feeling of some colors and a shield from a crowd dedicated to the team and its players. We had had a great season, but we couldn't put the finishing touch on it.
"We had two very different arbitrations. We left feeling edgy from playing with the green and white socks. Iturralde González was not a dialogue referee»

-In the first leg many things happened, did you feel that there was a persecution of the team by the referee?
-I felt tense from the first moment that we were forced to play with green and white socks. The first leg conditioned us. A penalty in the 9th minute, in a corner where everyone grabbed, and after 2-0, we were left with ten in the 40th minute. We suffered a lot, but I don't think there was a chase towards UD Las Palmas. We are athletes and we don't think that. If there were two different arbitrations. Iturralde González was not very talkative. Instead, López Nieto was the opposite. I still remember that at the end of the game he told me "it was a shame, because they had a great game". To be honest, in Oviedo we didn't play very well.
-Did that García Remón team deserve to be in the First Division?
-In the club there were many urgencies to reach the First Division. I think so, that team should have been ahead of promotion two years earlier. We went a full lap without losing a game. There was a great union with the fans. When we lost 0-4 to Logroñés, and we no longer had any chance of going straight up, the fans asked us to walk around the field because they were proud of us. And the same thing happened with the 3-1 against Oviedo. I thought we were coming back, there was time, but we ran out of steam. It was a comeback from a 3rd in the first leg and then a 0-1, in an unfortunate move.
-What do you remember about your goal?
-Very little the truth. We were in a hurry to get out of the center again. We hardly celebrate it. It was a ball behind Orlando Suárez and I hit him straight.
-In just two days the no tickets sign has been posted. What reading do you make of the reaction that the fans have had?
-That the enthusiasm of the people with our team has returned. Much of the blame for this reaction lies with the good dynamics of the team and the results it has achieved. I expected an answer, but not with this forcefulness.
-How do you have to live a match with these special connotations where the emotional factor plays a lot?
-It is very similar to the one we played with Oviedo in 1998. Emotional control is key, both individually and collectively. The footballer throughout the week is receiving news and already knows how the stadium is going to be. He does not need any motivation, but you have to know how to manage it. In any case, the campus is in good hands.
-Has the resurgence of the team surprised you after the 1-3 against Girona?
-They have had faith and have continued to believe in their style. The team has taken the dynamic of good results at the right time. It is important to play this game knowing that you do not depend on anyone.
-What can you tell me about the time that a footballer of the level of Jonathan Viera is marking?
-He is a different player, cheeky, from the street, from those who enjoy playing football. All this is transmitted to his companions. He is the style player for UD Las Palmas. His dynamic is very good and, hopefully, he will continue to have it in these transcendental matches. He is a vital piece to the team.