This Eden of the entrepreneur is in Paris and refuses to be the Silicon Valley of France | Innovation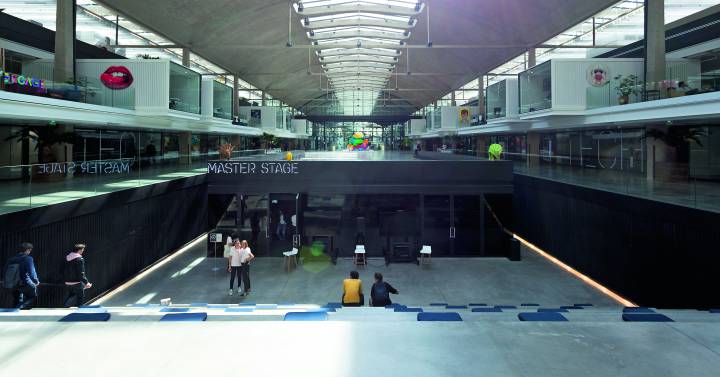 In May, entrepreneur Philippe Breuils crossed over and chatted for five minutes with Phil Schiller, Apple's vice president of marketing. It happened in a corridor of Station F, the so-called largest campus of startups of the world, located in an old Paris railway station of 34,000 square meters. At that time, Breuils had the opportunity to explain to the US executive what his company, Wilov, is dedicated to permanent car insurance that charges the user depending on what he drives. That type of contacts could hardly occur in other environments. Founded two years ago, the center has 3,000 workspaces, in addition to leisure areas. It has capacity for a thousand emerging companies, which can spend up to two years in this incubator. Amazon, Google or Facebook have a team there.
Breuils starts every morning with an espresso coffee that accompanies a cake from La Felicità, the downtown restaurant complex that can serve more than 1,000 people. At ten o'clock in the morning Wilov opens, which he founded in 2016, and serves his clients online. Divide your time between developing new functions (creating new tools or adding functionality to the app) and helping the customer service team. For lunch, weather permitting, eat around the neighborhood or use one of Station F.'s food trucks. In the afternoon, you usually have meetings with your partners in one of the glass spaces, which you reserve through an application, or attend one of the many conferences that are there every day. Towards eight o'clock in the afternoon his day ends.
"In a way, this type of routine can be found in many other incubators. One of the things that makes Station F special is that people who make key decisions visit the center every week, "says Breuils. In fact, the French president, the American ambassador to Paris and many ministers have passed through the facilities and met with entrepreneurs in this old train station, which was built between 1927 and 1929 by the engineer Eugène Freyssinet in the southeast of Paris , next to the Austerlitz station.
The space was used until 2006 by the National Society of French Railways (SNCF) as a merchandise warehouse. Its abandonment and subsequent structural deterioration led to its possible demolition until several associations defended its architectural and heritage quality.
Xavier Niel, one of the richest men in France, was the one who had the idea of ​​launching this miniature French Silicon Valley. Niel is the founder and largest shareholder of Iliad, a telecommunications service provider based in the French capital. The company, which operates under the Free brand, has more than 6.5 million broadband customers and more than 13 million mobile subscribers. The company entered about 5,000 million euros in 2017.
The magnate acquired the place in 2012 for 65 million euros and put out of his own pocket more than 234 million to develop the project. The architects firm Wilmotte & Associés was in charge of the reform of the station. Station F, which is open 24 hours a day, was so attractive that brands such as Facebook, HEC Paris, Vente-Privee, TechnoShop, Kima Ventures, Daphni, VenTech, Amazon and Google installed equipment there. The innovation center also has a fitness space, a production laboratory, an auditorium, a post office, videogames room, rest areas and green areas.
A ship with its own agenda
Esther Nieto, a 27-year-old placentina, is responsible for the Spanish section of Sailsquare, a company that connects sailboat owners with people who want to sail. "The Blablacar of the sea," he defines. Founded in 2013, the company has its offices in Station F and has 25 employees worldwide operating in Italy, France, Germany, United Kingdom and Spain. More than 100,000 travelers have already contacted the 2,600 ship patterns registered on the web. Nieto had worked in a startup of tourist accommodation in Madrid and met Sailsquare through the internet. "I studied tourism and I was interested in the leisure and tourist activities part. I was developing the market until March, "he says.
For the young Extremadura, the international character of Station F is very important. "It puts you in touch with many things from abroad. We arrive at nine in the morning and usually work in the coworking area and access a conference in the middle of the morning, we eat with other teams … You do not feel you are going to work at an office. I love it because we are very close to others startups and that is good to feed on the knowledge of others. We enjoy all kinds of aid and activities are organized to put all companies in contact, "he summarizes.
One of the things that caught his attention when he arrived was to see a double bed in a meeting room: "Some stay here all night. There is even a room to take a nap, "he says. During a visit to the facilities it is not uncommon to see people working with their laptop in a green area, in a common area with sofas or talking through their headphones with a microphone while walking with the laptop in hand. Nieto calculates that he spends about 10 hours a day at this site: "It happens quickly because I like my job," he says. On this campus, new companies can find a community of more than 40 investors, 30 public services (the employment agency, customs, patents …), a creator's space, 30 incubation and acceleration programs and advantages and discounts on anything that entrepreneurs may need, from cloud storage to services such as food, air travel and mobility.
Another advantage is the savings in the rental of a space to work, which allows these small companies to take off discounting much of these fixed costs. Entrepreneurs pay around 195 euros per month per desk, a fee that, according to Roxanne Varza, the director of the center, is approximately "half of other spaces in Paris." What are your main goals? "We are essentially building a university to startups", Explain. Varza remembers that his mission is to create leading companies, but with values. "Our goal is also to make entrepreneurship more accessible, creating programs for disadvantaged entrepreneurs and launching other initiatives that foster diversity," he adds. One of his latest projects is a residence space that can accommodate up to 600 entrepreneurs, so that international entrepreneurs quickly install themselves once they arrive in Paris.
Often, comparisons are odious. Silicon Valley is a mirror in which Varza refuses to look. "I'm not sure if we should compare ourselves with the US or that it is the model we should follow. We have excellent talent and projects in Europe. We have all the necessary resources to build a startup here. In fact, it is probably easier and cheaper than in Silicon Valley! " The countries that send the most applications are the United States, the United Kingdom, China and India. "If you are looking for a place to establish your business, I recommend France. Silicon Valley has become much more complicated for new businesses, and the French Government has facilitated a visa process for employers and employees, "says the director.
What advice would you give to a startup looking for success? "What is really essential is that the founders are in love with the problem they are trying to solve, but not necessarily with their solution, which will change over time." And what kind of companies are missing in Station F? "We want to see more businesses driven by social value. Many people think that social impact means that you have to be an NGO. We want to see bigger and more ambitious companies in this space. "
In 2015, while Clément Aglietta completed his Masters in Design and Technology, he joined the investment firm FJ Labs as chief of staff. Over the course of two years, they went from 150 to 250 investments and took off with more than 100 million dollars. At that time, they used Excel to manage their business portfolio. "I was responsible for creating reports, analyzing the deployment of capital and creating statistics on the efficiency of the funds." Due to his solid experience in design and technology, he was asked to build a cloud solution that would help increase fund performance. And so Kushim was born in 2017. They have been at Station F for almost two years and have more than 40 clients in 17 countries. Its objective is to launch in the next two years the largest global stock market for private companies.
"The station F community is large and very powerful. Every day you can meet people who will change your business completely, "says Aglietta. One day, no one on his team was available to receive a guest, and he was asked to direct the visit. "Lucky me! It was Jim Gable, former vice president of software product marketing at Apple. Today Jim is the CEO of Bra-Ket Science, a company that is building a quantum photonic computer! Quantum computing is one of my passions and it was one of the most interesting talks I've had. " Another story that summarizes the experience at Station F.
. (tagsToTranslate) eden (t) entrepreneur (t) be (t) paris (t) deny (t) be (t) silicon valley of france (t) station f (t) major (t) campus (t) startups ( t) world (t) space (t) 3,000 (t) entrepreneur (t) one thousand (t) company



Source link