Thierry Breton: "It is false that Europe is falling behind" | Economy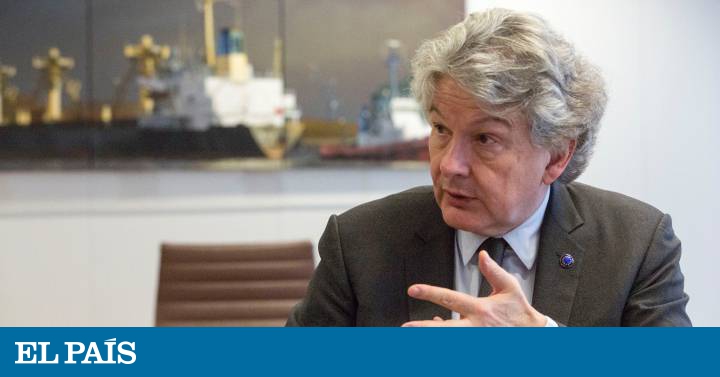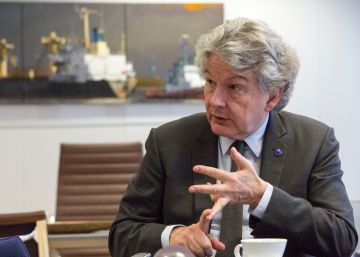 The confidence in the economic and industrial strength of Europe is called Breton. Thierry breton. The European Commissioner for the Internal Market is firmly convinced that the planet has entered an era of post-globalization where competition will not be state but continental. "And therein lies the miracle and strength of Europe because we are a continent that shares values ​​and an industrial tradition built decade after decade," says Breton during a meeting this Monday in Brussels with EL PAÍS, just a couple of hours before leaving for His first official visit to Spain. Breton will participate this Tuesday in Madrid in the first event of the Europa Futura cycle, organized by EL PAÍS and the consultant EY, where he plans to outline his plans for an industrial, digital and defense policy that, in his opinion, will maintain the world leadership of the Old continent. "I am not optimistic, I am realistic," adds this curator with a past as minister, businessman, teacher and "writer when he was young."
Question. The new European Commission to which you defend the need for a new industrial policy. Are we facing a return to state leadership of the 1970s?
Reply. No, we are not going back to those years. Our proposals will be rooted in this decade and in 2030. We are in a new era of industrial relocation in response to a demand that wants less energy consumption, a clean production and according to our values ​​and that takes advantage of the digital revolution, especially , industrial data. In that new scenario, the competition will be between continents. And that is why we have decided that our policies, including industrial policies, should be considered at the continental level. That, on the other hand, is the miracle and strength of Europe. We are the first industrial continent of the planet.
P. Should the new industrial policy include a review of competition policy?
R. Yes, it is very important. The current competition policy was designed in times of pre-globalization or at the beginning of globalization. We have to see if it still fits with the new trends, including the return of European companies and the creation of leaders within Europe.
P. Countries like Spain fear that the review will only serve to create Franco-German giants disguised as European champions.
R. I don't like the word champions in this context, I prefer to use it for tennis or other sports. I know Spain very well and I know that it has a fantastic network of small and medium companies but many of them work for large Spanish or European companies. We do not want to revise the rules to favor one or the other. But the current rules are more from the 70s than the 2030s. We are in favor of competition and against monopolies. It is true that there cannot be a strong industry without a network of SMEs. But neither can there be without strong leaders.
P. The defense industry is one of those announced in the process of restructuring and consolidation. Will you use the European Defense Fund to trigger integration?
R. The Defense Fund is designed to encourage large and small companies, from various countries, to collaborate on specific projects. I am in favor of them being companies from as many countries as possible. It is a long road, but it is absolutely mandatory that the defense industry be more and more integrated in view of the evolution of the world.
P. Do you think Europe has already lost the digital battle?
R. We have not lost it. We lost the first battle, that of personal data. But now there is a new wave, based on industrial data and the use of 5G networks. And we have the industrial sector to do it. We are very strong in supercomputers, in quantum technology and in 5G. Europe is the world leader in 5G. It is not China, it is not the United States, it is Europe.
P. But we need Huawei …
R. Absolutely. European companies have 60% of patents in 5G, while China has 30% and the US 10%. And the European companies have the most 5G contracts, more than the Chinese. Here are some fake news They say that Europe is falling behind. I'm sorry, but it's not true. We have everything that is needed in Europe.
P. However, it gives the impression that Europe looks helpless against large US platforms such as Facebook. He doesn't even get them to pay taxes.
R. I met last week with Mark Zuckerberg. He told me he is willing to pay taxes, which is absolutely normal. If you generate value you have to pay fees everywhere. And the position of the Commission is very clear. We are in favor of the debate on the digital rate in the OECD because it is a global issue. We are close to an agreement, but if at the end of the year there is not, I believe that the 27 countries are on the same line and that we will have to apply it at European level. And in other matters, such as the dissemination of fake news, hate language or child pornography, we have made it clear that if they do not eradicate it, we will opt for a strong regulation at the end of the year within the Digital Service Act.
P. Can you imagine the reaction of European public opinion, especially the youngest, if they banned Facebook or another American platform?
R. I don't talk about banning them. But if they commit violations, we have appropriate tools to enforce the legislation. We have instruments and we will use them. My conversation with Zuckerberg was good. And I made it clear that in this digital information space everything that is not prohibited does not mean that it is authorized.
"The impact of the coronavirus on the tourism sector will be 1,000 million euros per month"
The European Commissioner for Internal Market, Thierry Breton, was scheduled to attend the opening of the Mobile World in Barcelona on Monday, suspended after the coronavirus epidemic unleashed in China. The health crisis "will have an economic impact, that's for sure," says the commissioner. And it points to the tourism sector as the main directly affected. "Chinese tourism has fallen in the last two months and the impact can rise to 1,000 million euros per month," warns the community head of industrial, digital, defense and space policy. Breton recalls that as soon as the outbreak broke out "we contacted the Chinese authorities to find out their possible needs." And stresses that "the most important thing is that we decided to dedicate 100% of the supercomputers (HPC) that we have in Italy and Barcelona to model an evaluation of the evolution of the digital epidemic and to search digitally what the vaccine could be or the molecule for a future vaccine. We hope to be able to find the vaccine even though it will take months. "