They uncover a sarcophagus with the remains of a girl in the Alcázar of Seville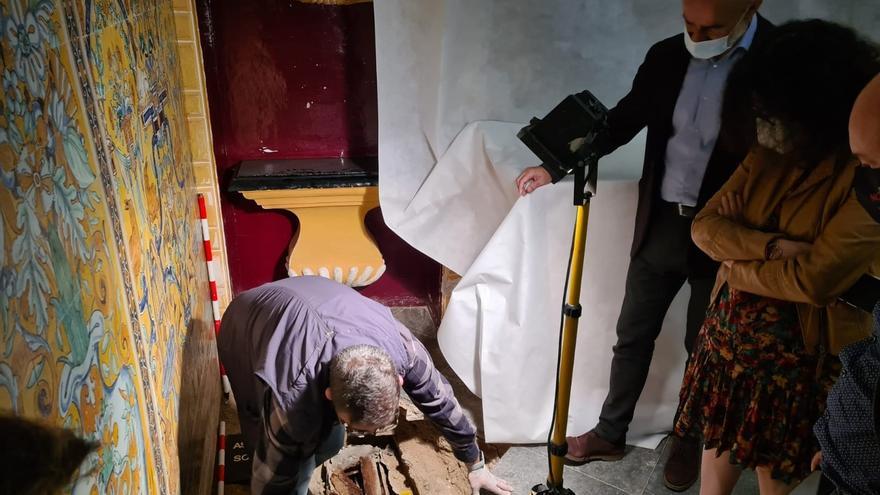 The archaeological works previous that are being undertaken in the Chapel of the Gothic Palace of the Real Alcázar de Seville With regard to the restoration project of their ceramic tiles, they have brought to light some funeral remains together under the flooring of the main altar of the Virgen de la Antigua. It is a small lead sarcophagus which in turn contains a wooden coffin with the remains of a girl about five years old, according to the first in situ analyzes carried out by the team of archaeologists and curators of the monument, led by Miguel Ángel Tabales, and by the anthropologist Juan Manuel Guijo, informs the City Council in a press release.
In the absence of subsequent research, the first hypotheses suggest that we would be facing a character from the late Middle Ages. "At the moment, they are hypotheses that are being considered, and also framed in the theory of Professor Tabales that there would be a crypt under the Royal Chapel of the Gothic Palace. But, for now, prudence must prevail until the appropriate studies are carried out. determine the chronological assignment and, therefore, the possibility of identifying the character ", explained the delegate of Urban Habitat, Culture and Tourism, Antonio Muñoz, who this Tuesday, together with the conservative director of the Alcázar, Isabel Rodríguez, has witnessed the works of opening a sarcophagus that, if confirmed, would have some seven centuries of history.
"There is still much to do, but from here I want to congratulate the team of archaeologists and curators of the monument for the precision of their work and the ability to react to findings of this magnitude", has abounded. The Bone remains are in a relative Good condition, and even the skull contains the hair of the minor, and remains of the clothing she wore during her burial have appeared: mother-of-pearl fabrics, shoes, leather and buttons. And from his position, his hands would have been crossed over his chest.
The lead sarcophagus and parts of the coffin wood are also preserved. Being on one side under the altar, the hypotheses suggest that it would be the daughter of a very prominent family. This finding has been reported to the Ministry of Culture of the Junta de Andalucía, which gave its go-ahead in mid-March to preventive archaeological tastings, aimed at the possibility of locating a blowhole or aeration chamber to guarantee the conservation of ceramic tiles, within the framework of the preliminary work to plan their restoration. Due to the works, the Chapel is closed to visitors and the necessary measures have been adopted to protect the paintings located in this space of the Alcázar.