They sell a cover of Tintin for 2.6 million euros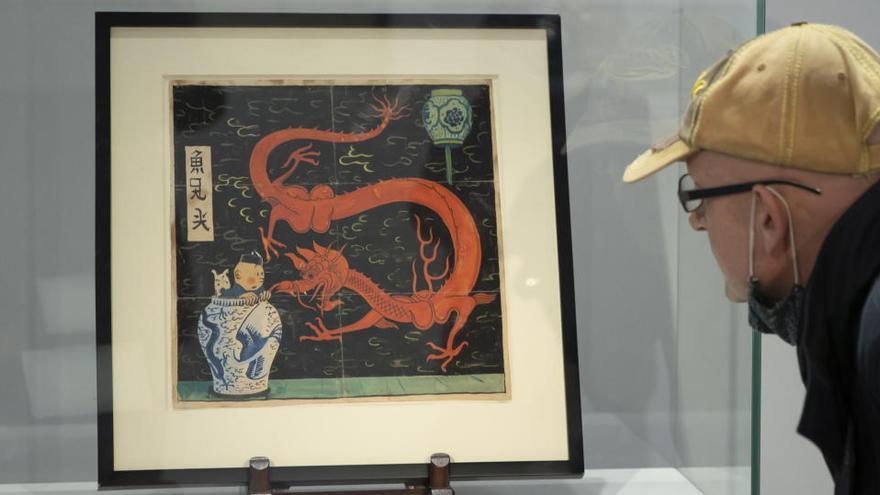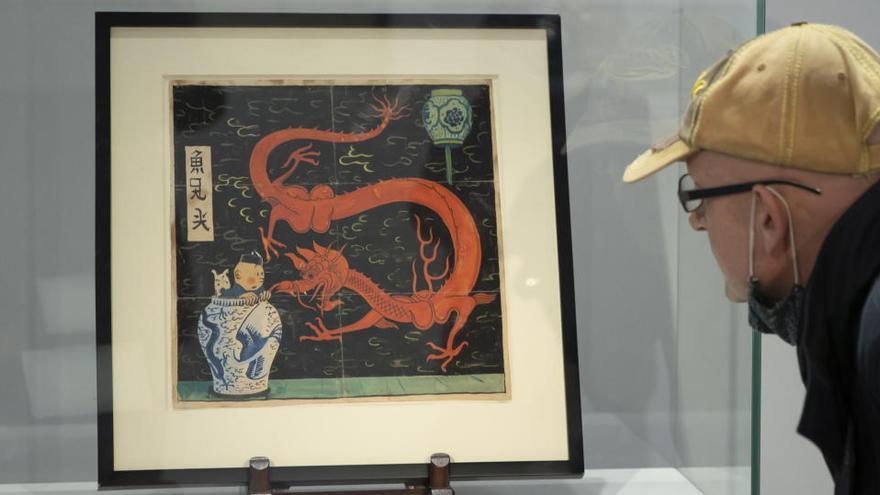 What was a promise this Thursday has come true, and The original cover of Tintin's fifth album, 'The Blue Lotus', has been sold in Paris for 2.6 million euros, a price that falls within the "ascending line" that the work of the Belgian cartoonist Hergé has been in the auction world for years.
And if this is a proven fact, it is because the few originals that exist of the intrepid reporter and his dog Snowy are fully controlled by Moulinsart, which is not the castle where the bearded sailor Archibal Haddock lives, but the society that is in charge of exploiting Hergé's copyright.
But this is compounded by the consequence of this situation, comics expert Alvaro Pons explains to Efe: the high demand for this material due to its scarcity.
Thus, Pons adds, it is already evidence that the presence of comics in the art world has been "normalized" to the point that "is reaching prices that rival those of artistic works more established and consolidated ".
In particular, the world of cartoons is no longer a stranger in international auctions and there have been other cases in which it has made headlines in the world media.
This happened in 2016 when an original drawing of Hergé's 'Explorers on the Moon' comic was sold for 1.55 million euros (1.64 million dollars) or, when in 2017, an original plate for the edition Hergé's 1937 comic album Tintin in America was also awarded at a bid in Paris for 753,000 euros (more than $ 915,000).
And bordering on figures similar to today's bid, in 2011 2.8 million euros (3.2 million dollars) were paid for 'Action Comics 1', the debut of Superman, the work of Jerry Siegel and Joe Shuster ; And this same year someone bought for 980,000 euros (more than 1.1 million dollars) the first comic in which Spider-Man appears, in 1962, created by Steve Ditko and Stan Lee.
Therefore, according to Pons, It can no longer be said that this Thursday's auction is something "extraordinary".
Specifically, the piece auctioned this Thursday is the cover that Georges Rémi, better known as Hergé, created in 1936 for 'The blue lotus', then discarded by its editor, Casterman, since the color technique that required its reproduction was very expensive.
The cartoonist gave it to Jean-Paul Casterman, son of the publisher, He kept it with care and attachment until his death in 2009 and it has now been put up for sale by his heirs just as it was stored, with the markings of the folds that were made to store it.
The illustration shows the little reporter on a black background, inside a porcelain vase and together with his inseparable companion Snowy, frightened by the presence of a huge red dragon.
From the Mil Rayos Association, its president Nino Paredes cannot hide the "bad envy", he says with a laugh, that he has the person who has taken this "jewel".
But warn that it is not known if he has been a "pure and simple collector" or an investor who does not care "to buy bonds or gold".
"The collector buys to save, I have never bought anything to sell; however, the investor buys thinking of selling it and reversing its capital gain," he says, although he warns that in auctions of "these levels" buyers are usually investors.
Of course, whoever owns this work from today is a "privileged" because it has taken a "very differentiating element", since it is a "very unique piece, because it is the only cover made of that way by Hergé, "he explains.
He specifically refers to the fact that this cover of 'The Blue Lotus' belongs to a comic that was his first documentation work for the Belgian cartoonist, since in 1935 he met a Chinese Fine Arts student, Zhang Chongren, who told him about his country.
And this friendship led him to realize for the first time that you could not tell readers anything, but that you should pay attention to what he was telling.
Further, it is also the last color cover made by Hergé because, from this, he began to draw them in black and white.
As Paredes highlights, During the bidding, 107 lots also went up for auction, including a lithograph of this cover made in 1981 and signed by Hergé and Zhang himself; and another signed only by Zhang.
The first of them, with a starting price between 2,000 and 3,000 euros (2,430.90 and 3,646.35 dollars), has been sold for 6,000 euros (7,292.70 dollars, and the second, which started at 400 euros (486, $ 18) has been awarded for 2,400 euros ($ 2,917.08).
"These lithographs have been sold hand in hand with the originalIf it had been done on another date, they will not be sold for those prices, but in a bid the secret is that there are many bidders. You need a lot of people interested so that the price goes up and up. The two lithographs have been sold for four times the price, "he says.
From Mil Rayos, the president of the Spanish 'Tintinófilos' only now wishes that it was a collector who took it home, "at least so that those who visit him can see it" because, if he has been an investor, the work will be saved and, possibly, in a few years it will be seen again at auction.