They rescue a lost dog from the eruption of the La Palma volcano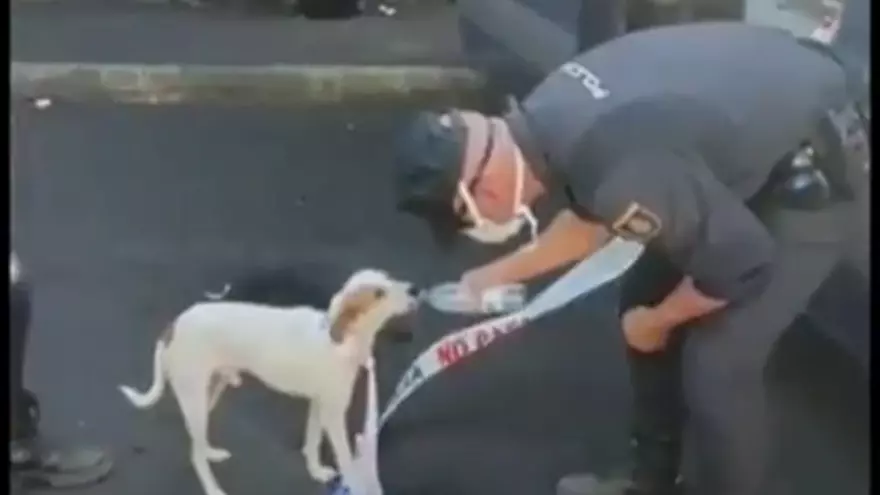 Agents of the National Police rescued this Monday, November 1, a lost dog on the island of La Palma after the eruption of Cumbre Vieja volcano on September 19.
The animal, which is called Nemo, was missing, but fortunately everything was in a scare and the dog is safe and sound. The National Police viralized the moment with an emotional video of his rescue after publishing it on their social networks.
"Our colleagues from the #UIP have found Nemo lost in #LaPalma. The veterinarians have already taken care of him so that very soon he will be with his family again" the National Police assure in their Twitter account.
Classes are suspended in 5 municipalities of La Palma due to high levels of ash
The Ministry of Education, Universities, Culture and Sports of the Government of the Canary Islands reported this Monday that face-to-face classes are suspended in schools in five municipalities of La Palma due to high ash levels.
Classes will be online in the municipalities of Step, The Plains of Aridane, Tazacorte, Tijarafe and Fat tipAs a consequence of the ash that the volcano expels, which on September 19 started an eruption in the Cumbre Vieja area.
The Ministry of Health indicates in a statement that the impact on the educational facilities of Tazacorte, Tijarafe and Puntagorda, as well as the unfavorable forecast of air quality for Tuesday, mainly in The Plains of Aridane, recommend suspending the classroom activity until conditions improve.
He adds that the indications communicated from the Pevolca will be followed and, if there are changes, the appropriate instructions will be transferred to the affected centers.