They recover a fragment of a meteorite that fell in León in 1947 after disappearing from a museum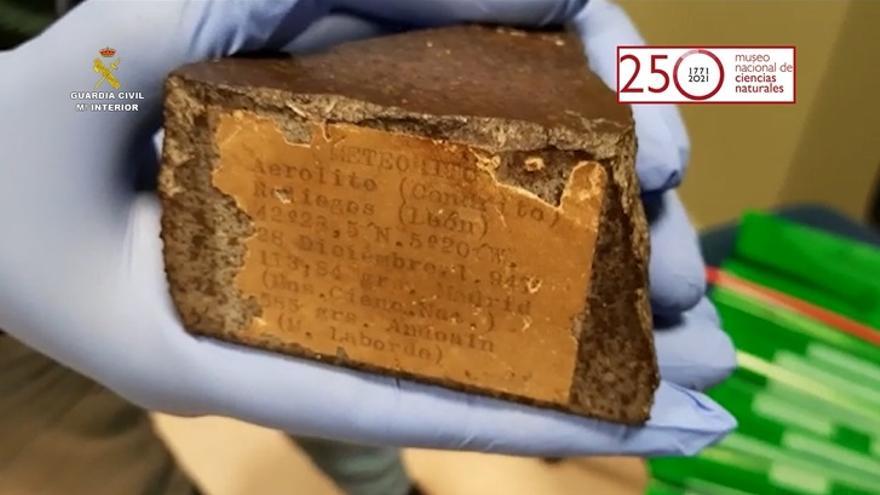 Agents of the Civil Guard, belonging to the Nature Protection Service (SEPRONA) of the Madrid Command, have delivered to the director of the National Museum of Natural Sciences (MNCN-CSIC) a fragment of the meteorite that fell in 1947 in Reliegos (Léon), who was unaccounted for and who has recovered in the town of Hernani (Guipúzcoa).
The recovery of the fragment has been possible, because it was for sale on an internet portal for a value of 27,500 euros. The responsible person is being investigated by a crime of misappropriation.
The investigation began at the request of the MNCN, when the curator of the Geology Collection, which houses numerous meteorites, discovered the ad on the internet announcing the sale of the meteorite fragment, recognizing the labeling of the museum center.
Aurelio Nieto, responsible for the collection, alerted SEPRONA of the Madrid Civil Guard Command, filing the corresponding complaint.
The agents began the investigation, managing to identify the author of the ad. Once in the San Sebastian town, they checked the fragment of the meteorite and its labeling, investigated the advertiser for a crime of misappropriation.
The fragment located is part of the meteorite that It was found in the town of Reliegos (León) in 1947, and it was the researcher Laborde Welinde, who died in 1993, who was in charge of studying it. Apparently, the investigator now found it in a box belonging to this investigator that was in a storage room that was emptied for non-payment.
In relation to this type of crime, the Civil Guard sees fit to remember that it is necessary to be wary of offers that are too good, it is advisable to avoid operations for transparency that do not leave a trace and that request money in advance. And they emphasize that the best prevention is information.