They investigate five workers as responsible for the Ateca fire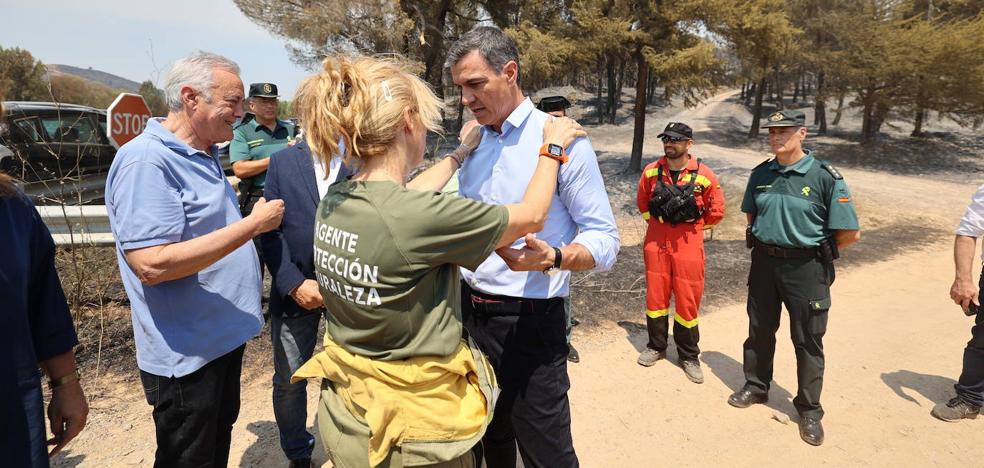 The reckless use of a forestry machine caused a fire that devastated 14,000 hectares and forced the eviction of the residents of five villages
The Civil Guard has delivered a report to the courts of Calatayud (Zaragoza) in which it points to five employees and directors of a reforestation company as those responsible for starting a fire that devastated 14,000 hectares of the province of Zaragoza and endangered five towns.
The Seprona agents, who delivered another copy of the same report to the Environmental Prosecutor's Office, consider that those indicated could have committed a forest fire crime on July 18 for being responsible for serious negligence.
They would be responsible, to varying degrees, for using machinery on a mountain in the municipality of Ateca at a time when this type of activity was totally prohibited by autonomy due to the extremely high risk of fire derived from the heat wave that was suffocating the country.
The police report indicates that the fire, which forced the eviction of between 1,700 and 2,000 residents of Alhama de Aragón, Bubierca, Castejón de las Armas, Moros and Villalengua for days, was started by a spark caused by a backhoe that was drilling holes in the ground after hitting a stone.
The agents informed the investigating judge and the prosecutor that the driver of the machine, the person in charge of the reforestation company and three other employees of this concession company could be responsible for this crime due to recklessness.
This spark generated a fire that in a short time reached monstrous dimensions and spread uncontrollably through the Calatayud region, forcing the AVE line and the motorway between Madrid and Barcelona to be cut for hours, as well as several roads and conventional railway lines. during days.
While the Civil Guard concluded this investigation, the flames swept through the Tiétar valley in Avila in a wildfire that hundreds of brigade members and dozens of planes and helicopters have been unable to contain for three days.
stabilized

The fire, which was the work of an arsonist, advanced through the mountains of Santa Cruz del Valle, where it has burned some 1,000 hectares since Friday. A dozen homes in the 'El picadero' urbanization in Pedro Bernardo had to be evicted due to the high risk of being caught by the flames. The firefighting teams built a firebreak of more than two kilometers to try to contain the fire.
The claims that could be stabilized after four days of fighting the fire were those of Jodar (Jaén) and Arbo and Verín (Galicia). In the first, the flames burned 650 hectares, and more than 1,000 between the other two. Also in Galicia, the fire that has already destroyed 2,200 hectares in Boiro (La Coruña) was on the way to being stabilized.