They force the Xunta de Galicia to return to Javier Tarrío the dogs that were taken from him four years ago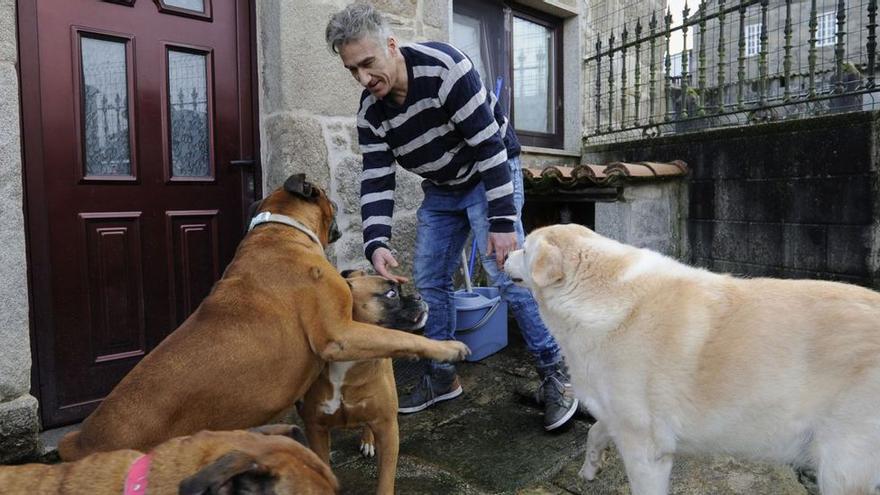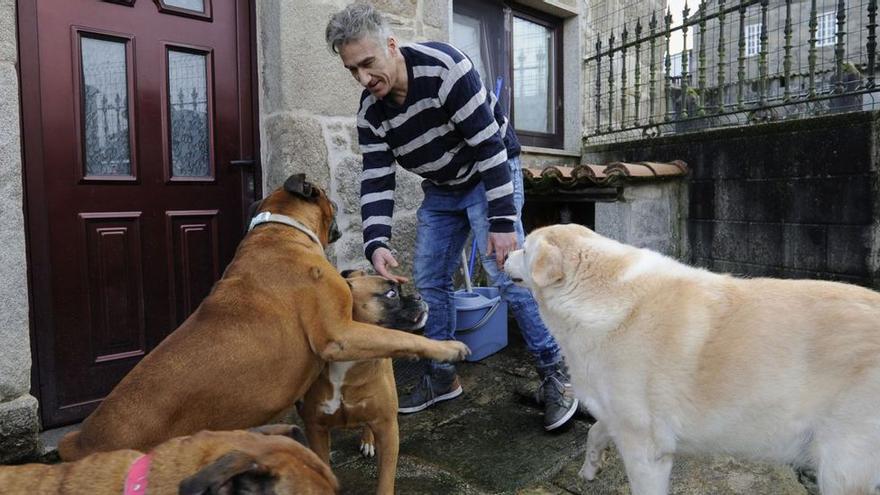 On August 12, 2018, four of Javier Tarrío's dogs escaped through a hole they made under the fence of his farm and bit a neighbor from the Ribela parish. That event was the final trigger of an open war between the residents of the town of Trabadela and a man who at that time had ten dogs on his farm. That war ended up even reaching the Galician Parliament and causing a response from the Xunta de Galicia. Javier Tarrío's ten dogs were taken to the kennel against their will. They remained there until a few months ago, when a judge decreed that the dogs should return to their owner, at least part of them.
"One day I opened the door and found thirty people outside my house. Civil Guard, Local Police... even the deputy mayor. It was incredible. They were there to take the dogs." remembers a man who until now had opted to remain silent about everything that happened in those months of 2018, events that still cause him pain today. However, Javier Tarrío begins his story much further back, seven or eight years earlier, when the tension began between the few neighbors who live in the village of Trabadela. "There are four of us but they never got along with me and they were always bothered by my dogs," he explains.
The Estradense, a great fan of animals, initially had five dogs but the number was increasing. Two more were left abandoned at the door of his house and three others were rescued from kennels, "in very bad conditions," he laments. Tarrío, however, did not like how his neighbors took care of their dogs. "They had them chained up and treated them badly, so I filed several complaints with Seprona but they never did anything. However, every time they came they stopped by my house to look at my dogs and check the chips."
In the midst of this tension between neighbors, it came to the tragic event, in which a neighbor was injured by one of her dogs. "They made my life impossible," says Ribela's neighbor. "Three of my dogs were poisoned, my car's wheels appeared slashed on several occasions, I suffered physical aggression from two neighbors. I reported all this to the Civil Guard but it was archived. There were no witnesses to anything," he explains. The neighbors also created a Facebook profile against him. "Nor we want Javi Tarrío in Trabadela, his name was. In addition, they held demonstrations in front of the City Council to protest, saying that I had an illegal kennel", he recalls.
The dog attack and the pressure from the neighbors ended up turning his case into a political issue. "The case even reached Parliament, as if there were no more important things. As a result of all that, the Xunta got involved and they opened a disciplinary file on me. Then came the seizure of the dogs." remember.
The first time the Civil Guard showed up at his door, Tarrío refused to hand over all the dogs. He only gave the four that had escaped from his farm and among those who would find the one who bit the neighbor. A few days, the security forces returned to end up taking all the dogs to the CAAN kennel. That file was closed in six months with harsh sanctions for Tarrío: a 4,500 euro fine for having dogs of a breed considered dangerous without a license and without insurance, for having dogs without a chip, for having an illegal kennel and for picking up abandoned dogs. In addition, they disqualified him for life from having dogs or any type of animal.
emigrated to Germany
"I had two options, either accept it or sue the Xunta, and I decided to do the latter," he explains. Tarrío initiated the procedures with his lawyer and decided to put land in between. He emigrated to Germany, where he spent two years, curiously working as a dog trainer. He returned only at specific times, especially to be present throughout the open process against the Xunta. Finally, the judge ruled in his favor. "He said that the dogs had to be returned to me and he annulled all the sanctions against me. I did not see causes for confiscation." Tarrío later received a visit from technicians from the Ministry of the Environment, to analyze the farm where the dogs were going to live. He had secured the closure with a concrete base and raised the fence two meters high, but the technicians had it raised to 2.40 meters to ensure that no dog was going to escape.
Finally, four of the dogs returned to Ribela, while two had died in the kennel due to an intestinal virus. Tarrío is now fighting in court for the other four dogs –the ones that once escaped and attacked the neighbor–, which, as he explains, have been left in a legal vacuum due to the form of the judge's sentence. He has made several letters to the Xunta, requesting that they be returned to him, although he has never received a response. "They use administrative silence and while the dogs are still in the kennel. They are ten to twelve year old dogs at this point. They are surely waiting for them to die," she states. He has even requested that the dogs be put up for adoption so someone else can take care of them and they don't have to spend half their lives in a kennel.
While he continues his fight, Tarrío enjoys the dogs he has managed to recover, although he never takes them out of the house. His goal is to avoid new conflicts with neighbors. "I know they are waiting for me," he laments.
Two died in the kennel and were returned frozen
Javier Tarrío's dogs were taken to the CAAN kennel in October, where they have remained until the judge's ruling. From that ruling, Javier Tarrío demanded that they be returned to him. The Xunta then decided to return the six dogs that had not escaped and therefore had not participated in the attack on the neighbor. Tarrío had to pay the shipping costs and in this way Mima, Nora, Cora and Momo, three boxers and a mongrel dog, returned home. The other two, Jimy and Daisy, however, died in the kennel. The first of them, a boxer, was already many years old, more than thirteen, when he left for the kennel. Daisy the mastiff however was much younger. According to the report sent to him from CAAN, both died of an intestinal virus. The curious thing is that the Xunta complied with the order of the judge and delivered the dogs to their owner. He did though with them frozen. Javier Tarrío is now fighting for the other four dogs and spending his money on new judicial resources. His goal is to ensure that these dogs do not end their lives in a kennel. He asks that they be returned or given up for adoption to be cared for by someone else.