They find the first translation into Spanish of a text by Charles Dickens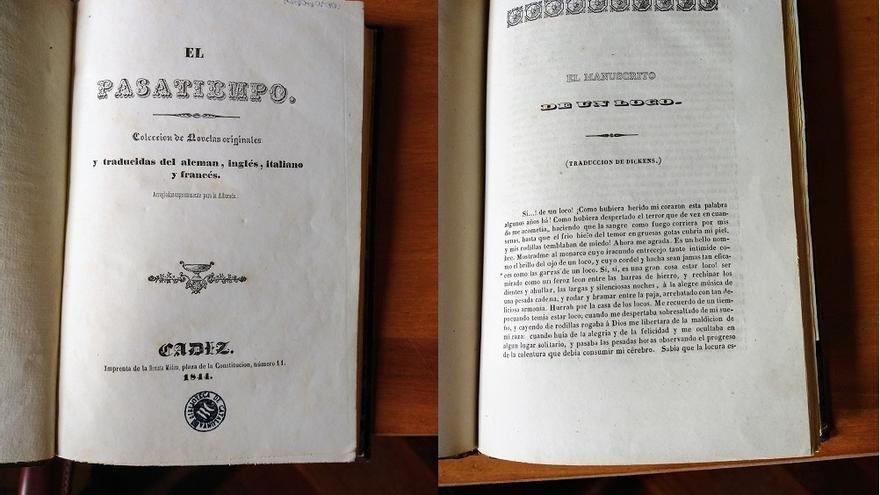 Canadian professor John Stone, from the Faculty of Philology of the University of Barcelona, ​​has found the first translation into Spanish of a text by the writer Charles Dickens, as reported by the academic institution on Wednesday.
The oldest translation of Dickens documented so far was from 1847, but it was made from a French translation and not from a direct translation.
According to Stone in a recent article in the Dickens Quarterly magazine, the researcher located in the Library of Catalonia, within a copy of the "Pastime: collection of original novels translated from German, English, Italian and French", a work published in Cádiz in 1844 by a group of friends in their early twenties.
The volume contains unsigned translations of short stories by Agnes Strickland, Friedrich von Schiller, John Galt, Alfred de Vigny, Abraham Elder, and Charles Dickens.
It is a non-unified selection by genre or theme that includes historical fiction, detective fiction or a philosophical and Gothic tale, and in which texts of English origin predominate.
Three of the four British writers included in the collection (Dickens, Galt and Strickland) were already well known to Anglophone readers of the time.
The novelties that this volume of the 'Pastime' presents is that brings together the only known translations into Spanish of texts by Strickland and Elder, the first Spanish translation of a Galt story and the first Spanish translation of Dickens's fiction.
This is' A madman's manuscript ', a first-person criminal narrative, read by Mr. Pickwick in his room at the Leather Bottle Inn, in Cobham, to combat insomnia, which makes up chapter 11 of the popular Dickensian novel' The Pickwick Papers'.
Stone argues that it is a direct translation and, therefore, is the first known translation from English to Spanish of any of Dickens's writings.
The translator was probably William (Guillermo) Macpherson (Gibraltar, 1824 - Madrid, 1898), a well-known diplomat, naturalist and archaeologist, and also the most prominent Shakespearean translator of the 19th century in Spain.
The arrival by sea of ​​books from British publishers to cities on the Spanish coast such as Cádiz is, according to Stone, one of the reasons for this early direct translation from English.
The books in English that arrived in Madrid at the same time were, for the most part, books printed in France outside of 'copyright' or English editions imported into France and later forwarded to Spain.
In general, Spanish readers became familiar with English literature, in the first half of the 19th century, thanks to the interaction of immigrants English-speaking with the Liberals who returned from their London exile.
Stone (Toronto, 1967) has recently received a grant from the prestigious Folger Shakespeare Library in Washington for the period 2021-2022 to continue his research on the first Shakespeare play to arrive in Spain.