They Drive: The campaign that wants to end the 'woman had to be' behind the wheel | Society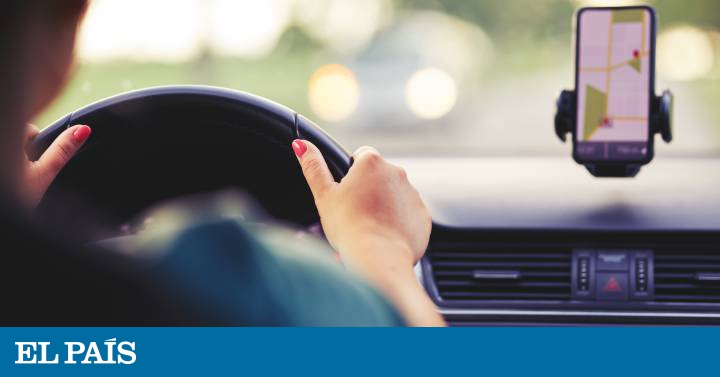 "Circumstances of life," he says. And he relates: leaving home at 18, going to live with a man, having two children, leaving the course of aesthetics that had begun, separating from that couple and entering a wheel of precarious jobs. One after another. "Badly paid, impossible hours, endless," tells Raquel Baeza phone from Alicante, where he was born in 1983. He came to sleep an hour to rest a little before returning to work, "for 900 euros a month." Now, with 36 years old, three children of 16, nine and three years old, and a couple that works from seven in the morning to eight in the afternoon, one of the things that most needs is to have the driver's license.
"And it's not nonsense." On several occasions he has had to reject jobs for not having Driver's License, he says he goes "crazy" everywhere, walking, trying to get to everything on time. "The card is not just a card. It is a work tool, it is independence and it is autonomy and freedom. I do not want to depend on anyone or ask for favors, "says Baeza.
In part for that, the #EllasConducen campaign was presented on Wednesday, an initiative of the Midas car maintenance chain that has the support of the Directorate General of Traffic (DGT), the NGO Ayuda en Acción and as ambassador to the pilot Ana Carrasco, from Kawasaki, the first motorcycling world champion. The project wants to "end the clichés associated with driving and support women at risk of exclusion," explains Patricia Suarez, the director of marketing of Midas. Although they have not yet closed a specific number, "the idea is to use the hashtag #EllasConducen and for every tweet with that label we will subsidize a driver's license for a woman who has been part of the program Women in Action of the NGO and who wants to take it out. "
In Spain, there are 26.6 million of drivers: 15.4 million men and 11.2 women. The data is given by María José Aparicio, the Assistant Deputy Director of Road Training of the General Directorate of Traffic, and ensures that "although the world is changing, also that of driving, we still have to finish breaking with the stereotypes, which have no scientific basis"

That's also what Raquel Baeza thinks, who has been on the NGO's program from October to June. During the school year, one day a week, the organization programmed training in the educational center where their children went and, while they taught, she also learned together with a group of 15 more women. "The most important thing, what I take as a treasure is that women are not competition, that we need to support each other. In addition to things necessary for daily life, such as working out in job interviews, using the computer to search for jobs and having knowledge of various programs … ", recalls Baeza.
"Now I have the driver's license, which I did not take out at the time, also due to circumstances." And "for a few false ideas I had in my head". Since childhood, she says, she had heard hundreds of times that women "do not know how to drive well". "How many times have I heard 'woman had to be' ?, because I do not know … The fact is that paying attention to these ideas is absurd, it generates mental limits that must be broken down. And besides, it's not true, we do not drive worse. "
Indeed. According to the official data of the DGT, of the 140,992 victims of traffic accidents that were registered in 2017, 64% were men and 36% women; and in mortality, of the 1,170 deceased drivers, only 10.8% were women.
"What I also believe is that in this, as in everything, if we do not see women doing what they have never done, we can not have references, which is why it is so nice to see the Football or Basketball Team now or Ana Carrasco, the pilot. Seeing women doing what they want to doOther women will know they can do it. "Carrasco, who was present at the project's presentation on Wednesday, climbed a motorcycle for the first time when he was 3. Now, with 22, he would like this Wednesday to be only a day when he was three years old. "Something started to change." In her case, she recalls, she went from being "the girl on the grill to being the pilot to beat".
(tagsToTranslate) campaign (t) want (t) finish (t) woman (t) have (t) be (t) flyer (t) they drive (t) be (t) focus (t) eliminate (t) stereotype (t) gender (t) give (t) autonomy (t) risk (t) exclusion



Source link