They create a smart mask that detects asymptomatic people with covid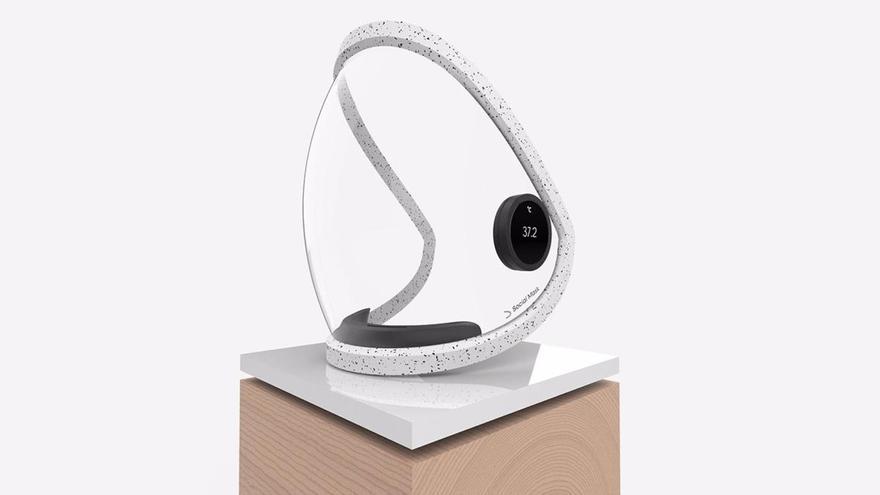 Social Mask is a new model of transparent mask that also incorporates multiple intelligent functions, such as air testing for pathogens such as Covid-19 and asymptomatic people, measure the user's temperature and warn possible risky contacts.
It is the work of the Romanian engineer Burzo Ciprian, and the idea has earned him the award of the Pandemic ResponseCoLab contest of the Massachusetts Institute of Technology (MIT) in a challenge that proposed to reinvent masks, as the author explains on the Behance website.
The Social Mask is made with plastic materials created by 3D printing and on the front it consists of a modular device composed of a biosensor, a Bluetooth sensor and an air fan.
For its part, on the side is a air filter for better ventilation, a temperature sensor and a small led display to display the user's body temperature.
As explained by its creator, the mask and its biosensors are capable of analyzing airborne particles to detect asymptomatic people infected with Covid-19.
Using a sensor Bluetooth enables smart device to connect with mobile phone, from which the user can know through an application their body temperature and the analysis of airborne particles when breathing.
In case of detecting contagion indicators, such as airborne pathogens such as increased fever, the application alerts the user to contact a doctor and expresses by a percentage the chances that they are infected with coronavirus.
Likewise, Social Mask presents a similar operation to that of applications for tracking close contacts such as Radar Covid, since can detect other masks at a distance of up to 300 meters and if its users have a fever or not, as well as inform people in case of risky contact.