They believe that one of the dogs trapped by the lava from the La Palma volcano is dead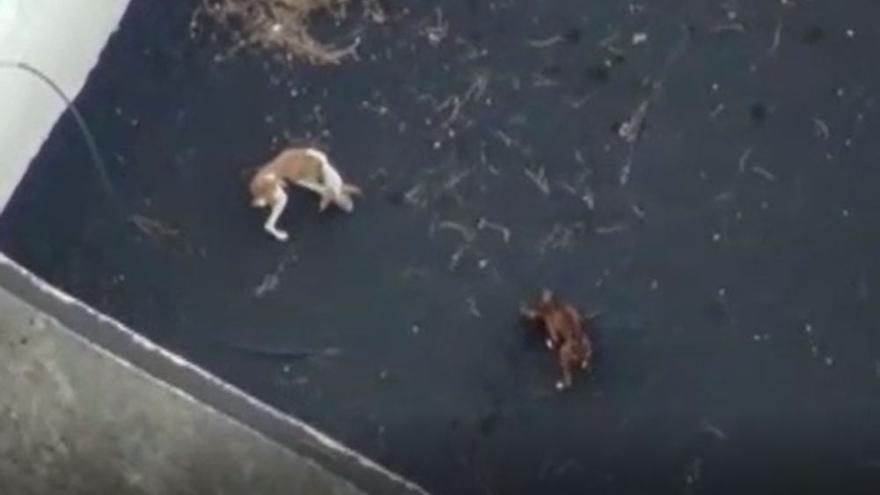 The whole neighborhood of Todoque is flooded with lava and has disappeared from the map. Only a small island of a few square meters remains free of magma. In one of the kipukas, as the spaces between the flows are known in Hawaii, there are several trapped dogs that keep the Canarian and also international population, pending the evolution of the eruption of the volcano of La Palma.
The images of the drones that have been able to fly over the area show that, apparently, it could be a total of six hounds, as reported by the animal association Leales.org.
The Aerocamaras company prepares "against the clock" a rescue proposal for four dogs that are trapped in the environment of a house of La Palma, in the neighborhood of El Paraíso, in El Paso, as a result of lava flows from the volcano Old Summit.
According to their proposal, which is waiting to receive the relevant services, they would use a cargo drone that would transport their own logistics system adapted to the animal characteristics.
Together with another support drone, the pilot in charge of the operation could thus safely plan the rescue flight.
The use of helicopters becomes unfeasible due to the materials (ash, pyroclasts) released by the volcano and access by land is also difficult due to the encirclement of ash and lava that surrounds them.
For this reason, drones are the only viable way for a possible rescue of the hounds, whose monitoring is carried out by the members of the UPA La Palma protector.
The company has stressed that it always acts within the air legality, respecting what is indicated by the competent authorities and "any decision they may take to avoid unnecessary risks as well as always putting everyone's safety first."
Two palm companies, Volcanic Life and Ticom Soluciones SL, have been feeding the animals for several days using drones and with the endorsement of the Cabildo of La Palma.
The animal platform Leales.org points out that two of the hounds can leave and enter the pond, which allows them to shelter from the heat and cold, but the other two, in a smaller pond, are in the sun and without the possibility of shelter .
For this reason, the Aanipal association has proposed the sending of a small shelter for their protection, since during the day they are exposed to the sun and at night they have nowhere to shelter from the cold.