"They are suffering a lot. They are setting an example."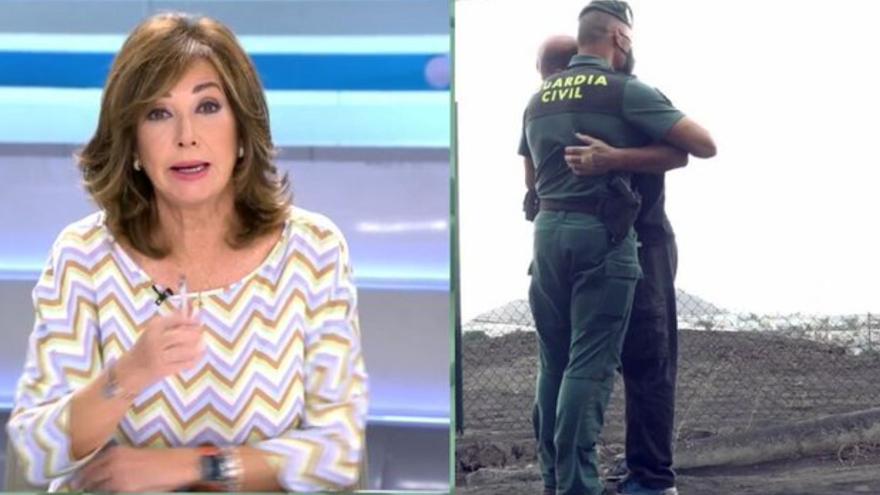 This Tuesday, October 19, marks one month since the eruption of the La Palma volcano. Since then, all the media, both regionally and nationally, have focused on the evolution of the crisis and the course of the lava in the region. Beautiful island. One of those is Ana Rosa's program, on Telecinco. The presenter of Mediaset took the opportunity to send a message to both the Civil Guard as to the Military Emergency Unit (UME), given all the work that these institutions provide after everything that has happened in recent weeks after the eruption of the Cumbre Vieja volcano.
"Hey, look, if in the end the Civil Guard, the UME, is that they are suffering a lot, they are going to have to go to the psychologist," he commented the presenter of 'The Ana Rosa Program' at the end of a report about one of the island's inhabitants who have lost everything after the passage of lava. "What's more, seeing what they are living, how a farmer who has his whole life, his animals, what can they do? Help get them out and give them a hug. An example, really ", sentenced the communicator.
"Telling people to leave their home is always complicated …", he confessed affected. "These are moments when your nerves don't let you think. You have to see yourself in the situation, it is very very hard ", he confessed.
An agent of the Benemérita abronca a reporter of Ana Rosa
But not everything has been cordiality between the Civil Guard and the team led by Ana Rosa Quintana. On September 28, an agent reprimanded the program itself.
"Thus, guaranteeing the safety of La Palma trees' goods as well as their own safety, since it can be accessed, as you did yesterday. It is a great risk and you put your life and ours in danger by having to go and get them out later. that I would ask you not to do those things ", a captain of the worthy reproached the Mediaset reporter sent to La Palma.
"It is true that we also told him. It is true that Miriam is not a kamikaze, what happens is that she went to the garden with the lady and they found that. But it is true that it is dangerous and that we have to be careful, so thank you very much for helping us ", tried to justify the presenter.
One of Ana Rosa's collaborators has lamented the delay in State aid and has claimed that when the media focus is turned off on La Palma and hopes that the aid will arrive on time. "The aid has to come, what you don't know is whether it will be enough," answered the presenter.