They acquitted the photojournalist of "El País" Albert Garcia accused of pushing a policeman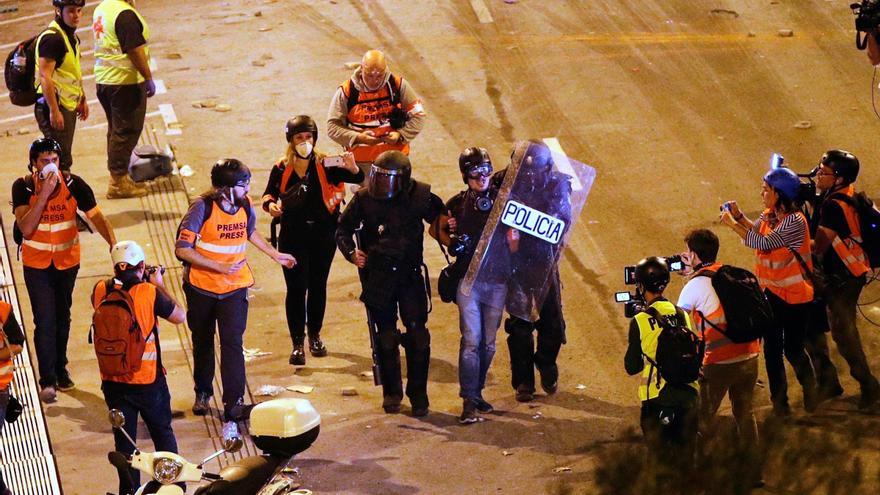 A judge has acquitted the photographer of 'El País' Albert Garcia, who was tried accused of push a national policeman when he was covering the riots of "you process" on Barcelona, concluding that there is no "reliable evidence" against him.
In the sentence, advanced by "El País" and to which Efe has had access, the Criminal Court 8 of Barcelona exonerates García for the lack of "reliable" evidence that he pushed the policeman and also because he concludes that rather than struggling with the policeman, what happened was "an agent of the authority grabbing a person in order to arrest him."
For this reason, the judge applies the principle of "in dubio por reo" (in case of doubt, benefit for the accused) and acquits the photographer, since he understands that there are "serious doubts" that the events occurred as reported by the Prosecutor's Office, which even asked for a year and a half in prison for a The crime of attacking authority, although at the trial he reduced it to a fine of 4,800 euros for disobedience.
After analyzing the statement of García, the policemen and the witnesses who testified in the trial and viewing the images available on the incident, the judge concludes in his sentence, that it can be appealed before the Court of Barcelona, ​​that it has not been possible declare it proven that the photographer ignored the orders issued by the police to undermine his principle of authority or that he gave him a strong push and then escaped from the attempted arrest and that he hit the agent hard on the right hand, as claimed by the Prosecutor's Office .
Covered the protests
The events occurred on October 18, 2019 in the Urquinaona square in Barcelona, ​​when the photographer was covering the riots at the protests for the condemnation of the leadership of the "procés".
At the trial, García explained that a police officer told him that he was detained and asked a colleague for help to make the arrest, at a time when there were no longer disturbances in Urquinaona Square and the situation was under police control.
"At no time do I put up any resistance. I feel afraid and I don't understand anything and I want to protect my (photography) equipment"García alleged, who accused several agents who testified in the trial of incurring false testimony since, for example, he explained that it is a lie that he made dead weight with his body to prevent his transfer once he was arrested.
"I tell them that they hurt me and that way I couldn't walk, the ground was full of stones, I was drowning with the mask, it was an unbearable situation to walk," Garcia said.