These are the remote MBAs with more future in 2020 | Showcase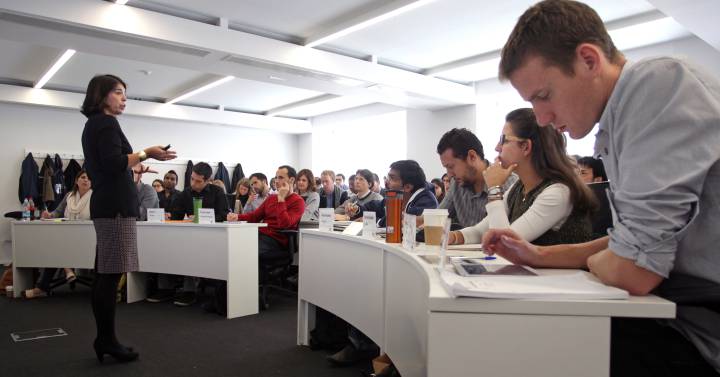 If you are attracted to the idea of ​​starting with your own business or of aspiring to a management or management position, the MBA (or Master in Business Administration) is undoubtedly the ideal postgraduate option even for graduates in non-business careers. An MBA will facilitate the student a global and strategic vision of the most relevant areas of a company (from Finance and Accounting to Human Resources, Marketing or Production), soft skills training (soft skills such as leadership skills, self-control and customer orientation) and a specialization which will allow you to advance in your professional career: nine out of 10 graduates have secured employment after completing these studies, and more than 72% do so in a field related to the content of the master, according to the Ranking of Higher Online Training Institutions (FSO) of Spanish Speaking 2019 prepared by the consultant Hamilton Global Intelligence.
Opt for an MBA on-line It will allow not only greater time flexibility and ease of reconciliation, but also constant updating, personalized training, internationality and cultural diversity. Of course, without giving up high quality training at a significantly lower price that in the face-to-face courses: within the programs included in the FSO ranking, prices range from € 1,595 of the European MBA of the European Institute for Business Studies (INESEM) to 20,000 of the ESADE Executive MBA, while the average per program It stands at € 8,870. Of course, being remote, they will also demand a high degree of commitment and self-management of time. As an omnipresent objective, a professional promotion that will also entail a salary increase of 31.6% on average, according to data from the same study.
However, How to choose a good master on-line? "Two fundamental aspects to know if the training will be of quality are the employability rate and the teaching methodology. A good follow-up of the students, combining the theoretical classes with the practices and using elements of methodological support indicate that it is an adequate MBA where they can study higher ", says Sebastián Fernández de Lara, Hamilton's managing partner. It is not convenient for us to forget to carefully analyze the study program, but also to "know the experience of the old students, inform us about the faculty staff, know if the center has a job pool or not and if we can share experiences with colleagues from different sectors or countries, "adds Joan Ramón Castelló, Marketing Director of eMagister studies search engine. Therefore, it is important that the masters show in a clear and transparent way the most up-to-date information possible on these aspects, the reputation of said higher education and the digitalization of the institution.
The cheapest MBAs on the FSO list in 2020
| | | |
| --- | --- | --- |
| Program | Price | Position |
| 1. INESEM European MBA | 1,595 euros | 19 |
| 2. EOBS Master | 2,400 euros | 16 |
| 3. Master University of the Isthmus | 3,030 euros | 25 |
| 4. Master UA Chihuahua | 4,096 euros | 18 |
| 5. VIU Master | 4,500 euros | 12 |
| 6. Master's Degree in Tecmilenio University | 4,742 euros | 9 |
| 7. UNAD Masters | 6,344 euros | 22 |
| 8. UPAEP Masters | 6,550 euros | 13 |
| 9. Master La Salle | 7,900 euros | eleven |
| 10. European University Master | 8,000 euros | fifteen |
Another aspect to consider is the degree of satisfaction of students who have completed an online MBA: for 92% of them (43% of women and 57% of men), according to the data collected in the preparation of the ranking FSO, the master exceeded his expectations thanks to a type of training in which the study of practical cases in real situations predominates, and an environment on-line with tools of all kinds: active discussion forums, telepresence classes (which are recorded on the platform) and even simulators for students to organize in groups and compete with each other.
The already mentioned ranking FSO takes into account more than 120 indicators that assess not only the methodology used (which represents 50% of the score they grant), but also reputation, transparency on-line and the social extension of the institution (35%), as well as its cloister and students (15%). As a result, 25 MBA programs from Spain, Latin America and the United States that in the 2019 edition have gathered to five Spanish entities in the top five positions: the Open University of Catalonia (UOC), ESADE Business School, OBS Business School, the International University of La Rioja (UNIR) and the European Graduate Institute. Meanwhile, the Financial Times chose the IESE Business School MBA as the best of its kind in Spain and the fourth in Europe.
Remote MBAs that will stand out in 2020
From general MBAs to those specialized in specific areas; from Executive to global or international; of the titles own to the officers; from public to private programs; from one to two years … Given this variety, it is difficult to predict which will be the most prominent, but looking at the path taken by each MBA is always a safe: "In an increasingly connected and globalized world, where the new technologies allow more and more to qualify products and even people, those who are able to offer a better service and, therefore, those who have better opinions accumulate and who have best known how to insert their students into the professional market end up triumphing ", Says Castelló. MBA degrees have also opened up low cost like the The Power MBA, which allows to obtain it for only € 499 and 15 minutes a day, from Monday to Friday, during a single course.
Apart from having an approved degree, the requirements to access one of the many MBAs available vary from center to center, and depend mainly on their level of prestige: application for admission, letters of recommendation, language level (usually English , and often through certificates such as TOEFL or IELTS), capacity tests, GMAT (Graduate Management Admission Test), professional experience of one to three years (or even more than five, in the Executive MBA) or a personal interview. And if you want more ideas, these are some of the MBA that can cross your path throughout 2020:
– Generic or specialized MBA. The most generalist MBAs are aimed at recent graduates or workers with experience, and receive training related to business administration and management. Among them, those of the UNIR, ESNECA wave School of Business and Management. And on the other side of the spectrum, those that focus on a specific business field or area, such as the MBA & Master in Marketing and Business Management, from ISEB, the MBA with Specialty in Oenology from IMF Business School or the MBA in Hospitality and Tourismfrom Ostelea.
– Executive MBA. These are planned for active professionals with several years of experience, and their main difference is the approach, since students have advanced notions in business management and responsibilities at the executive level. Apart from those already mentioned in the FSO list, there are many others such as those offered EAE Business School or the ISEB from Barcelona.
– Global / International MBA. For Fernández de Lara, these are the most innovative and complete master's degrees: "They have a training program similar to an Executive MBA, but they develop in an international environment, to promote multidisciplinary learning, global business and networking international". Among them, the ISEB International MBA or the MBA & Master in International Trade from Inenka Business School.
Subscribe to the El PAÍS Showcase newsletter.