These are the keys to professional training in 2021 | Economy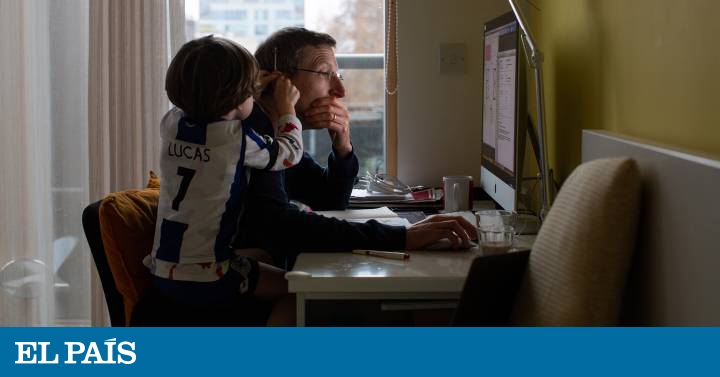 Of course, companies didn't wait for a global pandemic to break out to start their digital transformation, but the process was undoubtedly sped up significantly because of it. To survive, companies had to adapt to a greater or lesser extent their activity to a virtual environment, and this made digital profiles take on an unusual relevance. According to data from the last Digital Employment Observatory from ISDI, the search for digital talent grew by 191% in 2020 due to the effects of the coronavirus, and job offers aimed at digital profiles increased by 56%. In the spotlight, multidisciplinary and flexible profiles, with a strategic vision and the ability to successfully manage teams remotely: that is, those trained professionally and personally to work in both a hybrid and a purely digital environment.
Although, according to data provided by Infojobs, most micro-companies in Spain (those with less than 50 employees) continue to demand very conventional profiles (such as distribution and logistics personnel, health and cleaning professionals, to ensure hygiene and safety conditions. of employees), "36% of companies are looking for more technological profiles to adapt their company to digital reality, in anticipation of new stoppages, and another 31% intend to expand their online service (customer service, telesales) in the next months ", says Mónica Pérez, Director of Communication of Infojobs.
But the emphasis isn't just on employees' digital skills. If 2020 has shown something, it is the viability of teleworking and all the opportunities (and challenges) it presents regarding work-life balance. Flexibility in the forms of work will be one of the keys in this 2021 that is now beginning, facilitating weekly days in which, for example, you can work from home for three days and go to the office the other two. "These types of tremendously flexible modalities that allow me to make better use of my life and the balance between my professional and personal life are going to become more and more common," says Rodrigo Miranda, general director of ISDI.
"You have to have a bit of rationality. The situation that we are going to live from now on is going to be mixed, and we must try to make the best of the physical and virtual world. Why would someone in their right mind have to endure an hour of traffic jam to go down to Madrid, and 45 minutes of their life to go home, when they can probably start their workday from home and go down to Madrid at 11? ". Flexibility, he adds, also offers advantages for companies, which in this way can improve the talent they have and work with professionals distributed anywhere in Spain or the world, without this implying a reduction in the quality of work: "The Digital media allows much more precise control, because you focus more on the value delivered, not on whether a man or woman is sitting in one place. You have to do that task: is it done or not? Do I have it in my email or do I not have it? I don't care if you do it from Valladolid, from Teruel or from wherever you want ".
Digitization, fundamental
The months of confinement caused by the pandemic caused a loss of physical contact that forced many companies to reinvent themselves. "There have been businesses that, yes or yes, have had to uberize, amazed or google, put whatever last name you want. Physical businesses that have had to adopt purely digital models, because their customers are already in the habit of doing so. If I can buy something on Amazon with one click, why not buy it at the corner market? This morning I heard on the radio the announcement of a platform that adds orders in the traditional markets of Madrid. These are the kinds of things that have already changed, "argues Miranda. "Those sectors that are suffering the most, such as tourism, mass consumption or the hospitality industry, are three good examples where digitization is going to play a key role."
The areas of cybersecurity, digital business, Big Data, artificial intelligence and cloud computing are the ones that are growing the most and that are demanding the most new profiles, according to the report The Future of Jobs Report, of the World Economic Forum. "Electronic commerce has been consolidating throughout the months of the pandemic (…). This boom, despite the contraction in spending, represents a slight boost to the commercial and logistics sector, as many companies have decided to strengthen their online sales channels and their logistics and transport departments ", explains Pérez. The acceleration of digital transformation has in turn boosted profiles related to computing and telecommunications; And, of course, the health sector is also experiencing strong demand, as was the case during the first months of the pandemic and the second wave of infections. The offers for nurses, salespeople, telemarketers, real estate consultants and cleaners are the ones that have grown the most in recent months, according to Infojobs data, followed by delivery men, doctors, plumbers, bricklayers and electricians.
Professional skills for the future
The World Economic Forum report notes that corporate adoption of technology will transform many of today's tasks, jobs and skills by 2025. Globally, "85 million jobs may be displaced in the next five years due to the change in the distribution of work between humans and machines, while, on the contrary, 97 million new tasks and positions adapted to this new work reality ", says Mónica Pérez. The report also calls on the public sector to support the recycling of different professionals through public funds.
In this new context, a constant need for professional updating is imposed, either through additional professional training that helps the worker to better perform their functions (what is now known as upskilling), or through the acquisition of new skills and competences that serve to adapt to changes and know how to deal with situations of crisis and uncertainty (reskilling). The latter, adaptation to change, is one of the most important skills in recent years, but also, according to an Infojobs survey in the business world, one of the most difficult to find among professionals. The three soft skills most in demand are the ability to work in a team (71%), proactivity (58%) and the ability to resolve conflicts (53%).
But a radical change in mentality is also necessary, says Miranda. "We are very little used to making life transitions. We have been educated in a sequential model in which we study until we are 23 or 24 years old, we work until we are past 60 and we retire when possible or on the day they tell us. This was a conventional model, but now others are beginning to develop in which you study a little, work a little and have a little leisure, "even occasionally enjoying a period of sabbatical. Professional cycles "in which the changes are taking place six, seven or eight times. And we are not talking about small changes, but about complete disciplines, about people who were dedicated to one thing and now do something totally different ".
Reimagine yourself to succeed
Miranda, who wrote the book during the pandemic months Rebooting: how to reinvent yourself in an (increasingly) digital world, draws attention to the need to reinvent and restart professional life to survive the changes that are already taking place: "If users are changing, companies are changing, business models are changing and automation implies that part of the work that before a person did, now machines do, are you going to continue as if nothing? No, my friend. You have to change with the new times, and that implies that you have to update yourself ".
But What does it mean to adapt? The changes have occurred at all levels, from agile work tools (before it was Office; now they are applications like Zoom, Slack, Teams, Hangouts, WhatsApp, etc.), to the aforementioned forms of flexible work and other aspects that serve to make the most of the opportunities of this digital transformation: "You have to be a community manager of your life and of your professional part, through external and internal communication networks, where, for example, I do not give orders, but I do have to be talking, motivating, evaluating, applauding and judging those things that are taking place in the communication channels ", explains Miranda, who also points to the need to care for and cultivate the personal brand:" If a company wants to attract talent, wants to communicate things and give a positive image and have a good reputation, it has to do so through the personal communication channels of the managers and employees who work in it ".
EL PAÍS TRAINING in Twitter and Facebook
Subscribe to the newsletter Training of EL PAÍS

Learn about the peculiarities of personnel management or the strategic direction of a company, what is Big Data and Business Intelligence and many other aspects.

You will work on the analysis of malware, threats and risk analysis, incident response and SCADA Mobile, among many other concepts.

In this training you will find a curriculum focused on the cloud computing, he Big Data, he business intelligence and the edge computing, among other tools on the web.