These are the drones that fly over tragedies and save lives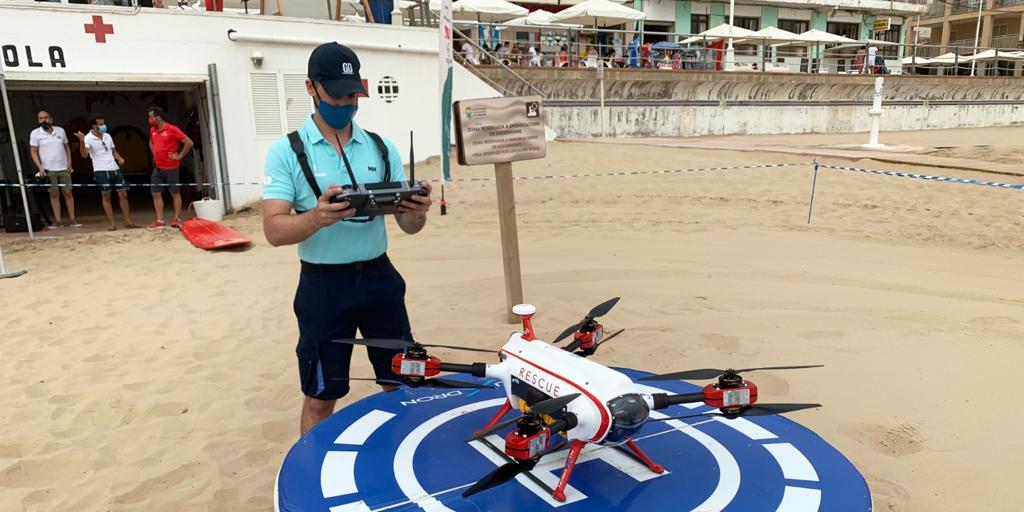 They have finally shed the aura of science fiction that surrounded them to integrate into a growing number of civil servicessuch as predictive maintenance of power grids, crop monitoring, surveillance of reckless driving or, in the not-so-distant future, last-mile delivery. The UAV industry has seen a exponential growth In our country. If in 2014, when the first regulations on its use were established, there were 54 professional operators, 166 aircraft and 109 registered pilots, today they are 37,620 operators (The new regulations, whose partial application began on December 31, 2020, does not differentiate between professionals and recreational workers, obliging all
to be registered), 3,781 aircraft and 30,836 pilots registered with the State Agency for Aviation Safety (AESA), according to data provided to this newspaper.
The drone market evolves by leaps and bounds to improve the operations of companies, make people's lives easier ... and even save it. «They can be used for any type of incident: rescue of people who get lost in the mountains, drowning on the beaches,
natural events such as La Palma... They are our eyes and our legs because they provide us with very valuable information, quickly and without contaminating, reaching places where a person could never access ", he explains. Isabel Buatas, director of Expodrónica, the largest drone event in southern Europe.
From a regulatory point of view, they have a clear sky for use in emergency situations. And Spain has known how to see its potential in tasks where lives are at stake, becoming a reference. "The security forces, the Ministry of the Interior and companies that engage in this type of service are highly regarded in Europe," says Buatas. The truth is that the national business ecosystem has devised innovative solutions that are already used regularly in rescue and emergency tasks.
Watchers of the sea
It is the case of Auxdron LFG, a drone designed and manufactured entirely in Spain by the Valencian firm General Drones. Its mission is none other than reinforce rescue and lifeguard teams on beaches to stop drowning –In 2020, a total of 338 people died for this reason in Spanish aquatic spaces. "When it warns that there is a person with problems, the drone goes towards them, positions itself on top and releases a float or two, in case of being more than one swimmer, which automatically swells when it touches the water," he explains. Adrián Plazas, co-founder and CEO of the company.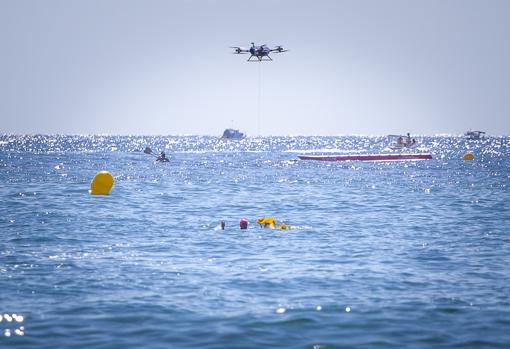 The device takes off in six seconds, taking vital moments from the clock. Able to resist currents, wind and high temperatures, not only assists the rescue, but also enhances surveillance and prevention. «Last year, in Sagunto, a 13-year-old boy was isolated 200 meters from the coast, with clear symptoms of fatigue. The drone spotted him and, at that moment, he assisted him with a float and the jet ski was notified, which took about three minutes to arrive, "recalls Plazas. This year the drone has served nine Spanish beaches, carrying out some 900 flights and eleven rescues.
From sea to land, the places where these aircraft complement human work are many. In forest fires, for example, they began to be used for early detection of fire and the sending of information in real time, but today their applications go further and even contribute to extinction.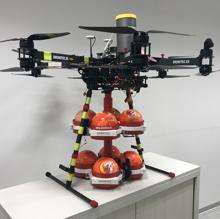 This is what allows the drone that Dronitec has developed, equipped with balls of dry chemical powder that, when in contact with fire, explode and create an extinguishing cloud of 30 cubic meters. «It does not seek to extinguish a large front, but support forest extinction crews and quell small sprouts", bill Iban Hoyos, CEO of this Cantabrian company. The great advantage is that, unlike manned aerial means, the drone can fly at night. "In this way we monitor the development of the fire and where it is spreading so that when the means of extinction arrive the next morning they have information to go to a shot", Hoyos highlights.
In addition to this solution, the firm is about to commercialize a system for fires that occur in houses and that are so dangerous for both residents and firefighters. «You approach with a pole three or five meters from the facade, the drone approaches the window and the fire extinguisher that is hanging sprays. When firefighters enter, the fire is less virulent»Hoyos says. The company's clients are government entities, both from Spain, Europe and some African countries.
Not only companies are at work to find new discoveries.
Spain has a solid network of technology centers participating in various projects, such as the Advanced Center for Aerospace Technologies (Catec). He collaborated with Vodafone and the SSG Foundation in an initiative in which a 5G controlled drone was carrying a defibrillator in a simulated cardiorespiratory arrest, with a time of arrival to the patient four times less than an ambulance. The fifth generation mobile network enables the processing of advanced functionalities, such as the detection of obstacles on the road. "Thanks to 5G, we prevent the drone from incorporating a heavy on-board computer, which will allow it to fly further or carry a more powerful defibrillator in the future," he says. Antidio Viguria, director of the Avionics and Systems division of the Catec.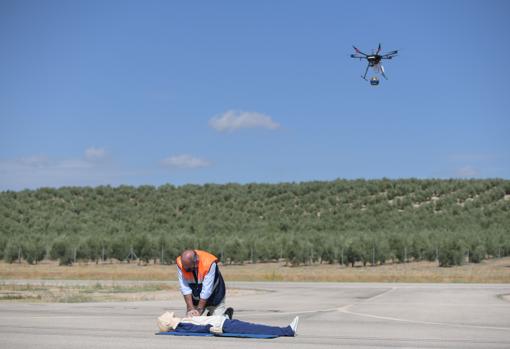 The center is involved in other projects such as Assistance, of the Horizon 2020 program, in which it studies the use of drones to provide communications coverage to areas that have suffered natural disasters. As the flight time is limited, the Catec works on an exchange mechanism so that when one is going to run out of battery, it is automatically replaced by another. «We are developing and validating the technology that allows the coordination and automation of the operation at the Atlas Experimental Flight Center (Villacarrillo, Jaén). There we will do a theatricalization in April or May 2022 that there has been an emergency and we will place the drones that are going to provide real coverage ", Viguria indicates ... The drone universe flies high and, increasingly, in favor of people.