"There should be severe penalties for auction houses that sell stolen pieces" | Culture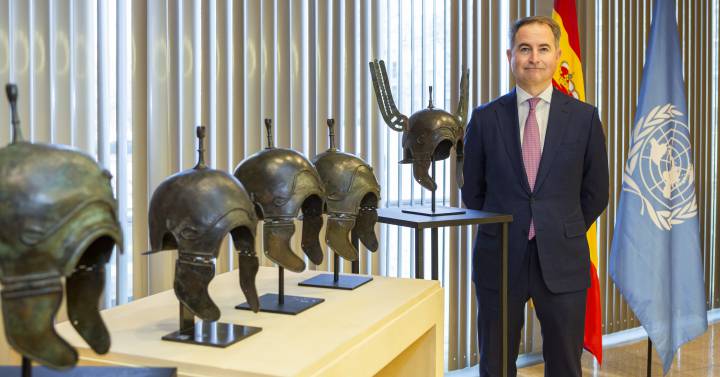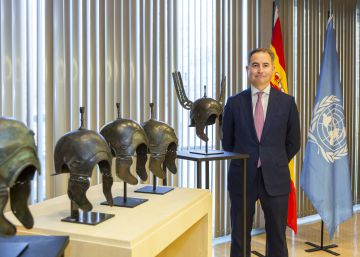 Just a few months ago, Christian Levett settled in Florence and is still admired, he says, of the wonders he offers to a passionate art in general and the Italian Renaissance in particular like him. But at the time of increasing its not inconsiderable art collection, which includes pieces of Greek, Roman or Egyptian origin, this former British investment manager, 49, has made a drastic decision: neither ancient objects nor Renaissance paintings. "Now I limit myself to post-war art," he said in an interview with EL PAÍS in Paris.
This man used to sailing in the often brutal world of finance is said to be scalding the antique market. It is not for less: four years ago he discovered that the seven Celtiberian helmets that he legally acquired – or so he believed – in a reputed German auction house and that they were one of the main attractions of the Mougins Museum of Classic Art which he founded in this city in southern France to show his private collection, came from the looting in the 1980s of an archaeological excavation in Aranda de Moncayo (Zaragoza).
After a year and a half of not always simple steps, Levett returned this Wednesday, at a ceremony in Unesco, the Celtiberian pieces, unique for its exceptional state of conservation. The helmets should be exposed as of Thursday at the Zaragoza Museum, the closest place to the site where they were pillaged more than 30 years ago.
Its final location has yet to be formally approved by the Heritage Council, something that will probably not happen until April, said the General Director of Fine Arts, Román Fernández-Baca, who attended the return of the Celtiberian helmets. Even so, it is taken for granted, he said, that Aragon will be the ultimate destination of some pieces that should never have left Spain.
Levett, who is proud of his support for art – he has sponsored exhibitions at the British Museum or the Royal Academy, as well as financing archaeological excavations in the United Kingdom, Italy, Egypt and even Spain – coincides. "These helmets have been stolen from the Spanish And they don't belong to me. I don't want stolen pieces in my collection, the only thing possible was to return them immediately, "he explained.
But that he has taken this step voluntarily and without demanding anything in return, as those responsible for the field point out, does not mean that he did not mind what happened. In fact, although he never loses his exquisite manners, his face hardens when he thinks of the 250,000 euros he paid for the helmets to the auction house and the, at least so far, lack of consequences for that company despite of having sold fraudulent material as legitimate. That has to change, he claims.
"I am very happy to return these objects because they are the patrimony of the Spaniards and I have no problem with them, but this has cost me a quarter of a million euros and there must be more severe penalties for auction houses and professional dealers. People buy with confidence because they believe they make a legal purchase and suddenly they have not", He said. In his opinion, "if only one side of the supply chain is punished and not the other, the system will continue. But if the two ends of the chain are punished, those who plunder and those who sell them, perhaps the supply chain will start to break. "
As long as this does not happen, he will continue to increase his collection with postwar art. "Unless an object has an absolutely indisputable origin, I will not touch an antiquity again." Of course, he promises, he will travel to Spain to visit the Celtiberian helmets he had in his hands and the Aranda de Moncayo site, for which he will make, he says, a donation whose amount has not yet been decided.
The most important restitution since the battle for the frigate Nuestra Señora de las Mercedes
The Spanish ambassador to Unesco, Andrés Perelló, could not hide his enthusiasm on Wednesday at the ceremony of voluntary delivery of the seven exiled Celtiberian helmets. "We are facing an act of historical cultural restitution that, because of its symbolism, is the most important since the recovery of the treasure of the frigate Nuestra Señora de las Mercedes" after the long litigation with the US treasure hunter company Odyssey, he recalled.
It has not been a simple path. In fact, more than three decades have passed since the helmets were pillaged at a site in Zaragoza until those responsible were convicted last year. And despite the fact that for years the Spanish authorities were alerted to the possibility of a fraudulent sale, they did not react and the helmets were acquired in several auctions. Even so, the general director of Fine Arts, Román Fernández-Baca, vindicated the work of the Spanish authorities that allowed the arrest of the looters and the recovery of at least part of the material expelled. "Contrary to what has often been published in the media, this issue has never been forgotten by us," he said. "It has always been on the table and, despite the setbacks that were taking place, at every moment the ministerial teams have sought solutions to try to recover the assets expelled in Aranda," he added. At least one part has already returned home.
(tagsToTranslate) must (t) have (t) severe punishment (t) (t) house (t) auction (t) sell (t) piece (t) steal (t) British collector (t) (t) christian levett (t) restore (t) Spain (t) seven (t) helmet (t) celtiberian (t) acquire (t) know (t) proceed (t) plunder (t) deposit (t) zaragoza



Source link