«There is no social explosion because we have normalized poverty»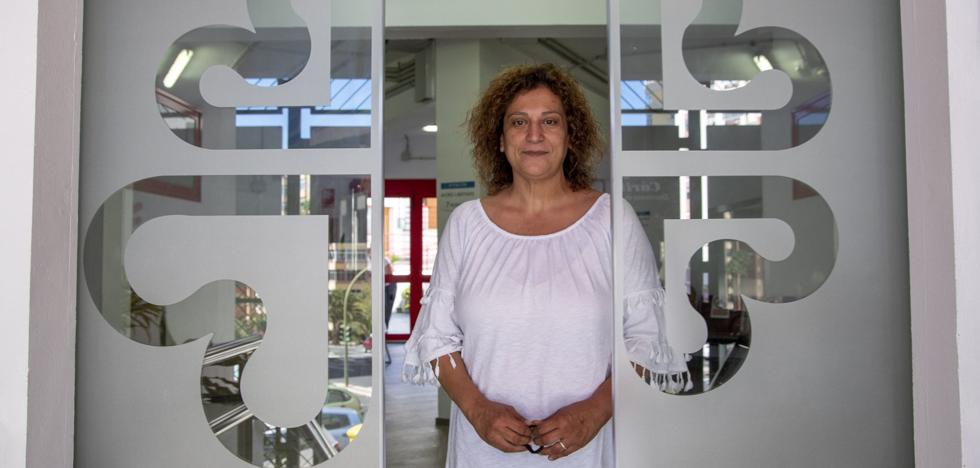 interview
Caya Suárez, general secretary of Cáritas Diocesana de Canarias, breaks down the 2021 report of the NGO in which she notes an increase in social exclusion in the province of Las Palmas
Last year Cáritas attended to 17.32% more people than the year of the pandemic. This is stated in the report presented by the institution this week. Caya Suárez, general secretary of the institution, delves into the photograph that the figures of that report return.
-Poverty continues to have a woman's face
-Cáritas has been able to confirm that
poverty has a woman's face. A single woman with dependent children who is unemployed and with primary education. This leads to Caritas having an accompanying intervention in the different dimensions of a person's life. Both in terms of health because she may have left a medical treatment, in educational matters, trying to solve the digital divide or in terms of employment. And we also work the environment. Hence, we also collaborate with companies on employment matters and from there we have been able to achieve a 58.5% job placement in Gran Canaria and Fuerteventura.
"You have to find a balance between attending to the emergency, assistance, but, at the same time, attacking the causes and promoting training"

-
They just presented the 2021 report. Did you expect the demand for help to increase after leaving behind the worst of the pandemic?
-In 2020 we had an increase of 83% due to the impact of covid. After the return to normality and the improvement of the economy, we thought that we were going to attend to fewer people. But it is not only that it has not stabilized, but it has increased by 17.32%. The return to normality and the recovery of the economy has no impact on the most excluded groups. What we see is that crises, one after another, deepen poverty and cause it to widen, and if before it affected one dimension of people's lives, now it is more. Poverty is chronic, it is structural and social exclusion is increasingly serious.
-A part survived with the informal economy that does not seem to recover.
- Informal work has returned in a more precarious way. There are those who get their jobs back but for hours, not full time. Many people after the ERTE have not returned to recover employment. If you used to clean houses when people's income also decreased, then they don't call you. Those of us who cover our basic needs have had to make readjustments, cuts, although we still have enough to cover basic needs. The cuts I'm talking about are more bloody. It is giving up medical treatment, not buying school books, not having access to training, to culture.
-They also talk about people who work and are still in a situation of poverty. Is it more difficult for them to approach Caritas?
-During the pandemic, many families did not expect to fall into that situation and come to Cáritas. And then they haven't come back, but there are many families that were vulnerable and fell into social exclusion and remain attached to the institution.
-With the poverty figures of the Canary Islands, why do you think there is no social outbreak?
-What's going on? That we have normalized poverty. I live knowing that I have to restrict my expenses by controlling, until the middle of the month that the receipts pass they don't really know how much they have to reach the end of the month a month. And he spends a month, two, a year, a decade seeing it as a normalization of the situation and general skills to cope with that kind of life. When there is a situation of exclusion, you lose family and neighborhood support networks... You see yourself alone in your situation and context. It is difficult for people to raise their voices, they feel insecure, invisible, alone.... Their claim is received by the entities, we receive their frustration, their impotence, their anger at what is happening.
-The minimum vital income does not reach all the people who need it despite the fact that there is a budget. Do you think public institutions do enough?
-There are two factors. One is that the benefits and access to the system have to be from accessible channels. But if they are affected by the digital divide, it must be understood that the most vulnerable groups do not have access. And, on the other hand, the resources for social exclusion are to alleviate the consequences, such as the impact of the crisis, but it means that families are added and the resources are not enough. It is necessary to palliate the consequences but also the causes that generate it.
-We have been talking about structural poverty in the Canary Islands for years and nothing changes.
-The first thing that a person looks for when they come to Cáritas is material help for food, the electricity bill, medication... We do that, which is important, but also an accompaniment, to know if they have primary studies, to accompany them in their academic training in the acquisition of skills. Our public policies address the weakness, but we must also work from the strengths, having the different dimensions clear. There is a lack of social rents, access to employment is basically linked to training, to acquiring skills. If there are 3,000 butcher stalls in the market, it trains people in these fields. We have to go to the causes, we work from the strengths, not palliating. The public administration is slower, a balance must be sought between attending to the emergency, assistance, but, at the same time, promoting training. Our advantage is the territorial network, that is a light on the way. They know that by approaching their local environment they will be welcomed and listened to. That allows us a direct and close contact. The public structure does not have that advantage of closeness and coexistence with the other that Caritas volunteering gives us. Our intention with memory is not to create pessimism or negativity but to be aware that we are stepping on mud.
-The Food Bank spoke of the outburst of solidarity during the pandemic and how little by little it was diluted. Have you noticed?
-Currently with the same resources we reach more people, but with less specific help for the cost of living. Our great strength is a believing volunteer for a faith option and it is usually stable. Companies have also suffered the impact of the pandemic, but it is also true that we seek creativity with companies. Before they helped financially or with products and now they may make services available. It is to reorganize solidarity.
-What worries you third sector?
-We are concerned about the impact of the labor reform, it also leads us to change the organization system for an economic increase. Also the fact that there is no portfolio of social services. We are concerned about delays in calls for grants with no guarantee of whether or not you will receive funding.