Thebes: "We hope by the end of April to have a percentage of the public in the stadiums"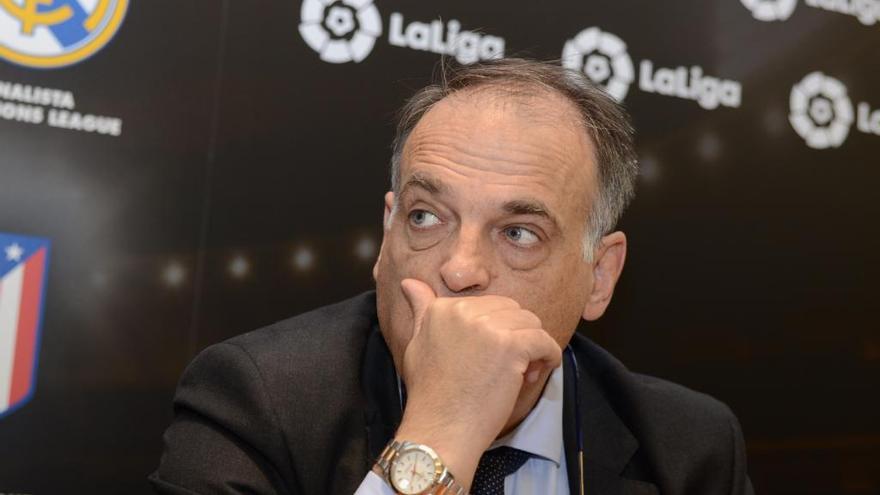 The president of LaLiga, Javier Tebas, has indicated that if the circumstances after the Easter week They allow it, they hope to have a "percentage" of the public in LaLiga stadiums by the end of April, and on the other hand has confirmed that Joan Laporta will correctly present the financial guarantee to be invested president of the FC Barcelona. "If the circumstances arise, yes. We are already prepared, we would have been there for months, but there are circumstances that we cannot control. We have been here for a year, we have learned, and we hope that in the third week of April we can begin to have a percentage in the stadiums, "he told the media.
Tebas, who attended the Sports Breakfast of EP with the CEO of Dorna Sports, Carmelo Ezpeleta, assured that, hand in hand with CSD, Government and other authorities, at the end of April the planned plan for the return of the fans could be deployed to the stadiums. "Following what the Secretary of State has said, we all hope that after Easter we can already set a quick date. Everyone is with a lot of caution regarding Easter, a key moment to see how things are going, "he acknowledged.
"We expect the rebound to be less than at Christmas and it allows us to return to the stadiums, "said Tebas, who sees it as" inconsistent "that some audience is allowed in other types of entertainment or events, and not in football." But that's the way it is. We have been under this circumstance for months, we cannot do otherwise. If the CSD and the Government and the Communities see the circumstances, then to return, "he reiterated.
On the other hand, he believes that the economic situation in times of pandemic It will prevent players of the stature of Kylian Mbappé or Erling Haaland from arriving in LaLiga in the summer. "It is very unlikely or unlikely that these players could be in LaLiga. I wish they could come, but you have to be realistic. I don't think either of these two players are there", he was sincere. And, as for a hypothetical return of Cristiano Ronaldo to the Real MadridHe assured that it would be "great news" for Spanish football. "Cristiano Ronaldo continues to make a difference, he is still a genius and a crack and he is a man made in Madrid and it would be nice," he argued.
'OK' to Laporta's endorsement
Javier Tebas also confirmed that Joan Laporta, president-elect of FC Barcelona, ​​will correctly deposit the financial guarantee before LaLiga to be invested this afternoon. "I know that the endorsement will be there today and correctly," he said. "Barça's biggest crisis, more than economic, which they must solve, was institutional. They must have stability and I believe that Laporta, with the team that is coming, will begin to set course for that great club, which needs it," confirmed Tebas about.
As for his relationship with Laporta, he assured that he continued alive after his departure from Barça. "I have known Jan for many years. Since he left football we have seen each other a few times. Now we have spoken again sometime. The important thing, whether or not Jan gets along with me, is that he quickly take the bull by the horns and move forward and put order in FC Barcelona, ​​"he added." Convince Messi it is one of its functions, it is important. But the most important thing, for the club and for the players and for Messi, is that the club had a president. Also for the financial world and football institutions, "he concluded in this regard.