Thebes, sure there will be football on Mondays and Fridays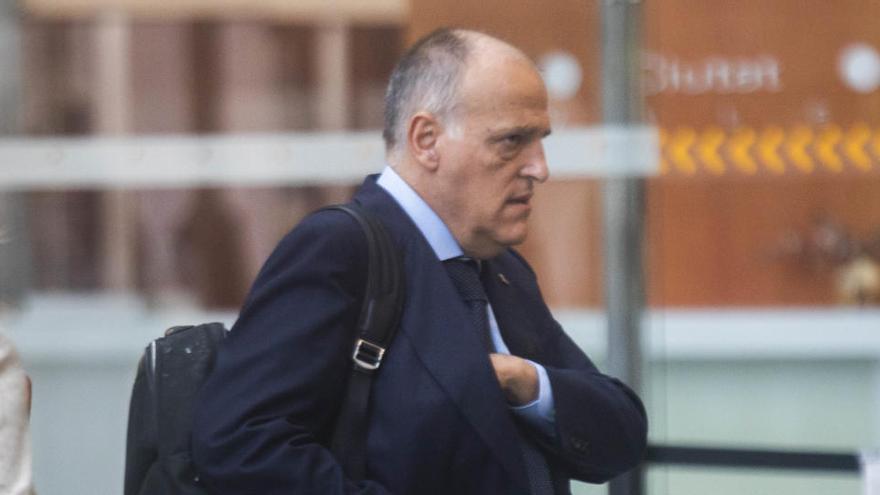 The president of The league, Javier Tebas, has guaranteed that "surely they will end up watching LaLiga on Mondays and Fridays" of this season, despite the fact that in the first days they have not had permission from the courts to compete on those days, since he considers that it is "the best way to exploit audiovisual rights without harming fans".
"Surely you will end up watching LaLiga on Mondays and Fridays. In August of last year we already decided that it is an asset of the clubs, not of LaLiga, to exploit audiovisual rights in the best way without harming fans. The Provincial Court of Madrid marked a path and we believe that it will continue and will lead us to have football on Mondays and Fridays, "Tebas valued during the presentation of the sponsorship agreement with Telepizza.
Asked about the reelection of Luis Rubiales for the next four years, the president of the League declined to "comment on what the RFEF does or chooses." "I'm not going to muddle. Everyone knows my opinion and I'm not going to repeat it so that in a while it will be a headline. I'm not going to contribute to that game, "he said.
On the other hand, Thebes referred to agreement with Telepizza for the next three seasons. "It is a quasi-perfect union due to the profile of our fans and that of Telepizza customers," he highlighted about this link that will allow the food company to appear in the various LaLiga supports such as stadiums, 'online' platforms and social networks, among others.
For his part, the CEO of Food Delivery Brands, Pablo Juantegui, highlighted that "Telepizza has always felt very close to the world of football." "People come together to watch football and have a Telepizza. I am especially proud of this collaboration with LaLiga that we started in 2018 with LaLiga Genuine. We have 18 LaLiga Genuine players who are already working in Telepizza stores and our goal is to have them a person with Down syndrome in each store in Spain ", he indicated.
In the 2018/19 season, Telepizza became an associated brand of LaLiga Genuine Santander, the first football league for people with intellectual disabilities. Furthermore, as a result of this collaboration agreement, Telepizza undertook to incorporate at least one player from each of the teams that make up the competition in its stores throughout Spain. So far there are already 18 players incorporated through this socio-labor inclusion agreement and the number is expected to rise to 40 by the end of the year.