The Young Orchestra of the Canary Islands travels through the eight islands during Holy Week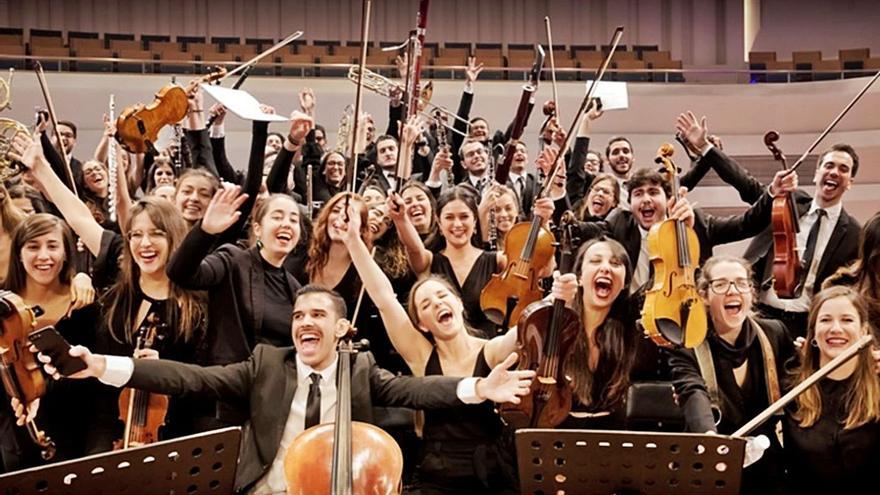 The Young Orchestra of the Canary Islands (Jocan) finalizing preparations to resume his traditional tour of the islands in camera format during Holy Week, in which he will offer eight concerts on the eight islands. It is an appointment with the Canarian public that was interrupted last year due to the pandemic and that is resumed with the title Gran Partita from March 31 to April 11, under the direction of Maximiliano Martín.
The tour schedule was revealed yesterday in a ceremony chaired by the Deputy Minister of Culture of the Government, Juan Márquez, and by the artistic director of La Jocan Victor Pablo Pérez, where both valued the effort made by the training to continue with its activity despite the difficulties of the pandemic.
The training under the Government of the Canary Islands has chosen this year La Gomera as the venue for the meeting where to carry out the rehearsals and joint preparatory activities, specifically the House of Culture of Valle Gran Rey, where they will offer the first concert on Wednesday, March 31. The repertoire consists of a single work, Serenade No. 10 for wind in B flat major, K. 361 / 370ª, known as Gran Partita, by Wolfgang Amadeus Mozart. For this reason, the image of the tour shows an interpretation of the great partita, which in Italian means "the great game".
Organized by the Culture area of ​​the Government of the Canary Islands, the tour will begin on Wednesday, March 31 in La Gomera (Valle Gran Rey Cultural Center) and will continue on April 1 in Tenerife (El Sauzal Theater); on April 4 in El Hierro (Asabanos de Valverde Cultural Center); on April 6 in Gran Canaria (Municipal Center of Culture of La Aldea); on April 7 in Fuerteventura (Insular Auditorium; on April 9 in La Graciosa (Ignacio Aldecoa School; on April 10 in Lanzarote (San Bartolomé Theater); and April 11 in La Palma (House of Culture of El Paso ).
All concerts begin at 7:00 p.m. (except in Tenerife, at 7:30 p.m.) and are freely accessible to the public, although it is necessary to collect an invitation in advance at the box office or on the usual ticket sales platforms.
La Jocan appears again before the public with a formation made up of 13 of its musicians and under the direction of the prestigious Canarian clarinetist Maximiliano Martín, a musician who combines his position as soloist of the Scottish Chamber Orchestra with commitments as a soloist, in chamber music and master classes around the world.