The Yellow Pages say goodbye to paper after more than 50 years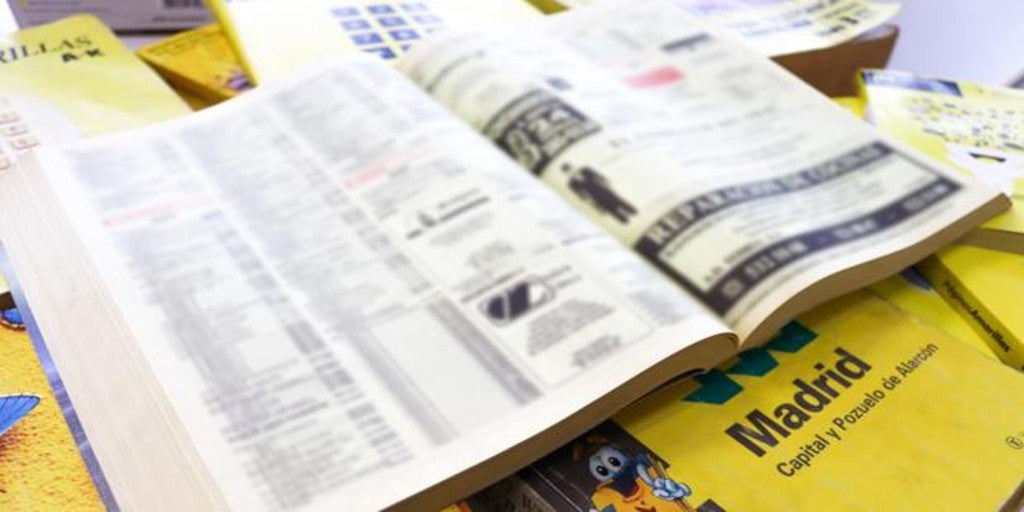 Madrid
Updated:
Keep

The iconic Yellow Pages They will be out on paper for the last time this March 22. This was announced today by BeeDigital, the company that maintained its edition. The company explains that it has made this decision due to the process of change in its business models. The guide, which was born in 1967, has served during its more than fifty years of life as an indispensable business directory in Spanish homes. Plumbing, carpentry, bookstores, workshops ... all kinds of SMEs and freelancers have been advertised in this analog search engine.
In its history, the Yellow Pages has had more than 2,750 editions, getting among its pages the ads of up to 300,000 businesses and was distributed up to 16 million units in 2017. Now, with the unstoppable digitization of the economy, its publication is coming to an end. It can only be consulted in its web version and who knows if its paper version will become a prized piece among collectors. In addition, society looks less and less in this directory, since Google has won that battle.
With this decision, BeeDigital explains that its strategy will now be 100% digital. Thus, it will be dedicated exclusively to providing digital marketing solutions to SMEs and freelancers. As explained in a statement, "throughout its history, the company has been adapting its solutions as Spanish society has evolved, always with the aim of making cutting-edge tools adapted to their needs and those of a highly changing consumer market at the disposal of SMEs ".
«We have digitized our business model to continue helping SMEs to grow and attract new customers. Before we did it with Yellow Pages, now with cutting-edge digital marketing solutions ", explains Javier Castro, CEO of BeeDigital. Thus, among its solutions are the creation and maintenance of web pages, presence in more than 50 relevant sites, management of social networks, search engine positioning, online advertising campaigns and electronic commerce options.
The pandemic has precipitated the leap to the internet of SMEs. They have broken age barriers and shopping habits by Spanish consumers, who are increasingly familiar with the Internet. For this reason, BeeDigital has undertaken different initiatives to promote the digitization of companies. Thus, their new services, they explain, are used by more than 70,000 businesses; for those who have created more than 140,000 websites and managed 44,000 Google Ads campaigns. «The new consumer searches, consults, chooses and decides to buy from a brand through their smartphone. The Spanish SME must be aware of this change and dare to make this digital leap, "says Castro.