The Yankees turn their stadium into a vaccination center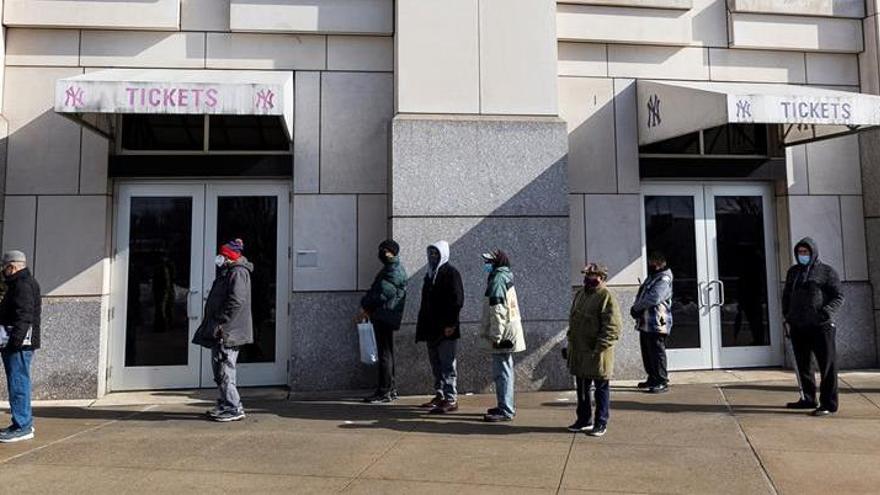 The Yankee Stadium, the iconic field of the New York Yankees, a team that plays in the American League of professional baseball, was inaugurated this Friday as mass vaccination center against covid-19 by authorities, who are trying to raise inoculation rates in surrounding Bronx neighborhoods affected by the pandemic.
The areas, where the minority population resides, will have a great opportunity to start receiving the vaccine, something that has not happened so far.
The home of the Yankees as vaccination headquarters is restricted to residents of the district of the city of NY with the highest percentage of positive results in coronavirus tests.
New York Mayor Bill de Blasio called it "a different kind of Opening Day" hours after a long line formed outside the stadium. "It's about protecting the people who need the most help because the Bronx is one of the places that suffered the brunt of this crisis from the coronavirus, "said the New York mayor at a press conference next to the stadium." The Bronx has suffered, "De Blasio insisted." The time has come to help those most in need of the vaccine. "
De Blasio, a Boston Red Sox fan, donned a Yankees cap to thank the team and declared himself a fan of Boston's archrival "just for one day."
The site established with the help of the city and state of New York recorded about 13,000 of the 15,000 available citations in its first week, according to information provided by authorities.
Initially, Yankee Stadium will be open seven days a week, from 08:00 to 20:00. Officials who organized the vaccination process recruited former Yankees star interviewer, Panamanian Mariano Rivera, to collaborate with the cause. The Hall of Famer said he wanted to support the people who supported him for so many years. "We saved so many games here, but now it's about saving lives," stressed the former Panamanian player. "I am happy to be able to help this cause and support our communities in need."