The writers of the four editions of the Hispano-American Festival show solidarity with La Palma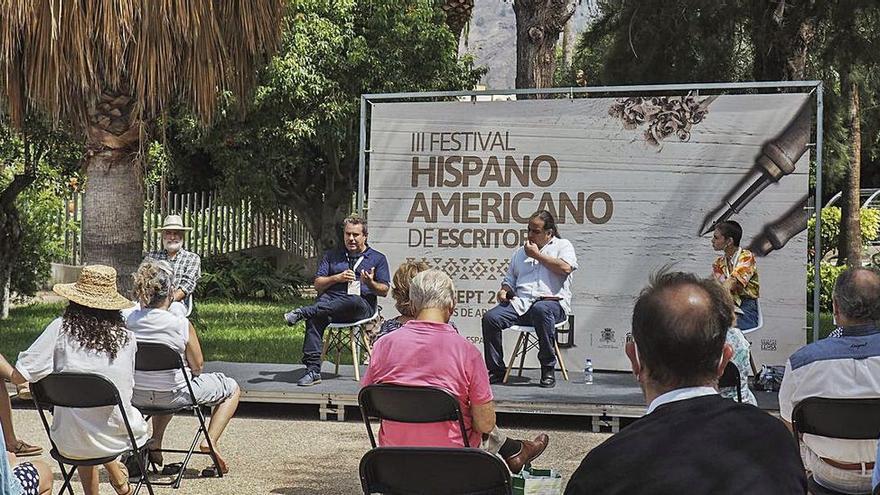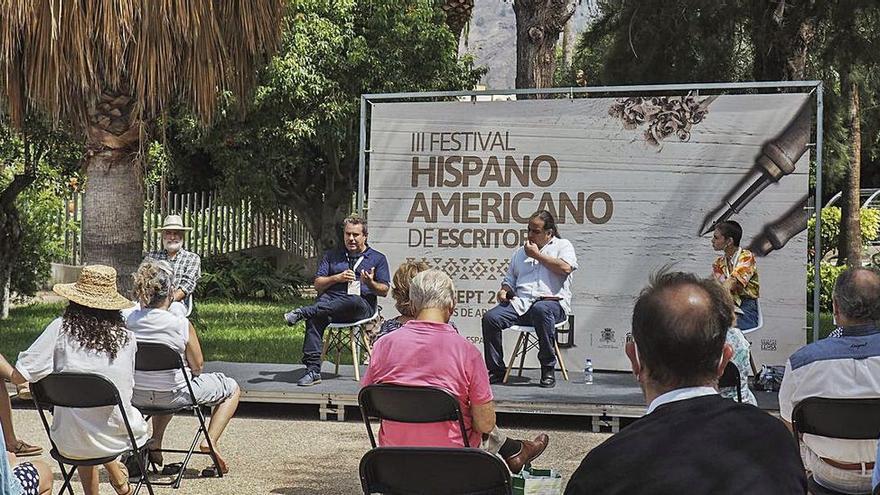 The invited writers to the four editions of the Hispanic American Writers Festival want to show solidarity with the people of the island of La Palma and sign the following manifesto:
"The volcano has exploded in our eyes. La Palma Island and, specifically, the beautiful slope of Los Llanos de de Aridane has been the home of the Hispano-American Writers Festival, an extraordinary meeting place for all the writers who have participated in it for the last four years, including 2021, with which we could only dream, because it has not been possible to celebrate.
We have seen how the fire opened at the top of those slopes and how the lava has been overflowing on the earth, burying crops and houses, the greenery and joy of that part of the world and of so many people who have shared their home with the writers that we have been meeting from multiple points of Spain and America.
It is difficult to explain the hospitality of the Llanos de Aridane: a hospitality tinted in the stones of the squares, in the frond of the banana trees, in the eyes and smiles of so many people who have been welcoming us these years: people from institutions, hotels and restaurants, people who organize and work and celebrates, people who fill the squares with books, who attend the talks and talk and share their days with the visitors.
Now all these people are threatened and beaten by an indomitable titan, who, among all the houses that he has swallowed, has also buried that of much-needed collaborators of the Hispano-American Festival of Writers. It is impossible not to understand that this is happening concerns us, that the lava also creeps over the echo of our steps on the island, and that we have to unite our voices to claim our solidarity with La Palma and the islanders who are suffering from the volcano. .
We thank you once again, we declare our closeness to you from each city or town where we live, and we promise to give you a voice through this letter, from one shore to another of Spanish and across the multiple territory of our literature. Before and after the volcano, La Palma has our word ".
Signed:
Héctor Abad Faciolince, María José Alemán, Jonathan Allen, Nuria Amat, Fernando Aramburu, Yolanda Arencibia, JJ Armas Marcelo, José Balza, Nuria Barrios, Gioconda Belli, Rosa Beltrán, Jorge Eduardo Benavides, Esther Bendahan, Rodrigo Blanco Calderón, Carmen Boullosa, Roberto A. Cabrera, Iván Cabrera Cartaya, Martín Caparrós, Yolanda Castaño, Gonzalo Celorio, Andrea Chapela, Bernardo Chevilly, Juan Carlos Chirinos, José Luis Correa, Valeria Correa Fiz, Juan Cruz, Alonso Cueto, Patrick Deville, Cecilia Domínguez Luis, Christopher Domínguez Michael, María Dueñas, José Esteban, José Manuel Fajardo, Pedro Flores, Carlos Franz, Rubén Gallo, Ana García Bergua, Mateo García Elizondo, Eduardo García Rojas, Olvido García Valdés, Santiago Gil, Lucía Rosa González, Emilio González Déniz, Manuel Gutiérrez Aragón, Ricardo Hernández Bravo, Blanca Hernández Quintana, Teresa Iturriaga Osa, Antonio Jiménez Paz, Hernán Lara Zavala, Mónica Lavín, Jean-Marie Gustave Le Clézio, Fernando Javier León Rodrígue z, Alicia Llarena, Antonio López Ortega, Elsa López, Marcelo Luján, Aurelio Major, Fátima Martín Rodríguez, Nicolás Melini, Juan Carlos Méndez Guédez, Elmer Mendoza, Ricardo Menéndez Salmón, Bruno Mesa, Valerie Miles, Mayra Montero, Daniel Mordzinski, Miriam Moscona, Antonio Ortuño, Francisco Javier Pérez, Ernesto Pérez Zúñiga, Carmen Posadas, Sergio Ramírez, Alexis Ravelo, Carme Riera, Blanca Riestra, Marta Robles, Anelio Rodríguez Concepción, Ana Rossetti, Alberto Ruy-Sánchez, Alba Sabina Pérez, Andrés Sánchez Robayna , Carlos Santos Gurriarán, Enrique Serna, Federico J. Silva, Ernesto Suárez, Karla Suárez, Tina Suárez Rojas, Vasco Szinetar, Ryukichi Terao, David Toscana and Socorro Venegas.