The worrying consequences of hardly any women in programming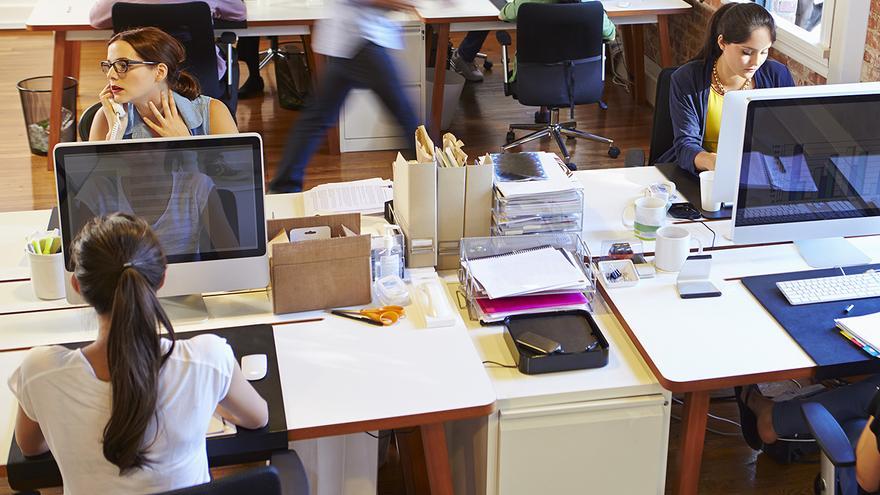 The lack of women in programming (only 11% of developers worldwide are and, in Spain, only 9.3%, indicates the study 'Java, web, mobile and PHP salary survey' by Pearson) is the reflection of a social group that transcends the profession and, in addition, has devastating consequences for a gender equality framework. These are some of the conclusions that emerged, this Wednesday, at the event #TheyProgram: Women, programming and unconscious biases, organized by Womenalia next to Ironhack. And which was celebrated this October 13 to commemorate a date: the birth of Ada Lovelace, a British mathematician and, also, the creator of the first algorithm, which makes her the first programmer in history.
"One of the causes of only 13% of women study STEM careers [es decir, Ciencias, Tecnología, Ingeniería y Matemáticas y los estudios consideraros con mejores perspectivas profesionales] it's the lack of female role models. We all know Jeff Bezos, Bill Gates or Steve Jobs, on the other hand there are fewer female programmers as an example to follow, and the general population still does not know them, "he stressed Lucila Ballarino, General Director of Womenalia, in a day in which data that draw inequality were also highlighted, such as conclusions of the PISA report that indicate that girls continue to believe they are less capable for children to achieve goals that require scientific skills. "
This absence of women in the field of Artificial Intelligence (AI), for example, it can have consequences that we are surely not aware of but that affect the way we "perceive and perpetuate a world full of stereotypes".
Solutions to avoid this absence in the careers and professions that, the experts assure, will mark the trajectory of the people who occupy the positions of responsibility of the companies and organizations of tomorrow? "It becomes necessary make female referents visible that work not only in the programming sector but in other technological sectors. Demystifying this race, encouraging girls early on and, above all, breaking stereotypes in education and in business "are the proposals of the event, which brought together specialists on the subject.
Because to this day, there are still barriers to jump and tear down. "We want to raise awareness of the need for more women, especially in the development of algorithms. We need female voices in this development. One of the reasons that only 13% of women study STEM careers is the lack of reference women ", stressed Lucilla Ballarino." It is our responsibility as a society to ensure that these barriers are broken down, offering more opportunities for women who wish to convert. in technology professionals and encouraging them to seek well-paying jobs in this sector. "
An approach with which all the attendees agreed, including Silvia Cobo Gomez, Clarity IA site reliability engineer, who asked those in his profession to "show themselves" and recounted an arduous journey. "First it has to occur to you that you can go down that road. Then you must encourage yourself to do it, because there is a career myth That tells you that you have to be a genius to do it. Once you cheer up and study there are machismo problems with the teachers. In the world of work, women do not opt ​​for jobs if we do not meet 100% of the requirements, something that men do not do since they have more security and launch into offers without much prior analysis. Once you have entered the labor market, you meet those who accept you and those who do not. There are colleagues who protect you so much that they don't let you go on. "
"We must not see programming as something masculine," said Juan Ramón González, founder & chairman at Matica Partners, "the focus is on talent and this does not understand gender or race or anything."
"Programming gives you control and makes you free," was another of the phrases heard at the meeting, which also highlighted the importance of artificial intelligence and those who design algorithms.
"The problem is that we let the algorithms make decisions on high-impact issues: hiring or judicial decisions, for example. We cannot leave the algorithms to make decisions, because they have no responsibilities," he explained, for his part, Idoia Salazar, President and co-founder of the Observatory of the Ethical and Social Impact of Artificial Intelligence (OdiseIA), which recalled the importance of the role of women in positive and ethical implantation of Artificial Intelligence.
"The the key is in diversity and it is important that there are more women who provide a different perspective… An exciting future awaits us and you can be part of building that future, "he concluded.