The world surrenders to Rafa Nadal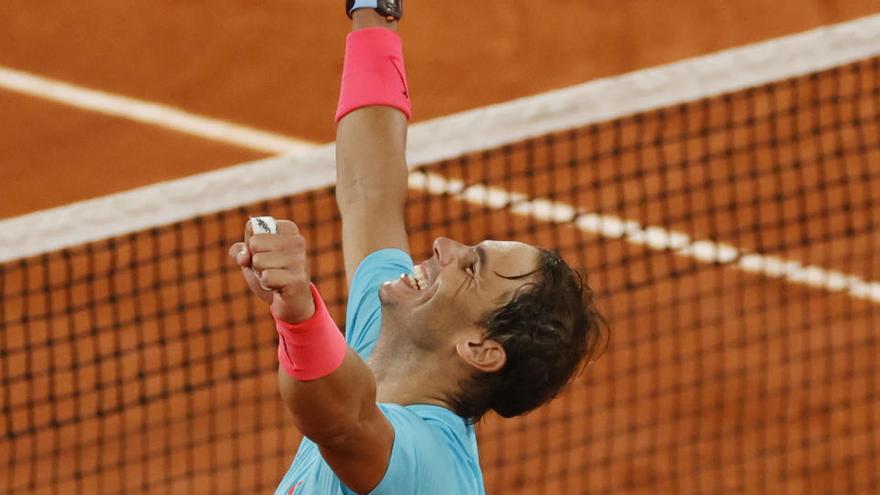 The king has conveyed his Congratulations this Sunday to tennis player Rafael Nadal for taking Spain "to the top" by conquering its thirteenth title at the Roland Garros tournament after defeating Serbian Novak Djokovic (6-0, 6-2 and 7-5).
"13 out of thirteen !! Always Rafa, Spain with you to the top!"Reads the message of Felipe VI distributed through the Twitter account of the Royal House. Before the final in Paris, the king had also sent his encouragement to the Mallorcan tennis player through the social network:" All with you. This tournament is yours. No one will reach you. "
For his part, the President of the Government, Pedro Sánchez, also congratulated the Spanish tennis player this Sunday. "Rafa, you've done it again! Your XIII Roland Garros and XX Grand Slam take you to a unique terrain. Only you know the way. Today you make millions of fans happy again, who have lived this new victory with you, "the Chief Executive celebrated in a message posted on Twitter.
For his part, the leader of the PP, Pablo Casado, has shown "pride" of "our best athlete in history" and "a great ambassador of Spain." "Today he achieves his thirteenth Roland Garros and his twentieth Grand Slam, equaling Federer's record. Congratulations champion!" He wrote.
Also the president of Vox, Santiago Abascal, has joined the congratulations on Twitter. "In these moments of national anxiety and sadness for many Spaniards, the great Rafael Nadal It has allowed us to enjoy another historic victory achieved with effort, perseverance and modesty. An example for all", has underlined.
The leader of Ciudadanos, Inés Arrimadas, has indicated that the Mallorcan "returns to make history with another spectacular triumph". "What great pride for all Spaniards have a legend like you. Congratulations and thank you very much for so much! ", He stated.
But not only politicians have surrendered to the genius of the Spanish, who this Sunday has also equaled the Swiss Roger Federer As the tennis player with the most Grand Slam in history: 20. Alejandro Sanz has said that the Spanish "sWe are fortunate witnesses to perfection with racket in hand".
The captain of the Spanish Soccer Team also did not take long to show his admiration on Twitter, despite the fact that the national team had to follow the final phase of the match from a plane, on their way to Kiev. "Legend and inspiration for any goal in life", has said.
Badminton champion Carolina Marín has praised Nadal's talent and celebrated it despite the fact that he is living through one of his hardest years: "The only thing that does not change in 2020 is Rafa Nadal winning at Roland Garros".
Nor has his great friend been left behind Pau Gasol, who assures that "the word #Leyenda is already starting to fall short of you !!!!!".