The world elite of cycling sponsors the Anfi Challenge Mogán Gran Canaria2021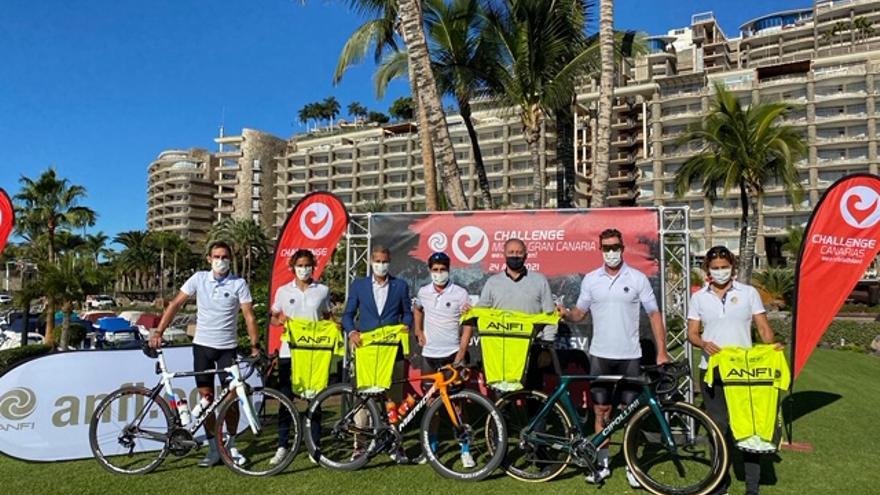 The elite of world cycling sponsors the Anfi Challenge Mogán Gran Canaria 2021 which will take place on April 25, 2021. The most anticipated triathlon of the season will have more than 500 participants in a test that will be developed under an exhaustive sanitary protocol designed for the occasion to guarantee maximum protection to the participants.
The inscriptions of this test, the only international triathlon on the island of Gran Canaria, which has the support of the Cabildo de Gran Canaria, the Insular Institute of Sports of Gran Canaria, the Mogán City Council and the Gran Canaria Tourist Board. This event, which will have the Anfi hotels as its official venue, foresees the participation as every year of the best European triathletes.
From the organization they emphasize that "we will deploy a very rigorous device to avoid the minimum contact of the participants and safeguard the health of the competitors ". The organization highlights the specific weight of a competition, which is consolidated over time and which will be a "complete success of participation. We are sure that the Anfi Challenge Mogán Gran Canaria will arouse much expectation among lovers of this sport, who are eager to compete after months of long inactivity due to the absence of tests ".
José Luis Trujillo, CEO of Grupo AnfiHe recalled that "this new promotional action of the Anfi Group represents our support for top-level sports, without forgetting the different social actions that we have always been carrying out." This step forward constitutes "a way to consolidate the Anfi brand and project its international image".
In this sense, Trujillo stressed during the presentation of the Anfi Challenge that This triathlon can be "the best Anfi ambassador in the world".
The COrredores Mikel Landa (Bahrain McLaren) Román Kreuziguer (Dimesion Data) and Mario Cipollini (2002 World Champion) they agreed by pointing out that "we are very proud to support the Anfi Challenge Mogán Gran Canaria, which will undoubtedly be one of the most outstanding events of the season and which is held in a paradise for sports.
"He Anfi Challenge Mogán It is a very attractive competition that will take place in a unique setting, since nowhere in the world do you find, at this time of year, the safety, the sun and the roads that Gran Canaria offers. The best test and safest training scenario you can dream of ".
In this sense, the windsurfing world champions, Daida and Iballa Ruano, stressed that we are on a perfect island to train and rest as a family ", while praising that" despite the great uncertainty that we live the determined commitment of Anfi for sport in all its disciplines as the best way to promote Gran Canaria throughout Europe ".