The works of Muelle, the first Spanish graffiti artist, go up to auction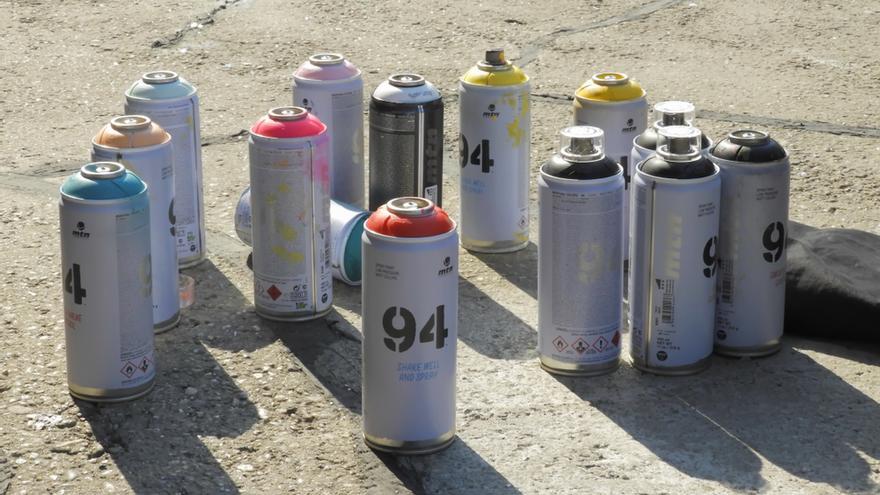 Graffiti made its way to auction rooms a long time ago, but the work of Juan Carlos Argüello, the first Spanish graffiti artist, better known as MuelleI had never done it before. Today, the Durán auction house takes out in Madrid a fortnight of works of the mythical artist.
Argüello's graffiti were the first to populate the walls of Madrid in the 80's to the 90's, first in the Campamento neighborhood, where he lived with his family, and then on the walls of the entire city.
His signature, an arrow with a signature, illuminated a whole genre within street art, the 'flechero graffiti', which would later be joined by other artists such as "Bleck" or "Tifón", the current filmmaker Daniel Guzmán.
Muelle was a pioneer and the most recognized artist of his generation but his work has largely been forgotten and his archive is kept by his family.
The lots that auction Today the Durán room contains fifteen works on paper or cardboard with his recognizable signature and other abstract paintings. The techniques are varied: airbrush on paper, acrylic, marker, charcoal or wax.
Among them are sketches of some of his most recognized works, such as the graffiti on the wall of the access slope to the Sala La Riviera, now defunct, and others less known, such as the drawing of a pin-up.
Prices range between 1,500 and 6,000 euros.
According to the auction house on its website, Muelle invented the rules of the first generation of Spanish graffiti artists. The artist always painted in places that did not spoil the urban landscape and above all, respecting private property, he used to say that it was necessary to make "a decorative signature that does not generate an expense".
Few of the many works he painted on walls have survived. The best known is one that is located in the central Calle de Montera in Madrid, which was restored in 2017. A popular initiative tried to have it declared an Asset of Cultural Interest without success.
In 2018, one of his firms was discovered on Moratín street.
The artist, who was also a drummer for a rock group and died prematurely at the age of 29 due to cancer, was always reluctant to sell his work.