The word 'fag' comes out of the closet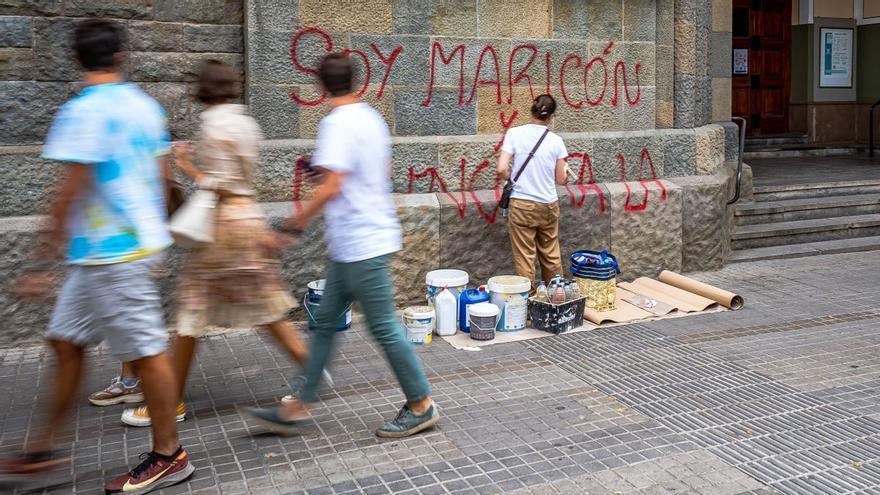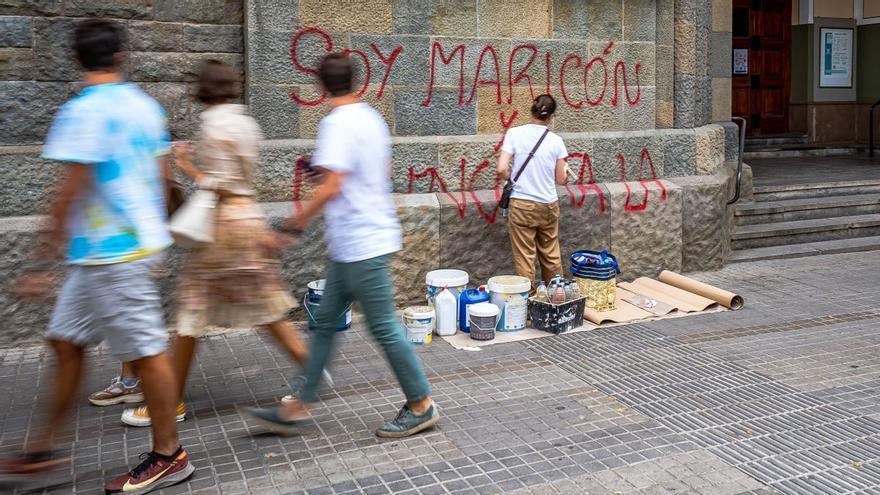 Less than two weeks ago, Bob pop, one of the banners of the community LGTBIQ +, premiered on TNT a series about his own life in which he exorcised a good part of the ghosts of his childhood and adolescence. Let your title be precisely 'Lost fag' It is a declaration of intentions, especially since the series itself takes a most revealing journey around the paradigm shift of the term, from its use as a homophobic and discriminatory insult to the collective's reappropriation as a symbol of identity and pride. "It is the story of a fag boy who is lost, of a fagot adult who is lost, that is finding and looking for its identity. It was, therefore, appropriating a derogatory term and turn it into a descriptive term ", relates the writer and screenwriter.
But, as this excellent television fiction also shows, the road to get there has been long and hard. "For decades I was unable to pronounce the word fag. It was a combination of syllables that terrified me, it haunted me. I could hardly even think about it," he says Enrique F. Aparicio (Snorkeling in Twitter), member of the musical duo Monterrosa and responsible for the podcast 'Can I speak!', together with Beatriz Cepeda, aka Perra de Satán. "Little by little, as I reconciled with myself, I appropriated it. For years, although not as many as those I could not say it, it is the word I use the most; at the time when we have said it so many times in positive as those that threw it in negative, we will make it totally ours ".
In 2016, a very young Samantha Hudson, just 15 years old, turned the stomach of the Bishopric of Palma and the Balearic far right with her religious-themed song 'Fagot', that he had composed for a high school work. The scandal was stubborn. "I'm a fag and I love church / But they won't let me in because I'm fighting / I'm a fag, but I'm also a Christian / They don't accept me because I fuck in the anus", said the irreverent (and ultra-catchy) song, which would make Hudson a precocious celebrity among the LGTBIQ community. "The word fag can be used in a friendly way without having to proceed by force of people who are part of the gay community. My heterosexual friends call me a fag and I call them a fag because they are even more fagots than me ", explains the explosive 'queer' diva, who admits that, despite the long way ahead, the term is still used "in a derogatory way, with a mean tone and a certain wickedness. Another thing is that the meaning of that offense has to affect me If I have empowered myself with my own identity. Or what is the same: to foolish words, deaf ears ".
"Depending on the person who uses it, and the tone and motivation with which he does it, the word has one meaning or another," he confirms Javier Giner, screenwriter, director, writer of 'I addicted' and press officer of the films of Pedro Almodovar. "It is not the same that Bertín Osborne or Rocío Monasterio pronounce it as Bob Pop. There are words that have caused a lot of pain, shame and oppression, and should only be used by oppressed groups. Simply put: if the word is still used as a humiliating insult, there is no possible pride in it ", adds Giner. In this sense, Javier Garcia Rodriguez, Professor of Comparative Literature at the University of Oviedo, considers that "it is always the context that gives meaning to the words. A guy playing dominoes in a bar who sees two boys go by hand in hand and says 'fags' intends to insult in a strong way. But they can defend themselves just by saying 'honorably.'
A little history
Maricón derives from the name María, a symbol of women and a common name in the Spain from the 16th. The first time it appeared in the RAE was in 1735, in the second volume of the Dictionary of Authorities, and the ideological load that the definition gave off was notorious. "The effeminate and cowardly man and the same as a fag." As of 1884, 'maricón' would refer directly to 'marica', which is adorned with adjectives such as 'sodomite' or 'inverted'. But discriminatory treatment peaked when the 1984 Manual added "despicable or undesirable person ". It would not be until 1992 when the DRAE indicated that it was an insult.
"In the 70s, queer was a terrible word, a very serious insult that marked. Being a bastard was acceptable; being a queer, no," says García Rodríguez. "I do not know when it ceases to be a stigma to be a pride of identity, but the process is quite common in linguistic uses: the pejorative value of a word is deactivated, assuming it as a sign of identity". Paco Tomás, journalist, scriptwriter and person in charge of the legendary Radio 5 program 'Wisteria Lane', with an LGTBIQ + theme, thinks that, if we look back 40 years ago, no one from the gay community used the word fag to define themselves (or almost no one: there was the pioneer Nazario). "The great achievement has been to snatch that word from those who used it to attack us and give it the opposite meaning to define ourselves without fear, without having a negative connotation other than homosexual or gay. "It is, in a sense, a fabulous exercise of reappropriation of an insult; that is, by making the offense flag , not only is the insult deactivated, but it also turns the tables by exposing whoever was trying to hurt. "They don't care about being sons of bitches, but looking like it no longer makes them so funny," says the always direct Samantha Hudson.
Political weapon
Has fag become a political word? Paco Tomás thinks so, since there are homosexuals who prefer to define themselves as gay and shun the term fag because it is more powerful. "There are people who do not want to be associated with that because they prefer to embrace the heteropatriarchy to suffer and become less involved in all the problems that surround us."
In the panorama of international series there is an example similar to that of 'Lost Fagot', 'Queer as folk'. However, the term 'queer', in addition to encompassing the entire LGTBIQ + community and although it is still considered pejorative in some conservative societies, it also refers to all academic studies linked to the area of ​​identity, activism and dissidence to the norm of cisheteropatriarchy. "In my head 'queer' will always have an aroma of revolution, of the street, of transversal struggle", he reflects Giner. "I can't call the scared kid and the confused teenager that I was 'queer'. That kid was a fag," he continues. Enrique Aparicio. "It is tempting to use 'queer' because in Spain it is a word that does not scare, but precisely the discomfort caused by queer, dyke, sarasa, mariposón, transvestite, etc., has a much closer political potential". For Samantha Hudson, the ideal would be to translate 'queer' by "queer". "Perhaps the term 'queer' has a more political aspect, like Marxism, and refers more to that otherness not only linked to sexuality but also to dissident identity, but I think the most accurate translation would be that, mariconeo. I am very to eliminate Anglicisms ".
Popular culture
In recent years, its use within popular culture has spread in a progressive way. On New Year's Eve that gave way to that mythical year in Spain that was 1992, an unusual event occurred on television in 'prime time'. The comedy duo Martes y Trece included a 'sketch' in which Millán Salcedo sang a song that became an anthem: 'Maricón de España'. "I think it was one of the first acts of visibility, including activism in our country, because it also came from a homosexual and it was done in a program that all of Spain saw. If you look at it, the lyrics are not a joke as it might seem, they are deeply vindictive ("And I don't give a damn, that people on my way want to murmur about me" https://www.laprovincia.es/ "If they criticize, let them criticize, because from Algeciras to Pontevedra, whoever is blameless, who throw the first stone "). At that time it seemed wonderful to us and it helped us to sing it to ourselves ", he recalls Paco Tomás.
Although the use of social networks and new technologies seems to have contributed to normalize the term, If you write 'fag' on Twitter, they can close your account. "The algorithm shows what the social use of the term is, an insult, so it is automatically related to something bad," says Enrique Aparicio. In this sense, Paco Tomás invites us to do a test: write the word 'homophobic'; will appear in red as incorrect and will automatically be corrected by 'homophone', which does not have the same meaning or anything to do with it. Up to that point, discrimination of sexual identity is integrated into our own language structures.
"What is not named, does not exist. It is hidden and marginal. We come from silence, from double meanings and from hiding in shame in bushes. Our historical spaces have been dominated by whispers. Let it not be known. Let it not be noticed. That is why the word is so important, because it gives us the place we deserve, which is none other than that of any person, in full light, free, in the street ", concludes Javier Giner.