The Womad Gran Canaria 2021 brings live music closer to normal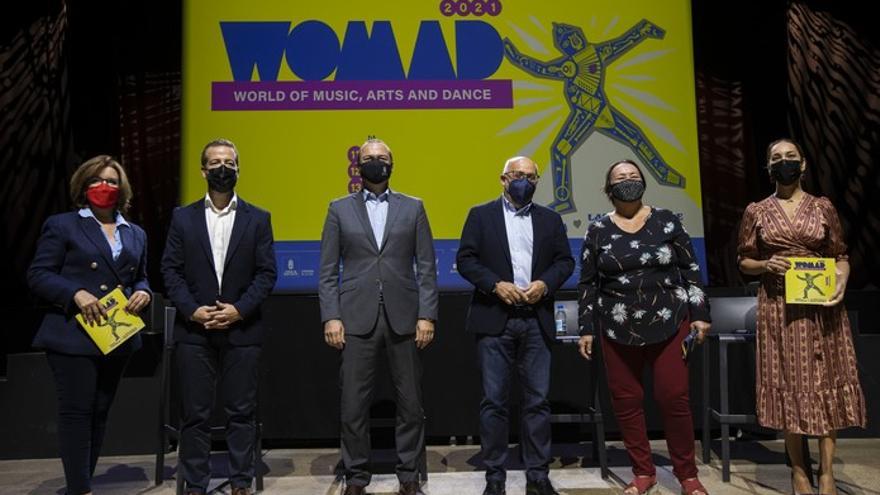 "Tomorrow we are going to dance standing up, and this is new", declared Dania Dévora, director of the Womad Festivals in Spain and Portugal, that she was accompanied by the Mayor of Las Palmas de Gran Canaria, Augusto Hidalgo; the president of the Cabildo de Gran Canaria, Antonio Morales; and the Vice Minister of Culture of the Government of the Canary Islands, Juan Márquez.
The musical poster for this edition brings together a total of 29 bands from 19 countries
"There is a desire for Womad and that is what reflects the speed with which tickets have been running out for all concerts and workshops," said Dévora, who acknowledged that the road to here "has not been easy, but we are going to open up to the world when part of that world is still closed "by the pandemic. This internationalization is one of Womad's hallmarks that, moreover, are perfectly "reflected this year" in a poster "with artists from 19 countries, with a sample of the festival's philosophy."
This international exhibition brings together artists from Mali, Ghana, Democratic Republic of the Congo, Mauritania, Morocco, Italy, Cuba, Finland, Chile, Norway, Holland, France, Sierra Leone, Bosnia and Herzegovina, and Spain, as well as a representation of Canarian artists.
Likewise, Augusto Hidalgo congratulated himself on the recovery of the festival after the cancellation for health reasons a year ago, "We are very proud to be the first Womad festival to be held in the world after the pandemic, something that Peter Gabriel also highlighted a month ago on his social networks."
For his part, Antonio Morales highlighted "the values" that have always marked the artistic line of the festival, which "goes beyond music" and which focus on launching messages "against xenophobia, sustainability, respect and solidarity" . In addition, Juan Márquez wanted to highlight, above all, "the great work" that the festival production team and the Las Palmas de Gran Canaria City Council have done "to be able to carry out this edition" with all the conditions and restrictions "that each day we have had to face and solve ».
With certain control measures, especially in terms of access to the stages and the obligation to wear a mask, the lion festival approaches the longed for normality, with standing concerts on its three stages: 4,500 people, in the case from the main stage of Santa Catalina; 3,000 spectators for the one located in the Plaza de Canarias; and 192 (seated) for the Miller Building. In addition, there will be capacity for 700 people in the gastronomic area.
The first to take the stage today, Thursday, will be Basic Needs (Canary Islands-Spain), Noura Mint Seymali (Mauritania), Barcelona Gipsy Balkan Orchestra (Spain), and El Especialista Manel Ruiz DJ (Canary Islands-Spain).
Tomorrow it will be the turn of Amparanoia (Spain), Oumou Sangaré (Mali / France) Laura Low (Canary Islands-Spain), Cimafunk (Cuba), Canzoniere Grecanico Salentino (Italy), Bai Kamara Jr & The Voodoo Sniffers (Sierra Leone), Alogte Oho & His Sounds of Joy (Ghana) and Said Muti (Canary Islands)
On Saturday, the music will be performed by Dubioza Kolektif (Bosnia and Herzegovina), Ana Tijoux (Chile), My Baby (Netherlands / New Zealand) and The Conqueror Project (Canary Islands-Spain) and on Sunday the event will be closed by Daniel Negrín ( Canarias-Spain), Raúl Rodríguez Flamenco Fusion Power Trío (Spain) and Ron Voodoo (Canarias-Spain).
"Tomorrow [por hoy] we are going to dance standing up and this is new », declares the director, Dania Dévora
In addition, the Miller Building will once again transform its stage space to become a classroom open to learning new ways of understanding music. The workshops of this edition will offer, both for adults and children, a series of activities that will bring us closer to Afro-Latin instruments and rhythms, rituals from southern Italy and a carnival of marine life.
From Saturday at 4:00 p.m. until Sunday, the day on which it will house the elements that will be part of the final parade, attendees will live new experiences in which they can combine art with critical awareness.