The winners of the Goya 2020 Awards | Culture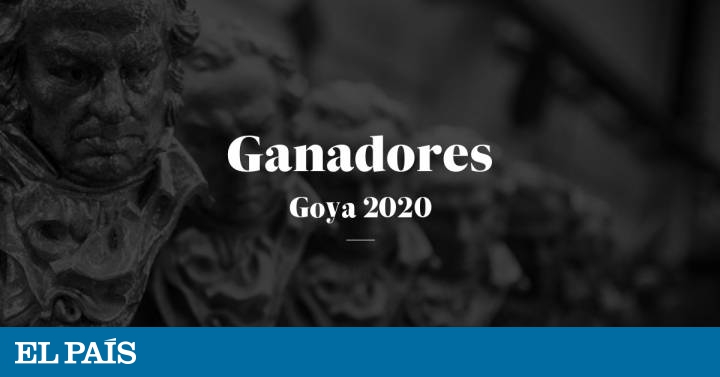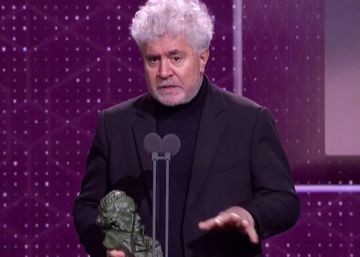 The José María Martín Carpena sports hall in Malaga has hosted the 34th edition of the Goya Awards, in which Pedro Almodóvar has been the clear protagonist of the night. Your movie, Pain and Glory, has won 7 of the 16 awards she was nominated for, including Best Picture, Best Direction and Best Leading Actor for Antonio Banderas.
While the war lasts, by Alejandro Amenábar, has won 5 of the 17 nominations he aspired to, while lto third favorite of the night, The infinite trench, by Aitor Arregi, Jon Garaño and Jose Mari Goenaga, has only won 2 of the 15 nominations he aspired to, including the Best Leading Actress for Belén Cuesta
Andreu Buenafuente and Sílvia Abril have repeated as presenters of the most important gala of Spanish cinema, which this year has also awarded the Goya of Honor to the actress Pepa Flores.
Next, we offer you the full list of winners of the Goya 2020 Awards, underlined in bold the winners:
Best film
– WINNER: Pain and glory
– Outdoor
– The infinite trench
– What burns
– While the war lasts
Best address
– WINNER: Pedro Almodóvar, for Pain and glory
– Aitor Arregi, Jon Garaño, Jose Mari Goenaga, for The infinite trench
– Oliver Laxe, for What burns
– Alejandro Amenábar, for While the war lasts
Best Leading Actor
– WINNER: Antonio Banderas, by Pain and glory
– Antonio de la Torre, by Trench infinite
– Karra Elejalde, by While the war lasts
– Luis Tosar, by Who kills iron
Best Leading Actress
– WINNER: Bethlehem Cuesta, by The infinite trench
– Penelope Cruz, by Pain and glory
– Greta Fernandez, by The daughter of a thief
– Marta Nieto, by Mother
Best Supporting Actor
– WINNER: Eduard Fernández, by While the war lasts
– Asier Etxeandia, by Pain and glory
– Leonardo Sbaraglia, by Pain and glory
– Luis Callejo, by Outdoor
Best Supporting Actress
– WINNER: Julieta Serrano, by Pain and glory
– Mona Martinez, by Goodbye
– Natalia de Molina, by Goodbye
– Nathalie Poza, by While the war lasts
Best Latin American film
– WINNER: The odyssey of the giles, by Sebastián Borensztein (Argentina)
– Spider, by Andrés Wood (Chile)
– The awakening of the ants, by Antonella Sudasassi (Costa Rica)
– Monkeys, by Alejandro Landes (Colombia)
Best documentary film

– WINNER: Ara Malikian a life between the ropesby Nata Moreno
– Aute portrait, from Gaizka Urresti
– Picture, by Andrés Sanz
– Stories of our cinema, by Ana Pérez-Lorente, Antonio Resines
Best animated movie
– WINNER: Buñuel in the labyrinth of the turtles, by Salvador Simó
– Elcano and Magellan: the first round the world, by Ángel Alonso
– Klaus, by Sergio Pablos
Best European movie
– WINNER: The Miserables, from Ladj Ly (France)
– Border, by Ali Abbasi (Sweden)
– Portrait of a woman on fire, from Céline Sciamma (France)
– Yesterday, from Danny Boyle (United Kingdom)
Best new address
– WINNER: Belén Funes, for The daughter of a thief
– Salvador Simó, for Buñuel in the labyrinth of the turtles
– Galder Gaztelu-Urrutia, for The hole
– Aritz Moreno, for Advantages of traveling by train
Best Revelation Actor
– WINNER: Enric Auquer, by Who kills iron
– Nacho Sánchez, by Seventeen
– Vicente Vergara, by Trench infinite
– Santi Prego, by While the war lasts
Best Revelation Actress
– WINNER: Benedicta Sánchez, by What burns
– Pilar Gomez, by Goodbye
– Carme Arrufat, by Innocence
– Ainhoa ​​Santamaría, by While the war lasts
Best fiction short film
– WINNER: Suc of Síndria
– The swimmer
– Foreigner
– Maras
– Xiao Xian
Best documentary short film
– WINNER: Our life as refugee children in Europe
– 2001 flashes in the dark
– Hell
– The European dream: Serbia
Best animated short film
– WINNER: Madrid2120
– The tree of lost souls
– Homomaquia
– Die
Best Original Song
– WINNER: Outdoor by Javier Ruibal, for Outdoor
– Invisible by Caroline Pernell, Jussi Ilmari Karvinen (Jussifer), Justin Tranter, for Klaus
– There in the sand, by Toni M. Mir, for Innocence
– Nana of the two moons by Sergio de la Puente, for The night of the two moons
Best assembly
– WINNER: Teresa Font, for Pain and glory
– Laurent Dufreche and Raúl López, for Trench infinite
– Alberto del Campo, for Mother
– Carolina Martínez Urbina, for While the war lasts
Best artistic direction
– WINNER: Juan Pedro de Gaspar, for While the war lasts
– Antxón Gómez, for Pain and glory
– Pepe Dominguez, for The infinite trench
– Mikel Serrano for, Advantages of traveling by train
Best Original Music
– WINNER: Alberto Iglesias, for Pain and glory
– Arturo Cardelús, for Buñuel in the labyrinth of the turtles
– Pascal Gaigne, for Trench infinite
– Alejandro Amenábar, for While the war lasts
Best Adapted Screenplay
– WINNER: Benito Zambrano, Daniel Remón and Pablo Remón, for Outdoor
– Eligio Montero and Salvador Simó, for Buñuel in the labyrinth of the turtles
– Isabel Peña and Rodrigo Sorogoyen, for Mother
– Javier Gullón, for Advantages of traveling by train
Best Original Screenplay
– WINNER: Pedro Almodóvar, for Pain and glory
– David Desola and Pedro Rivero, for The hole
– Jose Mari Goenaga and Luiso Berdejo, for The infinite trench
– Alejandro Amenábar and Alejandro Hernández, for While the war lasts
Best photography direction
– WINNER: Mauro Herce, for What burns
– José Luis Alcaine, for Pain and glory
– Javi Agirre Erauso, for Trench infinite
– Alex Catalán, for While the war lasts
Best sound
– WINNERS: Iñaki Díez, Alazne Ameztoy, Xanti Salvador and Nacho Royo-Villanova, for The Infinite Trench
– Sergio Bürmann, Pelayo Gutiérrez and Marc Orts, for Pain and glory
– Aitor Berenguer and Gabriel Gutiérrez, for While the war lasts
– David Machado, Gabriel Gutiérrez and Yasmina Praderas, for Who kills iron
Better special effects
– WINNER: The hole
– The trench infinite
– While the war lasts
– Losing the East
Best production direction
– WINNER: Carla Pérez de Albéniz, for While the war lasts
– Toni Novella, for Pain and glory
– Manolo Limón, for Outdoor
– Ander Sistiaga, for The infinite trench
Best makeup and hairdresser
– WINNER: Ana López-Puigcerver, Belén López Puigcerver and Nacho Díaz, for While the war lasts
– Ana Lozano, Sergio Pérez Berbel and Montse Ribé, for Pain and glory
– Yolanda Piña, Félix Terrero and Nacho Díaz, for The Infinite Trench
– Karmele Soler and Olga Cruz, for Advantages of traveling by train
Best costume design
– WINNER: Sonia Grande, for While the war lasts
– Paola Torres, for Pain and glory
– Lourdes Fuentes and Saioa Lara, for The Infinite Trench
– Alberto Valcárcel, for Paradise hills