The White King, the first healthy white lion born in Spain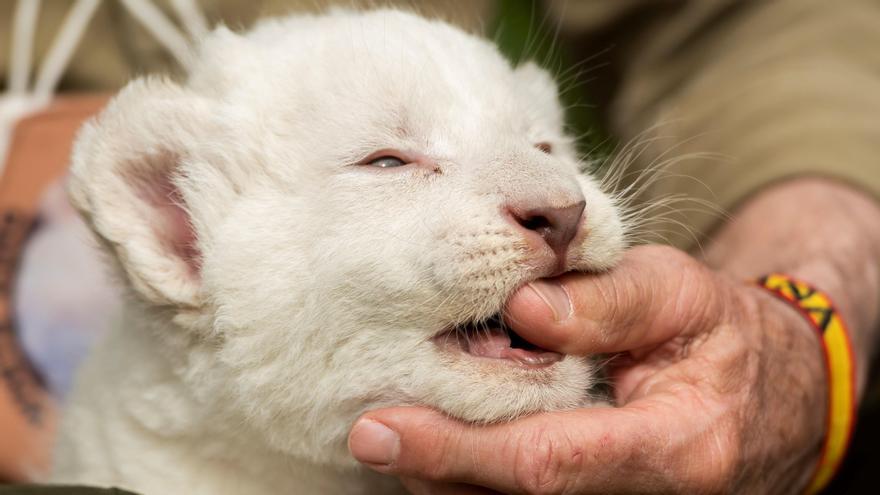 The first white lion born without diseases in Spain weighs almost four kilos, and it grows little by little and with the utmost care in the Mundo Park zoo in Guillena (Seville), where today it has been officially presented by its keepers.
The park manager and animal caretaker, Juan Luis Malpartida, explained to journalists that the cub is the son "of a couple of lions who have been here for several years, and who already had us worried", since they did not have children until last year, although the puppy died a victim of hydrocephalus.
Now this second is born, the first disease free, who already weighs more than three kilos, and that "we were struck by the fact that he was born with his eyes open, (…) he ran around the room, with his eyes open behind his mother."
Since he was born, he has been breastfeeding normally, which he did for 17 days, "until the mother stopped lying down to feed him, so we took him out and after checking that he had the immunity that mother's milk had given him, he started to give him more food ".
Such is the level of involvement of the caretaker with the young, that the lion sleeps at home, "in my living room, with a blanket and a small pen., so that he does not move a lot and break something with his nails, and he will return to his parents as soon as we see that he knows how to defend a little, because in the first days playing they can hurt him, and he has to have the genius to stir if he has any problem".
The cub is named after The White King, in tribute to his deceased brother.