The western changes skin | Babelia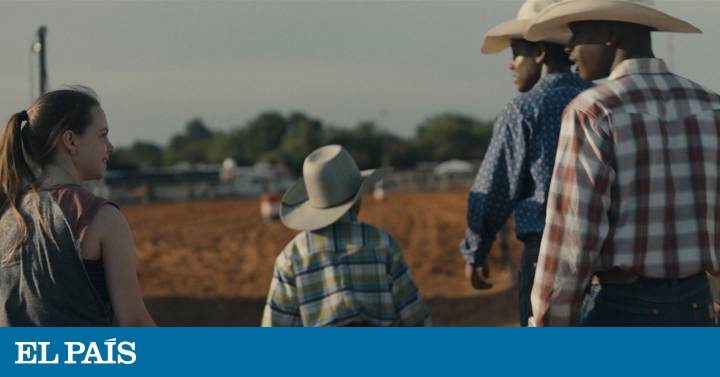 A discreet mutation of the Western arises in contemporary cinema that questions, once again, the hackneyed stories that the quintessential American genre usually conveys, even in its most revisionist and twilight version. Young female directors like Annie Silverstein —with Bull (Friendship in the ring), released this week in streaming without going through theaters— and Chloé Zhao —with The Rider, which will be added this month to the Filmin catalog– they bring these stale conventions closer to today's social reality, irrigating them with concerns of identity politics. The two directors have a lot in common. Both were discovered in recent editions of the Cannes Festival with films that take place on the current rodeo circuit, filmed with a clear documentary zeal and starring malefic characters in the canonical stories: a cowboy African American, in the case of Bull, and another that is Native American, in The rider.
The two directors distance themselves from the narrative arc of the Westerns of the last century to approach other types of tropes, those of the initiation story tinged with dirty realism. Bull It focuses on the relationship between a troubled preteen and her neighbor, a black rider and with her body in the latter, who stubbornly clings to the world of competition because she has no other destination to hold on to. The rider also talks about a cowboy wounded: a young promise who lives in a Sioux reservation in South Dakota, forced to retire early after a fall that could have been fatal, although she continues to dream of the day when she will be allowed to return to the ring. In both cases, the relations of domination have a more economic than racial root: whites, blacks and Indians, to use the classic terminology, coexist in decadent landscapes, act before semi-empty bleachers and survive in the same way regardless of their skin color.
Both fictions are tinged with realism. The protagonist of The Rider, Brady Jandreau, plays a character inspired by his own story, while Bull was shot on call soul circuit from Texas, heir to the shows who starred, in the 19th century, former slaves freed after the civil war, who moved to the West in search of an opportunity and were relegated to roundups for blacks by segregation laws. According to historian Kenneth Porter, one in four cowboys in the Far West was black, despite the fact that the official version proclaimed by Hollywood decided to ignore his stories.
In these new movies, the cowboy He is no longer that heroic character who reigned in the myth of the border. In these declassified territories, a new economic calibration has left the oppressor in a subordinate position that brings him closer to his former oppressed. Zhao, the Beijing-born director who has just been signed by Marvel Studios in her indiscriminate thirst for female filmmakers – remember they tried to hire Lucrecia Martel – goes even further by presenting ethnicity as a misty notion: in one scene, Sister The protagonist sings some verses in Spanish, while his antihero carries an assimilated last name, worthy of a classic Western (Blackburn), and never explicitly alludes to his Lakota origins. Barack Obama placed her, in a definitive post-racial gesture, on his list of favorite movies of the year 2017.
Like any self-respecting Western, the two films are moral tales, although their codes of honor are also different from traditional ones. The last minutes of The rider are an amendment to the whole of John Wayne's model of masculinity, just like Bull In its emotional ending, he outlines an alternative to self-sacrifice as an existential engine, insinuating that the solitary llaneros also need a network of solidarity. Both films circulate along the ideological path opened by Kelly Reichardt in Meek's Cutoff, Revisionist account where women and Native Americans forged a circumstantial alliance to overthrow a nauseating patriarch, shot at that not-so-distant time when feminist was still an insult and intersectionality did not fill all mouths. Quentin Tarantino placed it, in another gesture as significant as that of Obama, in his list of most hated films of the year 2010.
Bull (Friendship in the ring) (2019). Annie Silverman. Available in Rakuten TV.
The rider (2017). Chloé Zhao. Available in Filmin from April 23.